My Dogs And I Need Your Help - Plz Save Our Home
Edit 3/3/19 by request to make this more readable.
I've spent the past two weeks anguishing over posting this. It's very hard asking for this kind of help, and for the second time... here goes.
Who We Are
My name is Frank Gualtier, I've been disabled since 1994. My dogs are Daisy, a 13 year old Westie rescue (My Mom's dog but she's always bonded with me - now she lives with me) -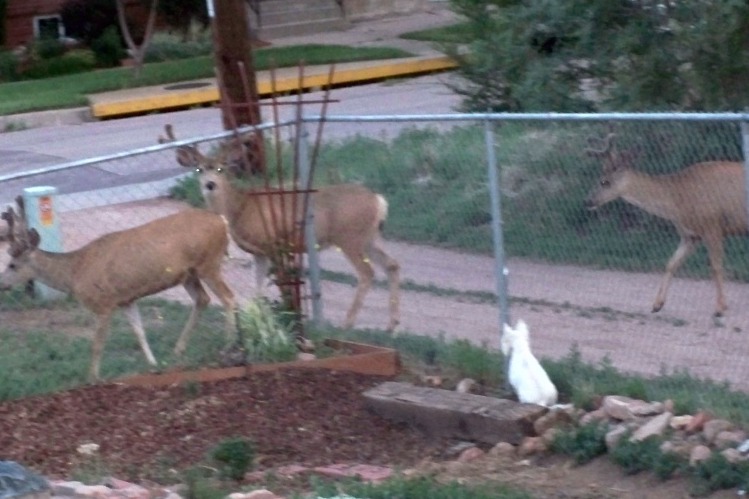 And Zeus, who just turned 2 this past December, a rescue Shepherd mix
We're trying desperately to save our home and become independent.Our Story
We live in a duplex which was owned by my Mother who passed away in December of 2018. 
The house was left to me as a means of keeping a roof over both my head and the heads of our dogs. I think maybe just because she loved her dogs, and mine too - she was just getting to know Zeuss more in the weeks leading up to her passing - you should have seen how her eyes lit up when he'd come to her - he's a pretty magical dog, so much, and she saw, more so than most, what my illness does to me. Maybe partly too because I took care of her and her dogs through her illnesses. We were both very alone in that - but we took care of each other, and the little ones too.
Her intent was that I rent her half out (it's a duplex) to sustain the rest of us in the event of her passing. She also loved this place very much - It was home to her - to us all. She wanted that for us. So do I. The dogs agree.
Our Initial Fundraiser
Here was our initial fundraiser which met with much success, but as I suspected - my estimate was far too low:
https://www.gofundme.com/save-my-dogs-and-our-home&rcid=r01-15510286239-22358f2328574080&pc=ot_co_campmgmt_m
Bless the heart of every person who helped us with that initial GoFundMe - I would not be here were it not for that and God only knows where my dogs would be (they're both special needs animals - I can't bear the thought of them being put down for non-adoptability issues). I am so very grateful to you all for your generosity.
I had, optimistically, hoped to have had all things settled and ready to go with that first listing, but I was very conservative in my estimate and am currently sitting on -$337.64.
Transparency
I would be happy to provide an itemization on request. I get it - you want to know what's being done with your money and I am happy to oblige with figures, documents, you can call me if you like - I'm an open book.
How The Dust Has Settled
Here's what I've learned since then, with the help of my lawyer and a professional apartment manager:
I took care of my Mom and spent a lot of time with her. I guess I became normalized to the degredation of the place over the 10 years she was there. The apartment is in worse shape than I'd realized. I made the assumption that a good cleaning of the walls and a bit of carpet repairwould have the place rentable. Apparently odors and damage to the carpet are the big issues.
Also the title needs to be fixed as well as other legal considerations. I originally thought would be quicker but it's "a process". My lawyer tells me the title will be cleared soon though. The primary problem legally is that the house was signed out of my Mom's Trust, for Medicaid, incorrectly, by a sibling (it was my job - I was undermined) due to sibling rivelry, followed immediately by sibling abandonment when they out there was no money in it for them. That was very hurtful but you can read the details of it in the original fundraiser if you like - see the gofundme link above. Regardless, it's costing a lot of money and I'm the one stuck with the bill as well as a pretty major sum in debt. My lawyer is working on exemptions for the debt due to my disability.
The Goal
With all that taken into account I'm looking at a $5000.00 *min* estimate to make rentable. That was a professional, but general, estimate. I was told to seek individual estimates by category, which I will begin doing tomorrow. There's also $2,443.30 in vacancy fees (Mortgage, Insurance, Tax, etc) while waiting on title and work to be done, and about $1,600.00 more in legal and associated fees.
The goal of $9,500.00 comes from the sum of that rounded up - because I underestimated once already.
It has not escaped me that THAT IS A LOT OF MONEY!
If we do this and all goes well I will be able to live here for between $300-$600 per month cash out of pocket while the apartment is rented and save enough in between to pay for vacancy and repairs. It will be a struggle on a fixed income with medical issues but I believe, very much so, that we can do it.
Once estimates come in I'll adjust if necessary with explanations.
Anything left over will be donated to my local Humane Society
To My Friends
To my Facebook friends - my tablet is four years old and can barely do Facebook (not that I was any good at it to begin with). But I just wanted you to know I miss you people, a lot ❤
Thank You!
Organizer
Frank Gualtier
Organizer
Colorado Springs, CO