DAWN Crowdfunding Campaign
Goal - $5,000
Start Date - March 4th, 2018
End Date - May 6th, 2018
When Iowa writer and filmmaker, Carrsan T. Morrissey, created the independent film "WHAT IF? A (Fan-Made) Life is Strange Story" in 2017, he did so on a budget of ~$500, out of pocket. The film was released, free-to-view, on YouTube on December 10th, 2017, and has since amassed 200k+ views.
Thanks to the incredible love and support from the fanbase garnered by "WHAT IF?", we, Carrsan Morrissey and Shelby Davis (current Production Manager), are confident that we can raise the funds necessary to make the prequel film, "DAWN: A (Fan-Made) Before the Storm Story", so much bigger and better than we ever could on our own. However, we can only do it with YOUR help!
As thanks for your generous donation, we are offering some, if we may say so, hella awesome incentives, which are detailed below.
Incentives (All to be shipped between Sept-early Nov)
$1- "Everyday Hero" (No incentive, just a hardy "THANK YOU!")
$5- Pre-Recorded Thanks from the Directors of "DAWN"
$15- Exclusive Early Access to One Scene from "DAWN"
+$5 Incentive
$25- Signed Theatrical Release Poster
+$5 and $15 Incentives
$50- Physical Copy of Script (signed by Directors & Principal Cast) (Limit 10)
+$5-$25 Incentives
$75- "DAWN" Official Photoshoot 2019 Calendar
(Limit 10)
+$5-$25 Incentives
$100- Signed Polaroids/Small Prop from "WHAT IF?"
(Limit 10)
+$5-$25 Incentives
+Choice of either Signed Script OR 2019 Calendar
$250- Costume Piece from "WHAT IF?"
(Limit 5)
Donators in this category may choose from...
-Max's "Oh Deer" Tank
-Max's Grey Hoodie
-Chloe's "Good Vibes" Tank
-Nathan's Red Jacket
-TBA
+$5-$25 Incentives
+Choice of either Signed Script OR 2019 Calendar
$500- Producer
(Limit 5)
-Name listed during closing credits
-30-min Skype call with Directors
-IMDb Credit
+Incentives from $15-$75
$1000- Executive Producer
(Limit 3)
-Name listed during the opening title sequence
-Named on theatrical release posters
-IMDb Credit
-1-hour Skype call with Directors
+Incentives from $15-$75
-Our unending love and adoration
(NOTICE: In order to receive Incentives, you must include your full name, mailing address, and email address along with your donation.)
Funds Raised Will Go Toward…*
-Equipment
   -Improved lighting set up, camera lens, camera mount (stabilizer)
-Editor(s)
   -Special FX, After Effects
-Wardrobe
   -Both purchase and creation from scratch (for The Tempest)
-Props/Set Dressing
-Practical FX Makeup
-Locations
-Promotional Materials
   -Posters, photoshoots, prints, advertising, etc.
-RV Rental
-Basic Necessities
   -Gas (for multiple vehicles to travel to filming locations), food (on set for actors and crew)
-Additional funds for emergency coverage, or donation to local charities and organizations (if funds are left over)
+2.9% of the total raised to GoFundMe for their processing fees
*NO funds raised will be pocketed by anyone involved in this project. ALL funds will go directly toward the items listed above.
Where are we currently at with "DAWN"?

Right now, we are in the pre-production phase. We have a complete cast of 19 incredible actors and a 148-page screenplay. Filming is set to begin this summer, with a tentative film release of late Fall-early Winter of 2018. The sooner we reach our funding goal, the faster we can secure the amenities needed in order for us to move forward with the project, and the faster we can release the film to you.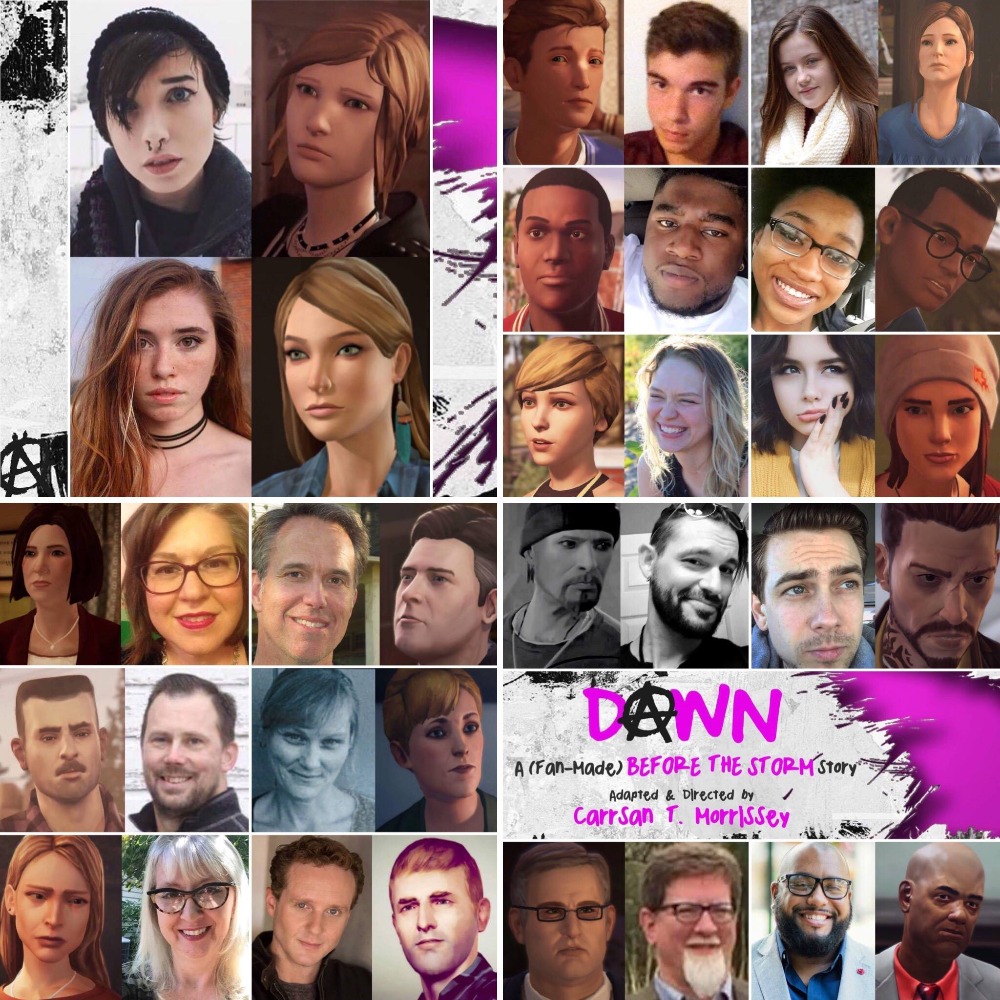 "DAWN: A (Fan-Made) Before the Storm Story" Cast
Title Page of "DAWN" Screenplay
For more information on "WHAT IF?" and "DAWN", or to get in contact with us, find us at…
Facebook: (DAWN A Fan-Made Before the Storm Story) -
www.facebook.com/what.if.film
YouTube: (WHAT IF? /DAWN) -
https://www.youtube.com/channel/UCCemynf6sBfOcue4xApBC4Q
Donations

Organizer
#1 fundraising platform

People have raised more money on GoFundMe than anywhere else. Learn more

GoFundMe Guarantee

In the rare case that something isn't right, we will refund your donation. Learn more

Expert advice, 24/7

Contact us with your questions and we'll answer, day or night. Learn more