Davis Bike Polo to National Championship
Send Davis Bike Polo to the National Championship - August 16th - August 18th!!!
Given that Davis' motto is "Most bicycle friendly town in the world", you would think Davis would have one of the best bicycle polo teams in the country, right? Well we do! Davis Bicycle Polo was just informed that out of a total of 168 teams vying for 48 spots to the national championship we were selected!
How we did it
We were one of the top 6 teams in our region of California, Nevada, Utah & Arizona. We competed in the national qualifier in Fresno, California to determine our seeding
Here's a great highlight video from the North American Championship last year:
Here's a promo video Marc made for our recent tournament in Davis:

What is Bicycle Polo?
Bicycle Polo is essentially hockey on a bicycle. It requires great control over a bicycle, quickness and agility. Three person teams compete to 5 goals. If you are forced to put your foot on the ground you must come to the side of the court, tap the wall with your mallet and re-enter the play. Mallets are normally homemade (but can be purchased) out of ski-poles and plastic piping. It is a high-energy sport that's as much fun to watch as it is to play.
Meet the team:
Marc Ferrè Grabolosa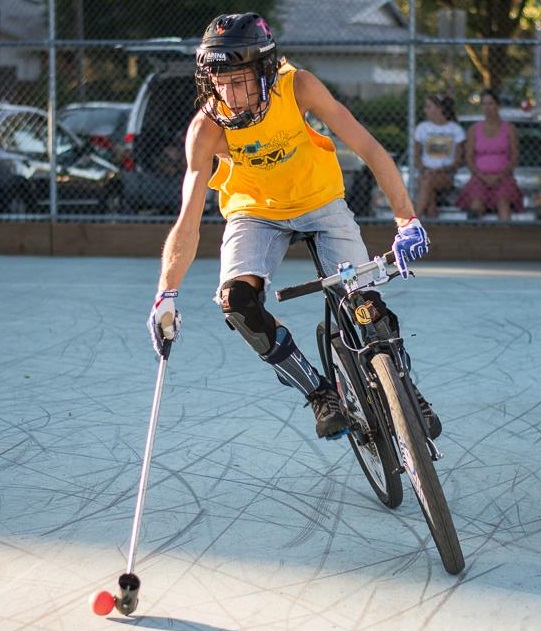 Ben Pickett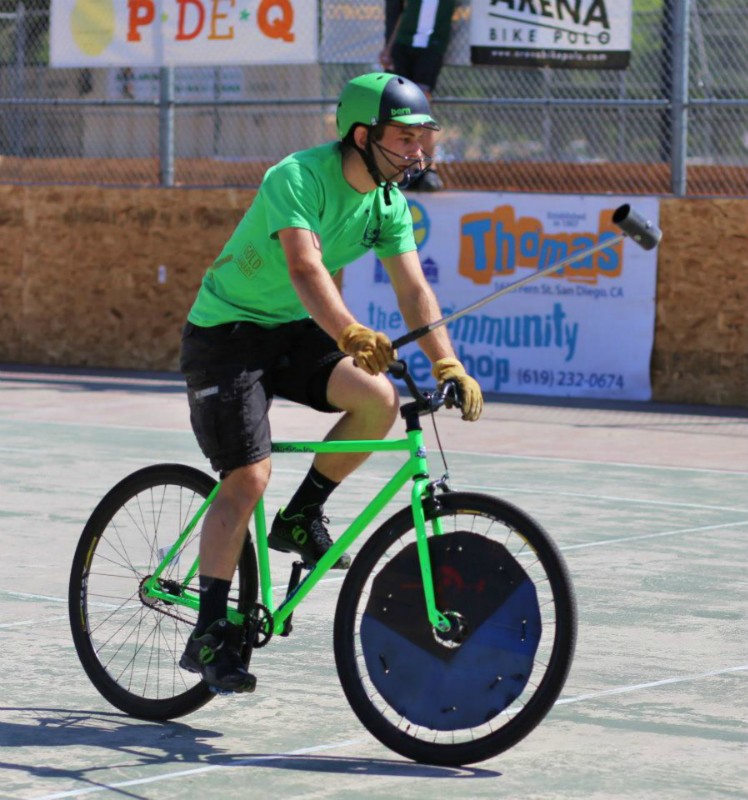 Tony White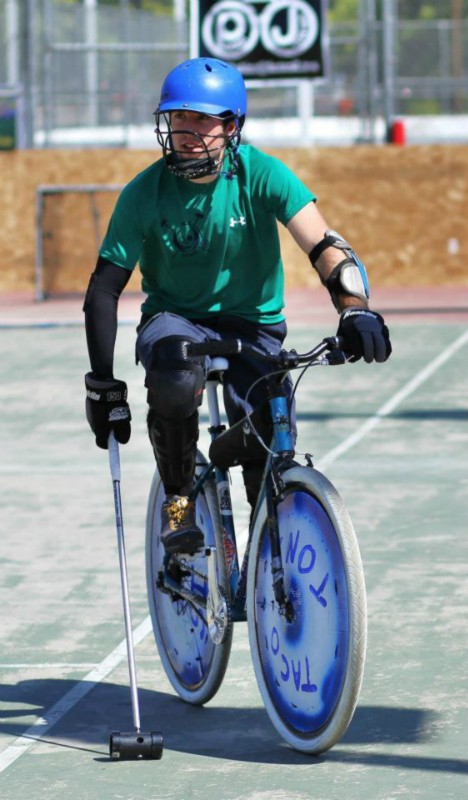 What we need
Unfortunately this trip will be in Minneapolis, MN so we will have to fly. Given the late notice, these plane tickets are EXPENSIVE. Our estimated costs are:
Flights = 3x Tickets = $1500
Registration Fee = $120
Hotel = $230
Food = ~$150
The total is around $2000. No matter how much we raise, we will be going. We have put a lot of time and effort to get to the level we are at. Financially this will be very difficult for us though. We are planning on sleeping on floors and eating rice and beans while we're there to reduce costs. The money we raise will be directly going to better sleeping arrangements, better food and registration. Even $5 can go to better food! The names of all donors will be written on our tournament jerseys! If somehow we get more than $2000, we will be using the extra money to fly our coach, Able Kutzleb to the tournament. We wouldn't be where we are without him!
Donate whatever you can, but don't worry if you can't. We know this is a hard time financially for everybody. If you can't donate, please cheer us on! Spread the word! We also will be requesting a big screen at The Davis Graduate to play our games LIVE. So come to The Davis Grad on August 16th-18th to watch us compete for the National Championship! Or watch us at home at
http://bikepolo.tv
. We can't wait to represent Davis, California and all of California, Nevada, Utah & Arizona!
Follow Davis Bicycle Polo on Facebook!Per als nostres amics de Catalunya
Envia a Davis Bike Polo als Campionats Nacionals d'Amèrica del Nord "" del 16 al 18 d'Agost!!!
Donat que el lema de la ciutat de Davis és "la ciutat més acollidora per moure's amb bicicleta de tot el món", podries pensar que Davis deu tenir un dels millors equips de Bike Polo del país, veritat? Doncs així és! Davis Bike Polo, va ser informat fa un parell de dies d'haver estat seleccionats per jugar al Campionat Nacional, això implica haver aconseguit una de les primeres 48 posicions d'un total de 168 equips!
Com ho và rem fer?
Ens và rem classificar en una de les 6 primeres posicions del torneig en la regió de Califòrnia, Nevada, Utah i Arizona. Aquest torneig es va celebrar a Fresno, Califòrnia.
Què és el Bike Polo?
El Bike Polo essencialment és hockey sobre una bici. Requereix de bon control de la bicicleta, rapidesa i agilitat. Cada equip està format per tres jugadors, i aquests competeixen per marcar 5 gols a l'equip contrari. La penalització per posar un peu a terra és tocar amb el mallet un dels laterals del camp. Els mallets normalment són fets casolans (tot i que actualment es poden adquirir ja fets) amb pals d'esquí i tuberes de plà stic. És un esport molt energètic i entretingut, tant de veure, com de jugar-hi.
Coneix a l'equip:
Marc Ferré Grabolosa
Ben Pickett
Tony White
Què necessitem
Malauradament aquest viatge és fins a Minneapolis, MN per tant, ens veiem forçats a agafar un avió. A l'haver rebut aquesta noticia uns pocs dies enrere, els tiquets dels vols són MOLT CARS. Els costos estimats són:
- Vols = 3 tiquets = 1500$
- Inscripció al campionat = 120$
- Allotjament = 230$
- Menjar = 150$
El total està rascant els 2000$. No importa quant aconseguim recaptar, hi anirem tant sí com no. Hem entrenat moltes hores i amb molt d'esforç per arribar fins aquí i no podem deixar passar aquesta oportunitat. Dormir al terra i menjar arròs i mongetes no és cap mala idea per reduir costos. Els diners recaptats aniran directament destinats per allotjament, menjar i pagar la inscripció al torneig. Inclús 5$ poden ajudar molt per menjar un xic millor! El nom de tots els donants estaran estampats a la nostra equipació! Si es donés el cas de superar els 2000$, els diners els destinaríem a pagar un vol per al nostre entrenador, Able Kutzleb. No estaríem on estem si no fos per ell!
Dona el que puguis, però no et preocupis si no pots donar res. Tots sabem que estem en una situació econòmicament difícil. Si no pots donar, sisplau, anima'ns! Ajuda'ns a difondre-ho al món! A més a més, instal·larem una televisió a The Davis Graduate on es retransmetrà  el campionat en directe. Així que, acosta't a The Davis Grad del 16 al 18 d'Agost per veure'ns competir en el Campionat Nacional! O mira'ns des de casa a través de
http://bikepolo.tv
. Ens morim de ganes de representar Davis, Califòrnia i la regió de Califòrnia, Nevada, Utah i Arizona.
Para nuestros amigos de España
Envia a Davis Bike Polo al Campeonato Nacional de America del Norte "" del 16 al 18 de Agosto!!!
Dado que el lema de la ciudad de Davis es "La ciudad más acogedora para ir en bicicleta de todo el mundo", podrías pensar que Davis tiene uno de los mejores equipos del país, verdad? ¡Pues así es! ¡Davis Bicycle Polo se ha clasificado en una de las 48 posiciones del campeonato nacional, de un total de 168 equipos!
¿Cómo lo hicimos?
Nos clasificamos en una de las 6 primeras posiciones del torneo regional que incluía jugadores de California, Nevada, Utah y Arizona. Este torneo se disputó en Fresno, California.
¿Qué es el Bike Polo?
El Bike Polo esencialmente es hockey encima de una bici. Requiere de buen control de la bicicleta, rapidez y agilidad. Los equipos son de 3 jugadores, sin posicionamiento concreto. Se trata de anotar 5 goles. La penalización por poner un pie en el suelo consiste en ir hasta un lateral del campo de juego y tocar la pared con el mallet. Los mallets son normalmente caseros (aunque actualmente pueden adquirirse) hechos con tuberías de plástico y palos de ski viejos. Es un juego muy energético y muy divertido de ver y aún más de jugar.
El equipo:
Marc Ferré Grabolosa
Ben Pickett
Tony White
¿Qué necesitamos?
Desafortunadamente, el viaje es hasta Minneapolis, MN por tanto necesitamos coger un avión. Dada la tardía noticia, los vuelos de avión son MUY CAROS. Los costes estimados son:
- Vuelos = 3x Tickets = $1500
- Inscripción torneo = $120
- Hotel = $230
- Comida = $150
El total se acerca a los $2000. Por poco que recaudemos, iremos de todas formas. Han sido muchas horas y esfuerzo para adquirir este nivel de juego y se trata de una oportunidad que no podemos dejar escapar. No nos importa dormir en el suelo y comer arroz y alubias para así reducir costes. El dinero que recaudemos irá directamente destinado a alojamiento, comida y para pagar la registración al torneo. ¡Incluso $5 serían geniales para comer mejor! Los nombres de todos los donantes estarán estampados en nuestra equipación. Si de alguna forma las donaciones superasen los $2000, usaríamos el dinero extra para financiar el viaje a nuestro entrenador, Able Kutzleb. ¡Nunca hubiéramos llegado hasta donde estamos si no hubiese sido por él!
Dona lo que puedas, sin ningún tipo de preocupación si tu donación se trata de animar al equipo. Todos sabemos que actualmente son tiempos económicamente difíciles. Además vamos a disponer de una televisión en The Davis Graduate donde los juegos serán retransmitidos en directo. Así que, del 16 al 18 de Agosto, acércate a The Davis Grad para vernos competir en el Campeonato Nacional! También puedes seguirnos en
http://bikepolo.tv
. ¡Estamos ansiosos para representar Davis, California y los estados de California, Nevada, Utah y Arizona!
Become the first supporter
Your donation matters
See all
Organizer
Tony White
Organizer
Davis, CA