From egg...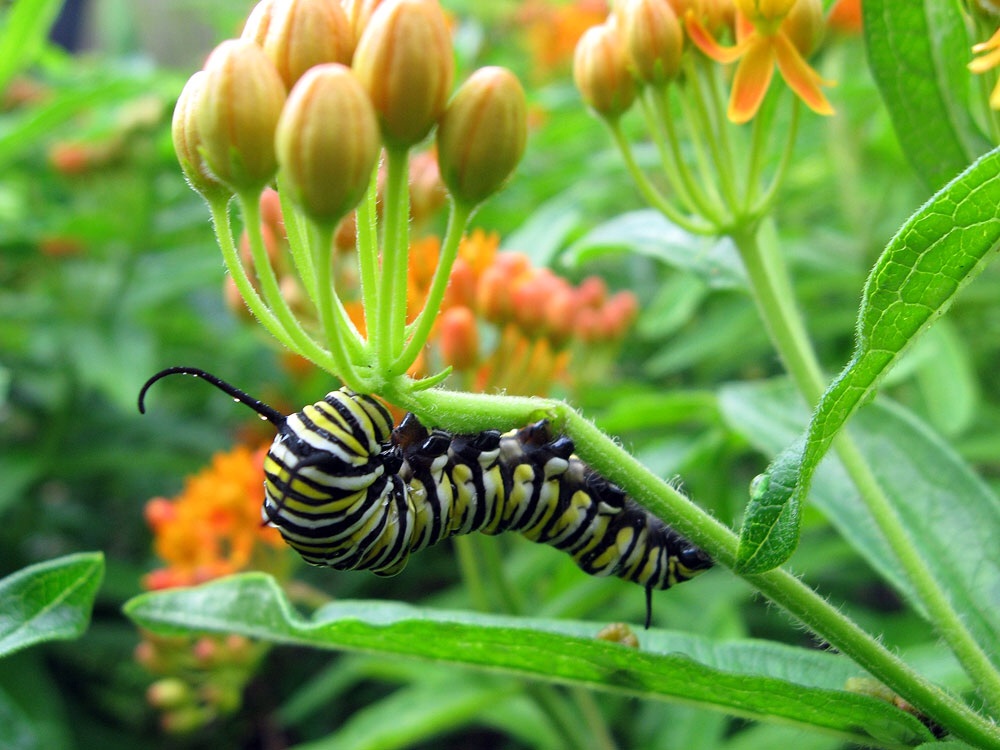 to caterpillar...
to chrysalis...
to majestic butterfly...How many people recognize the Monarch butterfly in all of its stages of development?
My name is Kim Savino (Stortenbecker), and I am an elementary school teacher in Schaumburg, Illinois.  I recently completed a 2 1/2 year graduate program through Miami University, which is also affiliated with Brookfield Zoological Society and Project Dragonfly.  The focus of my ongoing studies continues to revolve around saving the Monarch butterfly and doing everything in my power to keep this invertebrate from joining the endangered species list.  I hope to educate people across the nation about the plight of the Monarch butterfly (Danaus plexippus) and provide information as to what they can do to be an integral part of the solution for this pollinator.
I feel a great sense of accomplishment, having achieved so much in such a short period of time, but there is still a great deal of work to be done.  Over the course of the next few years, I plan to continue working with my community to establish as many Monarch Waystations as possible, helping to create the corridors that these pollinators so desperately need.  It is easy to capture the attention of those who gravitate to my cause, but it will be my life's work to captivate those who turn a blind eye and a deaf ear to that which requires time, effort and dedication.
How many people know that the Monarch butterfly only lays its eggs on milkweed? How many people know what the egg of the Monarch butterfly looks like and where to look for it? How many people know what the Monarch caterpillar looks like and that it only eats milkweed (Asclepias)? Do people even know what milkweed is, let alone a chrysalis (a hard case that protects a caterpillar as it transitions from its larval state into a butterfly)? While there are over 100 different species of milkweed, there are only a handful of species that are native to our area. Identifying various species of milkweed is an art in itself; milkweed changes in appearance as the seasons change, making it difficult to properly identify.  It is essential to educate people of all ages, not only in terms of recognition, but in understanding why the Monarch is as much a vital part of mankind's existence, as we are to that of the Monarch. If the Monarch is only recognized in its butterfly state, then it really doesn't stand a chance of surviving.   
How can you help?  You can plant a variety of native milkweeds in your backyard, a safe haven for all pollinators, like the Monarch butterfly.  Without milkweed, the Monarch will cease to exist, so we need people to start planting Monarch Waystations in their backyards, safehavens where Monarchs don't have to worry about herbicides, pesticides and GMO's affecting their daily meals.  You can tell your friends about what you're doing and get them to join in on the fun; the more Monarch Waystations, the better!  You can stop using those chemicals that harm so many of the small creatures we rely upon to pollinate our fruits and vegetables; think about using organic alternatives that are much more environmentally friendly.  Last, but not least, you can visit startseeingmonarchs.org and Monarchwatch.org to educate yourself on everything that is Monarch!  It's time to take action!  Be a part of the solution for this beautiful winged creature.
It's not too late to be a part of the solution, and I plan to do whatever it takes to change the outcome for this butterfly.   Monarchs make me smile.  I refuse to let my smile become extinct.  I refuse to envision a world without Monarchs, where the only place they can be found is in my memory or a picture book.  What a sad world it would be.  I simply refuse to sit idle. 
I hope you might consider supporting me in this extremely important endeavor to educate people, not only in our local community, but throughout the world.   Your donation will help to cover the costs of the following:
- Extensive research and observations of the Monarch butterfly during its southern migration in multiple locations.
- A school yard garden which will include a large area specifically designated towards the Monarch Butterfly.
- Providing milkweed plugs for each family that is interested in designing and building a Monarch Waystation, to get started.
- Covering the costs associated with presentations given to educate the public.
As Margaret Mead once said, "Never doubt that a small group of thoughtful committed citizens can change the world; indeed, it's the only thing that ever has."  Together, I believe we can make a difference for the Monarch butterfly. 
Please visit
startseeingmonarchs.org
for more helpful Monarch information.
Donations

Organizer
#1 fundraising platform

People have raised more money on GoFundMe than anywhere else. Learn more

GoFundMe Guarantee

In the rare case that something isn't right, we will refund your donation. Learn more

Expert advice, 24/7

Contact us with your questions and we'll answer, day or night. Learn more