Daniel's Medical Treatment Fund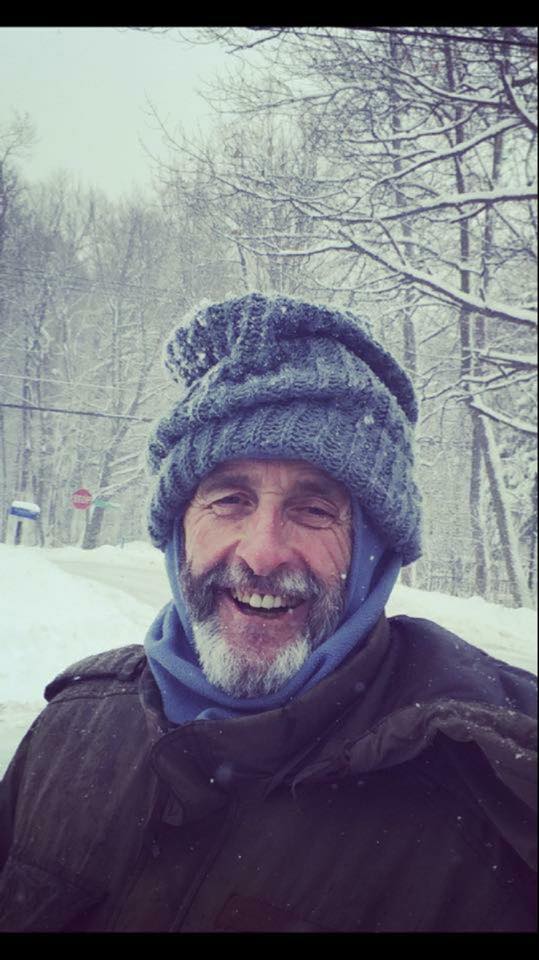 This page is to raise money for new treatment options for our Father, Daniel Gallagher, for an advanced stage of cancer. Our Dad is one the most unique and special people on the planet. We want him here as long as possible--to keep spreading his warmth, kindness, and love.
Everyone that meets Daniel immediately falls in love with him. There are so many ways to describe our Dad. He's one big wide open heart. He's an outpouring of warmth and generosity. He has exuberant passion for life and living. He knows that what matters most in life is Loving. He's unique, eccentric, quirky, and one-of-a-kind. He's free-spirited and full of wonder.  He's so very very dear.  He is a treasured part of our family. 
But what I think stands out the most is his abundant love for all of his fellow human beings.
Our Dad goes through life noticing the goodness and beauty in each person he encounters. And by him seeing the beauty in you - he awakens it, and you then notice your own beauty. It's contagious. It's amazing to spend a day with Daniel - and watch all the hearts he touches along the way. From the store clerk, to the bank teller to a random person he passes on the street--each person gets a bright smile, fun and engaging conversation, questions about their life, and top it off with a warm heartfelt compliment. Leaving each and every person smiling and brightened.
It's also beautiful to watch our  Dad's face as he notices others - his delight in each person he encounters. His eyes become so soft and genuinely touched. His smile so sweetly radiant. He sees the dearness in everyone.
Living with Dad means lots of spontaneous tears welling up in his eyes. Such a big open heart - he will often have tears over a touching segment on the TV news, even a commercial, or a song on the radio.
Dad loves life. His priorities are in order. He lives for what is most meaningful. Each day is purely for Living Life to the fullest.  One of his biggest joys in life is taking his beloved Gordon Setter Finn on hikes and walks on the beach.  They are so bonded--Finn follows Dad everywhere and even sleeps in bed with him.  
Spend a day with Daniel and expect him to invite you to go to his favorite forest and waterfall in "Arkwright" NY... and expect there to be many adventurous stops along the way, which could even include stopping at a random stranger's house... simply because Daniel notices somebody in their yard and feels pulled to stop and chat with them. And soon enough, they are no longer strangers...in Daniel's words: "Strangers no more."
Dad makes friends with everyone he meets. He invites everyone to our lake home to enjoy the beach-- "you don't need an invitation--come whenever you want to be swim at the beach." Both our parents always extended such warmth and hospitality. Over the years we've seen so many random strangers walk through our yard. Only to quickly realize, "That's not a stranger, that's a new friend Dad brought home."  We once received a text from a random woman with a photo of my Dad and his dog ...he was at the dog park and met her...her text read..."I just met your father--he is one of the most beautiful human beings I have ever met...he asked me to send you this
photo."
Some of these visitors have included homeless people brought from the city of Buffalo, to sleep on our couch. Or Milo, the old drifter/backpacker my Dad met on the railroad tracks while taking our dog for a walk. Dad loved Milo and was prepared to give him a permanant room at our home . People would say to my Mom- "how could you let strangers into your home like that, with having young children?" But we were always safe. Daniel walks through life with an aura of magic - half in this world and half in the world of spirit. He is a magical man.
Our Dad is also a healer. His very presence heals and he will turn your world right side up if you are lucky enough to experience one of his special spontaneous healing sessions. He has a unique gift with healing touch and gentle massage--it will instantly melt away every tension....and bring you into another world... along with his special songs and chants that flow through him as he shares his healing gifts.
Living with Dad is always a surprise. He is a one-of-a-kind free spirit who has always walked to the beat of his own drum. The usual rules of life do not apply to Daniel--and he has proven that to us our and over again. An old hippie who once attended Woodstock - his recent years (before his illness) consisted of being a core part of the Buffalo JoyWalkers. Dancing with a group of people throughout the city streets of Buffalo, to spread joy. Reaching out to passerbys, taking their hands, and encouraging them to join the "dancing train", enlivening every heart along the way. (The pics speak for themselves!)
Dad loves to move his body. Mornings often consisted of a wake-up dance routine where you could just hear the rhythmic pounding from upstairs. While summertime always consisted of yoga on the beach, headstands and all. Or nighttime yoga against the beautiful radiant pink sunset.
Our Dad originally had prostate cancer 10 years ago. He managed it in various ways, and for several years it was in remission. This past year it come back and advanced into his bones. It has been heartbreaking to watch our once exuberant passionate joy-waking Dad becoming more frail, using a cane, or his walker to go up the street... It's been very heartbreaking to sometimes see Dad in great pain.
Yet, we are a family that believes in healing, and even miracles. With Dad - every day is precious. We welcome each and every day he can have with him. And he will live it to the fullest.
Here is a link of Dad with his son Cory, a Tenor Vocalist, experiencing healing at a chapel in Orchard Park, NY.
So much can be accomplished in a single day. In a single moment, one can give birth, or fall in love, or change the course of their lives forever.
So much can happen in a micro-moment- each day for Dad is precious.
Dad's life is motto is "Precious is life."
For awhile, he enjoyed taking selfies and videos of his daily adventures - and posting them on Facebook. He would end each post with: "Percious is Life".
We told him time and again it's spelled "Precious, not Percious!" But Daniel, walking to the beat of his own drum, continued to post daily: "Percious is life." :)
And so it is.
Thank you for giving to Daniel's Medical Treatment Fund. Thank you for Being a Part of our Dad's Life and Healing Journey.  EVERY LITTLE BIT HELPS. Thread by thread... a tapestry of Love is woven together to enfold our Daniel.
There isn't a person more worthy of your loving support.
"Percious is life."
Love The Gallagher Family
(Amy, Cory, Cassie and Azure and Finn) 

Organizer and beneficiary
#1 fundraising platform

More people start fundraisers on GoFundMe than on any other platform. Learn more

GoFundMe Guarantee

In the rare case something isn't right, we will work with you to determine if misuse occurred. Learn more

Expert advice, 24/7

Contact us with your questions and we'll answer, day or night. Learn more