Rescuing and Caring for Animals in Palestine
Baladi Palestine Animal Rescue Team (BPART) was started in 2020 by animal rescuers and animal rights activists. We offer adoption services, subsidized vet visits for street animals, and teach awareness on animal rights and safety practices in Palestine. BPART has rescued dozens of animals including poisoned dogs and animals hit by cars and left on the side of the road. 
Efforts to rescue and care for street animals in Palestine are extremely limited, which is why we need your help! Rescuing, sheltering, and caring for these animals is costly and your donations will help us save animals from suffering and give them the expert treatment and care they need. Animals rescued by BPART have went on to be adopted by loving families or continue being fostered by the BPART team or other people to receive the medical care and love they need.
The prices for our most common treatments are:
Vaccination $15
Deworming $6
Neutering a cat $60
Neutering a dog $90
Spaying a cat $120
Spaying a dog $180
We appreciate all of the donations made to our shelter as we are currently relying on our own pockets and the volunteering efforts of local vets to support this mission.
Meet some of our rescues: 
Batale
One of our team members, Ameed, received a call in the middle of the night regarding a tired and weak dog in Ramallah. After hours of trying to get near her, Ameed called veterinarian Dr. Mousa to help assist with the rescue by use of a light sedative due to her fear of people and not allowing anyone near her. 
After resting overnight at Dr. Mousa's clinic, the dog was taken for x-ray's and blood testing. Her blood test results came out great. However the x-ray showed a bullet stuck in her front right leg. This is when her name Batale, strong one, was given. 
The team met with Dr. Taha for a second opinion to thoroughly discuss the treatment plan for Batale. It was decided that she would be given a week of IV fluids and to opt out of removing the bullet for fear of damaging her mobility. After almost 2 weeks of IV fluids, Batale began to eat and walk. With the summer season now here, Batale loves to play outside and lay in the sun. She is getting more comfortable around people everyday. She currently lives at Dr. Mousa's house with another rescue Baladi dog named Jack.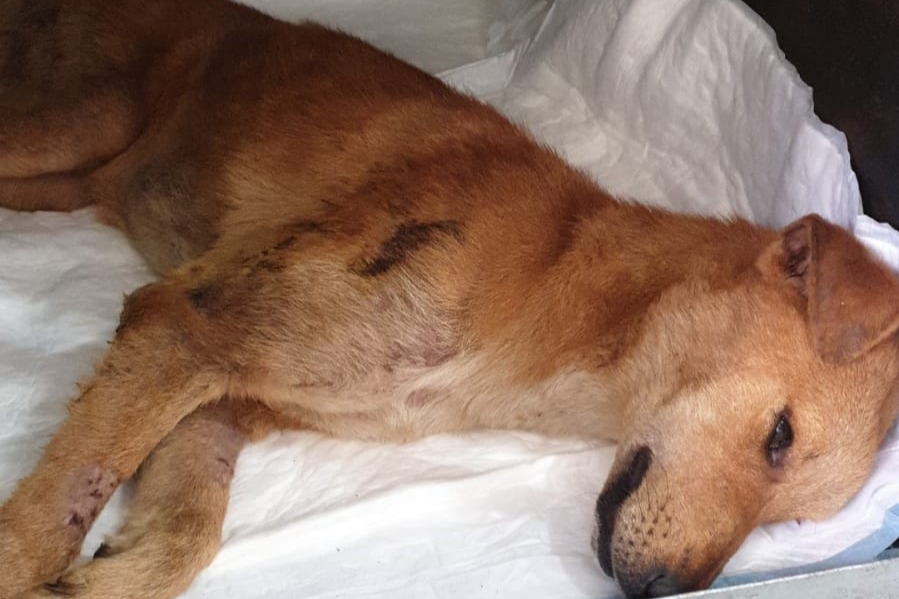 Yuca
We received a message from a group of student rescuers at Birzeit University about Yucca, a kitten with a severe viral infection in both eyes. Our team member, Ahlam, immediately went to the scene to get him to veterinarian Dr. Taha. We learned then that the infection had been in his eyes for too long and that the kitten would now have irreversible eye loss. However, we have been able to reduce the inflammation of the eye sockets through a simple procedure and treatment plan of a series of ointments and drops multiple times a day. His appearance and health have been improving gradually and the loss of his eyesight has not been a barrier to him having fun and living a joyful life. He loves sitting by the window and listening to the sounds of people talking, birds chirping, and cars driving by. He is currently living with a foster family in Hebron and has an approved adoption application to live with other blind cats and a rescuer in Tul-Karem.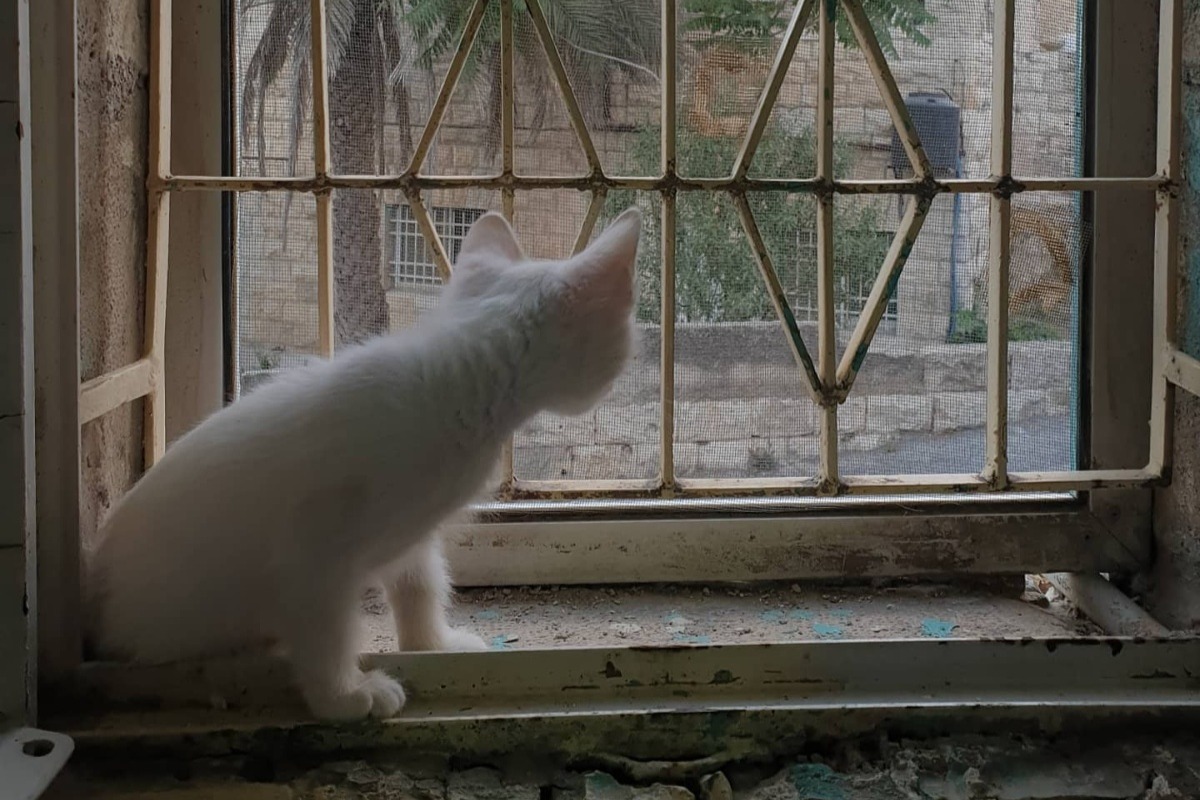 Simsim
A family in the village of Nuba was outside when they noticed a cat dragging its front leg, unable to use it completely. They contacted the Baladi rescue team for advice and logistical support to see a veterinarian. They named him Simsim and provided him food and shelter until his veterinary appointment with Dr. Taha. The diagnosis was paralysis in the arm and that the arm needed to be amputated. Dr. Taha neutered and vaccinated Simsim as well. He was adopted by the original family in Nuba that contacted us. 
Lucy
Lucy, a friendly puppy, born in Hebron was adopted by a family living in the Old City of Jerusalem. She has been spayed and vaccinated by Dr. Wassim Tahboub in Jerusalem.
While in Hebron, Lucy's mother did not allow any people to get near her. Instead, her rescue family provided a cozy space with hay, food, and water for when she gives birth. Lucy's siblings are still living in Hebron and have been vaccinated by Dr. Mousa. The rescue family continues to care for Lucy's siblings and adoption applications are available for those interested.
Rihan 
Rihan, got her name from a Palestinian neighborhood outside of Ramallah called Dahiyat ElRihan - a neighborhood notorious for poisoning street animals. She was found by the B-PART team at night with an open wound on her face and looking very frail. They gave her food on the spot and picked her up to be treated by Dr. Mousa. Dr. Mousa was kind enough to treat her wound, vaccinate her, and give her deworming pills for free. After gaining more health, she was taken to Dr. Taha to get spayed. After recovering at a foster's home, Rihan has been adopted by a family in Jerusalem.
Organizer
Eva Karam
Organizer
Elmwood Park, NJ