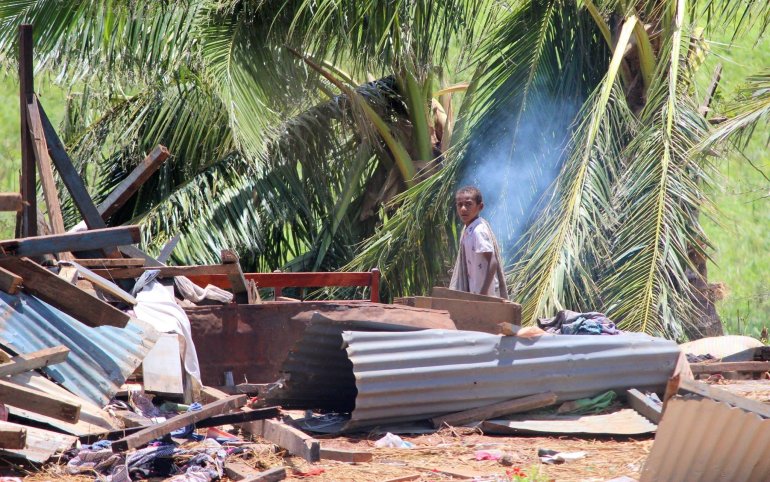 On February 20, Tropical Cyclone Winston tore through the Fiji Islands causing wide-spread devastation to many parts of our tiny island nation. The storm system reached a Category 5 (the highest possible storm rating) when it struck the the northern Fijian island of Vanua Balavu, and then at 2 p.m. local time (9 p.m. EST Friday) it roared across Koro with sustained winds of 185 mph — making TC Winston the second strongest cyclone to make landfall anywhere on Earth in recorded history. Communications with much of the country were lost and still remain out in some areas. Approximately 80 percent of the nation's 900,000 people lost power. The death toll currently stands at 42 people but is expected to continue to rise as communication is re-established in more remote areas.
Turtle Island was fortunate to escape the cyclone largely unscathed, but many of the villages in the island communities surrounding us fared far worse. Turtle Island employs over 100 Fijians who are the heart of Turtle Island. Their families and friends all live in these villages. There are seven villages and one settlement in our Tikina (community) — all have been affected by the cyclone. We have sent boats out to our neighbours over the last three days to assess their needs and find out how we can help. Fortunately there were no injuries in these communities, but most have suffered from a total loss of food crops and severe damage to housing. Since the disaster, they are running critically low on food, water and essential supplies with many
families having just 2-3 days worth of food left
.
Here's how you can help...
We would like to gather a donation of enough food supply for one month for each of the villages in our Tikina, which would give them time to regrow their crops. The total cost of supplies is just under FJ$80,000 (approx US$38,000. To kick off the donation,
Turtle Island will pledge FJD$20,000
upfront and we have gone ahead and pre-ordered FJD$50,000 worth of supplies. Should we hit our target within the next 36 hours, we will purchase the remaining items to be loaded on a barge and chartered out to the islands for a Friday afternoon arrival to our area. 
Your donation will provide 7 villages and 1 settlement 30 days worth of food items and basic necessities, which would allow them time to replant their crops and rebuild what might remain of their homes.
Any addition funds remaining after meeting these immediate needs we will direct it to fixing damage to basic infrastructure, such as plumbing and electricity, to ensure they can still access and distribute water throughout their villages.
To comply with GoFundMe rules of transparancy:Who you are:
Fiji Sales & Marketing/Turtle Island Fiji
Where are you from:
Vancouver, Washington 98682
 & Turtle Island, Yasawa Islands, Fiji
Your relationship to the parties you're raising funds for:
Our Island (Turtle Island Fiji) is based in the Yasawa Islands and our staff are from many of the villages seriously hit by Cyclone Winston
How will the money be spent:
We will provide enough food and urgent supplies for the whole Tikina for 30 days, which includes 7 villages and 1 settlement. Total cost of supplies is just under FJ$ 80,000. This will assist the villages for the next 30 days whilst they replant their crops and rebuild what might remain of their homes
How do you intend to get the funds to those needed: 
Turtle has pledged FJ$20,000 upfront. So we need to raise an additonal FJ$60,000
Turtle island has gone ahead and pre-ordered $50,000 worth of supplies, and should we hit our target within the next 24 hrs, we will purchase the remaining items to be loaded on a barge already chartered for Friday afternoon arrival to our area
In our assessment of the community, villages only have about 3 days of food supply left, given the cyclone has destroyed all of their crops
Organizer and beneficiary
Turtle Island
Organizer
Vancouver, WA