Cycle Across Unova: NYC Adventure
Twitter | Facebook | Instagram

WHAT IS 'CYCLE ACROSS UNOVA'?

A week-long, TV-hour biking documentary taking a cinematic journey through the real-life world of Pokémon. Every main series game in the Pokémon franchise has a fictional land for us to explore, all of which were inspired by locations here on Earth. The fifth title, Pokémon Black & White, took place in a region called Unova, a land nearly identical to New York City and its surrounding areas. We want to be the first to take a professional, in-depth look into how these cities, parks, and towns inspired the layouts of the games we've come to love.

We're a group of cinematographers, animators, and storytellers and we want to take you on this adventure. Not just a tour from location to location, but a real, documented, down-and-dirty, week-long adventure biking down every route to learn about New York's histories, to talk with its people, and to share this experience with everyone. We'd like for seasoned Pokémon fans to rediscover their childhood in a way unlike any other. Let's take a cinematic journey through the real-life world of Pokémon. Let's 'Cycle Across Unova'!






WHY $5,000?

Our team has over 35 combined years of experience in television and commercial production, and we know what a project of this caliber costs. Video is expensive to produce correctly, especially one that involves 7 days of travel by bicycle. That's a lot of calories, hotel rooms, equipment, bike repairs, and so on. Here's what our budget looks like:






...IS THIS JUST A PAID VACATION?

Not in the slightest! We're working hard from sunrise to sunset every day, spending every minute filming and cycling to our next locations, ending every night with capturing that footage and prepping for the next day. None of the crew are being compensated for their time. Here's our itinerary:





WHO IS MAKING IT?

Produced by Gravity Dog Productions.
Gravity Dog Productions is Nick Solorzano, Stephen Aymond, Ahmad Evans, and Zane Hall.
Joining us is the current narrator of the Pokémon series, Mike Pollock.
MoonDragon will be contributing its musical talents to the film's soundtrack.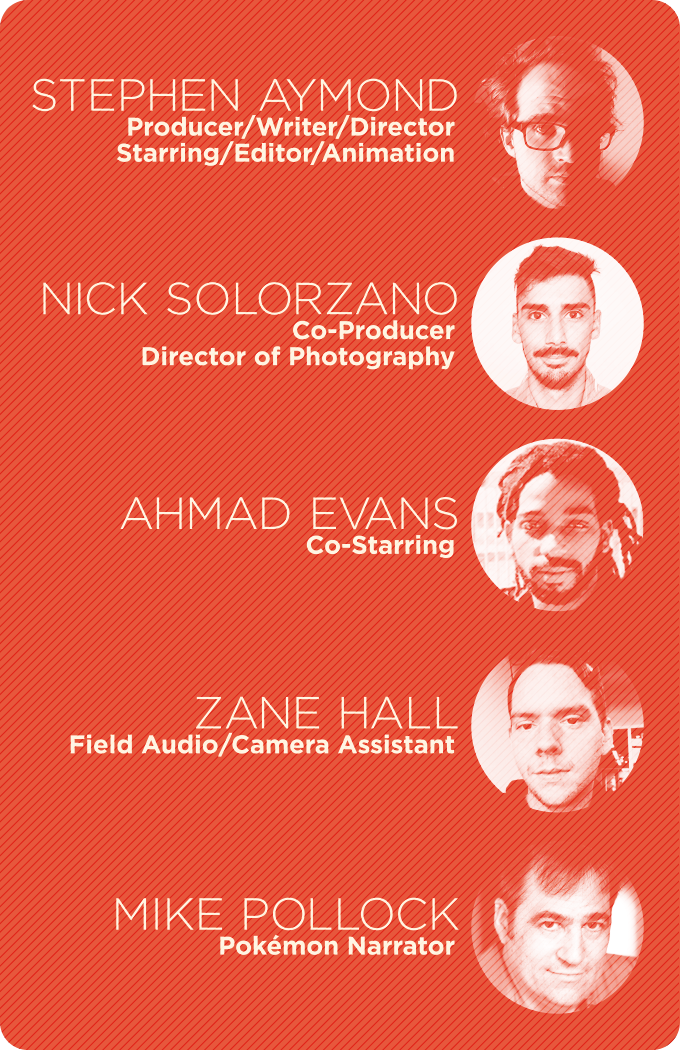 As experienced filmmakers, adventurers, and cyclists, you'll be hard pressed to find a team more equipped than ours to take on this challenge. From trading cards and comics to the toys and animated series, we've loved Pokémon from its beginning. No one wants more than us to rediscover the world of their childhood.




DELIVERY DATE

We're estimating a delivery date to backers-only on November 2018. The rest of the world will have to wait until early 2019.

January 22nd to April 16th of 2018 will be spent in pre-production mode (writing and making travel arrangements).

The production itself (filming) will take 9 days from April 17th to April 24th.

Post-production (editing, graphics, animation, and audio mixing) will take the remainder of that time until November. Backer rewards will be sent out through these last few months as well.

After the film's release to backers, we'll spend the next few months showcasing it at film festivals and then releasing it to the public shortly after in early 2019.




STRETCH GOALS

$19k - Translated subtitles for Traditional Chinese (正體字/繁體字), Spanish (Español), Hindi (हिंदी), Arabic (عربى), French (Français), Bengali (bɛŋˈɡɔ), Portuguese (Português), Russian (ру́сский язы́к), German (Deutsch), Japanese (日本語), and Korean (한국어). ...Did we spell any of those wrong? We're not sure! That's why we need translators!

$24k - Black & White 2! We'll increase our itinerary by 4 days to capture the additional locations added in Pokémon Black & White's sequel!




BACKER REWARDS

-Backer Credit
-Priority Access Digital Download
-Original Soundtrack Digital Download
-Film Poster Digital Download
-T-Shirt (limited)
-Priority Access Director's Cut Digital Download
-Physical Film Poster (limited)
-Daily 20-minute Google Hangout During the Journey
-Write a line of dialogue (very limited)
-Very Limited Edition Blu-Ray w/ Scenes You'll Find Nowhere Else
-Executive Producer Credit
-THE Production Book (Only ONE! That's as limited as it gets!)




RISKS AND CHALLENGES

Anything can happen during our 6 months of production, but we know how to protect ourselves. Yes, accidents to equipment and to the crew can happen, but that's what we have several insurances for. Losing footage is also an available risk, so we're backing up all footage onto 15 terabytes of robust raided hard drives ON SITE each day.

The biggest risk we run: Making a documentary inspired by copyrighted material. We've already consulted an attourney on how to keep this film under the protection of Fair Use, quite easily. A fair use is any copying of copyrighted material made for a limited and "transformative" purpose, such as to comment upon, criticize, or parody a copyrighted work. Our documentary wishes to comment upon the Pokémon
universe, not to use it for gain, tarnish its name, or seize its profits. Our approach is rather simple:

1) Unlike our campaign video, we will restrict our references of Pokémon and Nintendo related intellectual properties to verbal references only in the finished piece (no showing of logos, characters, official art, copyrighted music, etc.).

2) We won't sell any product that has copyrighted material in it. We will release this film for free. We use the funds fully to support this project so that we are not to net a profit from its success. We'll release this film for free to festivals, online, and early to backers.

We have the experience and we're well prepared for the possible dangers that lie out there in the grass and caves, including Team Plasma.

Organizer