Scholarships for Cyberninjaz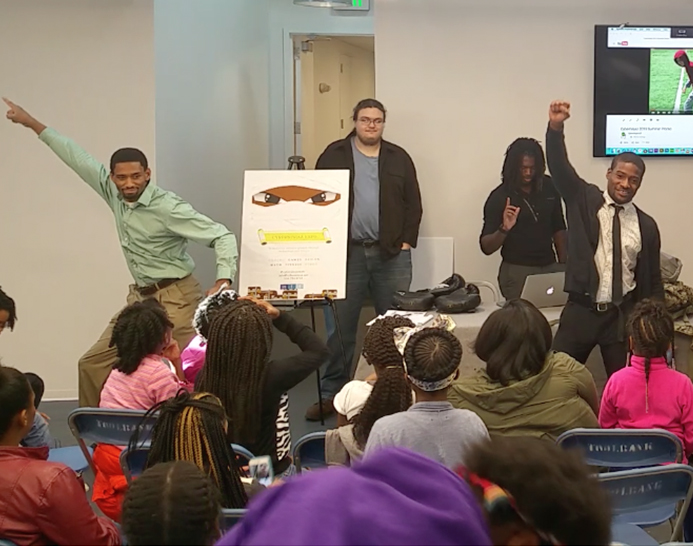 Cyberninjaz is a summer camp and technology company founded in 2014 by a group of educators and professionals with a passion for education. Our goal is to help kids and young adults develop into more educated, disciplined, empowered, and well rounded individuals with the skills needed to work in the modern digital era.
Every summer, Cyberninjaz holds a nine week summer camp at St. Andrew's Episcopal School in Potomac, MD teaching children of all ages a variety of STEAM topics (Science, Technology, Engineering, Art, Mathematics; i.e. STEM + Art) including Computer Programming (Java), Game Design, Animation, Video Production, Art, Mathematics, and more.
This year (2016), we will be holding our camp between June 13 and August 12. If you want to find about more about us you can check out our website at
http://www.cyberninjazkids.com/about
.
We have a blast doing what we do and so do the kids who attend our camp; however, not every family that wants to enroll their child in Cyberninjaz can afford to. That's where you come in!
Starting this summer, we would love to offer full one-week scholarships to children who want to attend our summer camp. 100% of the money we get from all of you will go directly to paying a child's enrollment fee for Cyberninjaz this summer. This means that every $600 raised through this campaign will allow another child to spend a week this summer learning how to program, make games, animate, create webpages, and much more.
If you are interested in applying for a scholarship, or know someone who might be, please visit our scholarship page at
http://www.cyberninjazkids.com/scholarship
.
We are hoping to be able to raise enough money to offer multiple one-week scholarships before camp starts this June, but if we can even get the chance to teach one extra child about technology in the fun, active, and productive environment that we offer, we would be extremely grateful! And we imagine children would be as well.
In the event that we don't get the $600 needed for a full one-week scholarship by this June, we pledge to take 100% the money we do raise and offer a partial scholarship.
If you are interested in Cyberninjaz summer tech camp, please visit our website at
http://www.cyberninjazkids.com
. There you can find out more about us, the courses that we offer, and you can even view the various projects that the kids worked on last summer. You can also find us on Twitter at
https://twitter.com/Cyberninjazkids
, and on facebook at
https://www.facebook.com/CYBERNINJAZNET
.