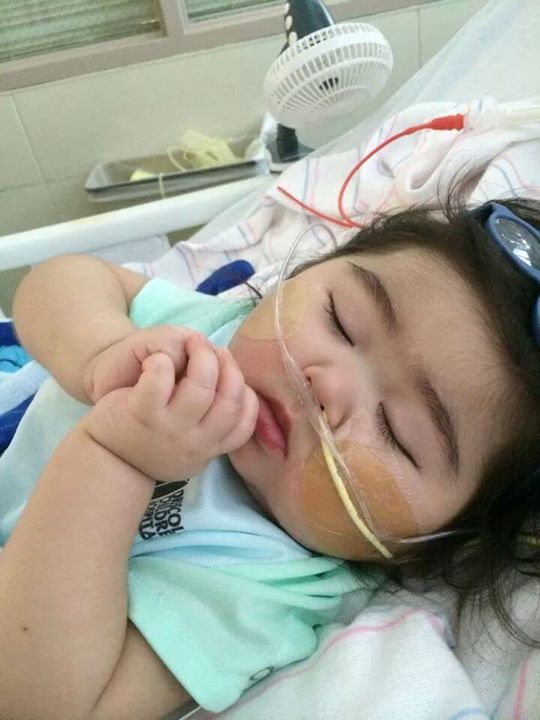 Hi my family and friends this is my Godson Dominic Lorenzo DeLeon, the LOVE of our lives. He was born on August 31, 2013 to one of the most loving families I have ever met and I am blessed to be a part of. So many of you have been following his journey through our Facebook posts. He has been showered with love, support and prayers from all over. From the day he was born we knew he was a fighter and he has shown us the meaning of strength and given a lot of us a renewed faith.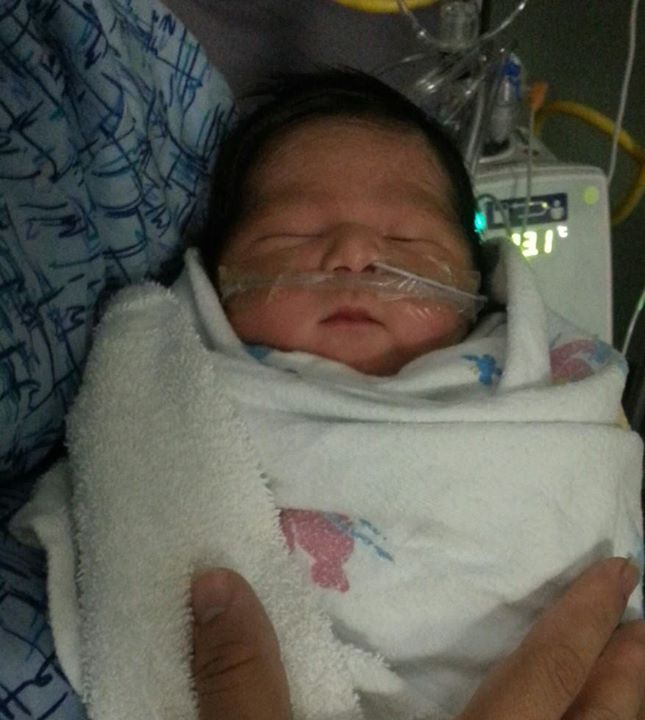 This is Dom's journey....His first weeks of life began in the NICU at Bay Area Hospital, his mommy had to have an emergency c-section and he swallowed some merconium in the womb but did not aspirated so he was closely monitored for 3 weeks until he was strong enough to come home. He started growing and eating more(one of his nicknames is Chunky Monkey). But at 4 months he came down with Pertussis "Whooping Cough" and Rhinovirus and got admitted to Driscoll Childrens Hospital. This was a hard blow to his immune system and body.He would have coughing spells up to 4 hours long. Soon after his release from this stay he began having difficulty swallowing and aspirated his formula, and then one month later he contracted RSV. He was admitted again to Driscoll and his health started to decline. There was also marked muscle tone loss and weight loss. A Neurologist was called in to evaluate him, an MRI was done and it was found his brain was small and growing at a slower rate which was causing a global mental delay. His throat was so irritated that he didn't want to eat or swallow so he had to have a NG tube inserted through his nose so that he could receive his nutrition. We had to wear gowns, masks, and gloves when visiting with him.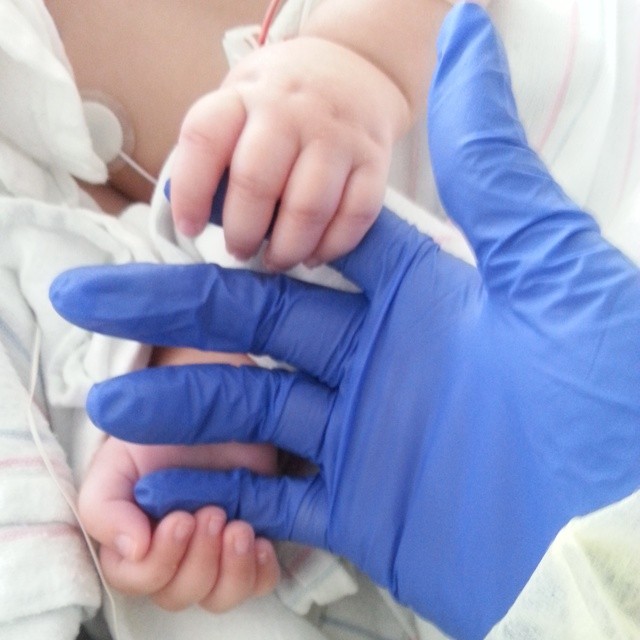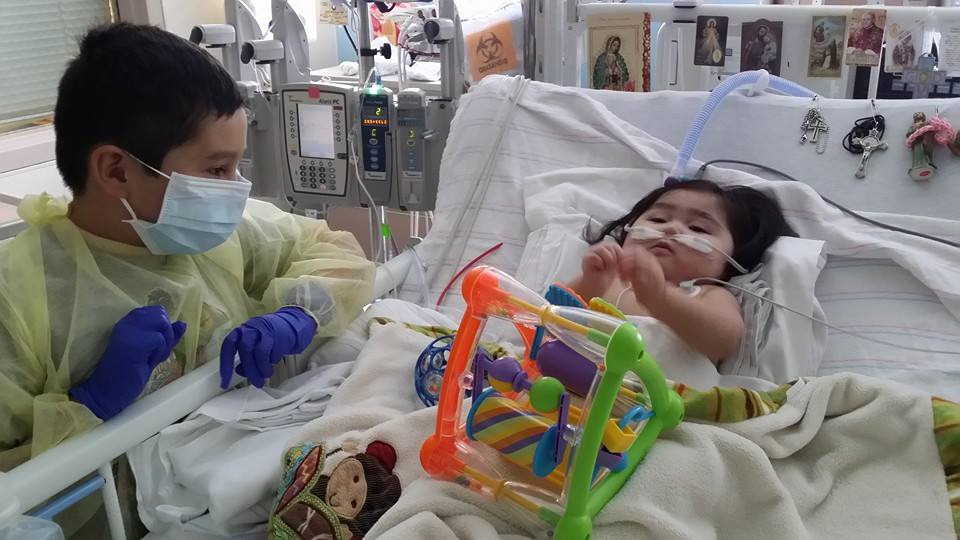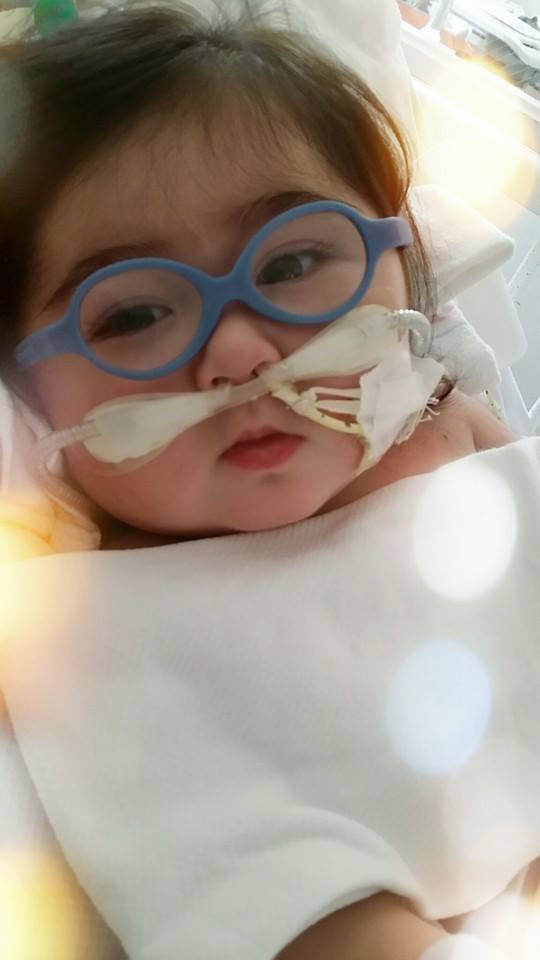 He spent another 10 days in the hospital and when he was discharged his Mommy took time off work to be his caregiver. For those of us who have witnessed his mother Lorena she is so great in caring for him, I think she should be an honorary nurse :). Just when we thought things were looking up,2 months later Dom contracted Rhinovirus again and develop pneumonia . He was in such respiratory distress this time that he had to be intubated to help him breathe. It was a hard time for everyone. The fears, the sadness were overwhelming. But we relied on our faith to guide us. It was decided to have an emergency baptism for Dominic and he received his 1st sacrement in his PICU bed. His Mommy and Daddy were at the hospital night and day, they never left his side, they stopped working just to be with him. Their focus was on his recovery.
After 1 month he was discharged and got to go home again. Soon the doctors were ready to switch out his NG tube to a G-tube and he was scheduled for surgery. The morning of the surgery we arrived and Dom couldn't have been a happier baby that morning. But then the doctor came in and said his stats weren't good and his breathing was low. He checked his throat and said he had tonsilits, and they were blocking his airway. His surgery was cancelled and he was taken back to PICU. Two days later his CO2 levels were too high and were continuing to rise. High CO2 levels can cause damage the brain and heart. The decision was made to intubate him for the 2nd time. I can't explain the emotions experienced during the next two weeks. Like a roller coaster that has drops and turns you weren't prepared for. The doctors decided to proceed with the removal of his tonsils and G-tube placement surgery. All went went and we hoped he was out of the woods. However it wasn't the case, Dom's CO2 levels remained high. A tracheotomy was given as an option. No one knew why this was happening. An MRI of his brain revealed it is growing but very slowly since his last scan in February. An EEG of his brain revealed abnormal brain activity. A prelimnary genetic test revealed a genome sequence duplication however his Daddy has the same duplication and there is no known disorder associated with it. Driscoll Hospital and his doctors decided a more complex full scale genetic test was needed. The test results will not be ready until September or October of this year. So far we have no answers for his smaller brain size, loss of muscle tone, or abnormal brain activity.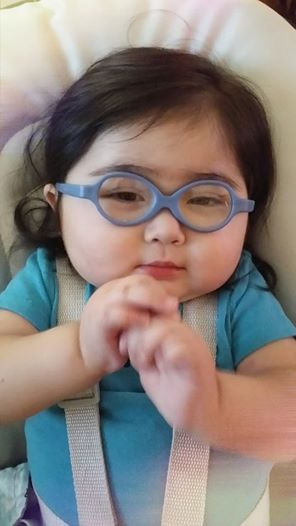 Dom was released to go home two weeks ago. He will need physical and occupational therapy indefinitely at this time. He cannot yet sit up, stand, or roll. But he sure does love to laugh and smile :). He melts our hearts each time we see him, he is the love and light of our lives!!! His parents Lorena and Rey say they don't know what they would do without him but they don't realize he wouldn't be here today if it weren't for them. They have been unwavering in their dedication to him, never leaving his side. It has broken our hearts to see them go through all this as well. Lorena and Rey have taken time off work from the beginning to make Dom's recovery their priority while also caring for their 7 year old son Rey who is a very active boy. Their family and I have set up this fund to assist them with the burdening cost of bills, care, and treatment for Dominic and throughout his recovery, which at this time the length is unknown. Any amount helps them and is deeply appreciated.
The journey is still ongoing...our faith carries us each day hoping and praying that answers will come for Dominic's diagnosis. Thank you to everyone who has been there through each step offering prayers and words of encouragement. Keep the prayers coming! God bless everyone! From the Rodriguez, DeLeon, Moreno, Chapa, Salas, and Gonzalez family, we love you and please continue following along with us on our journey with our beloved Dominic.

Organizer
Missy Chapa 
Organizer
Corpus Christi, TX
#1 fundraising platform

More people start fundraisers on GoFundMe than on any other platform. Learn more

GoFundMe Guarantee

In the rare case something isn't right, we will work with you to determine if misuse occurred. Learn more

Expert advice

Contact us with your questions and we'll answer, day or night. Learn more