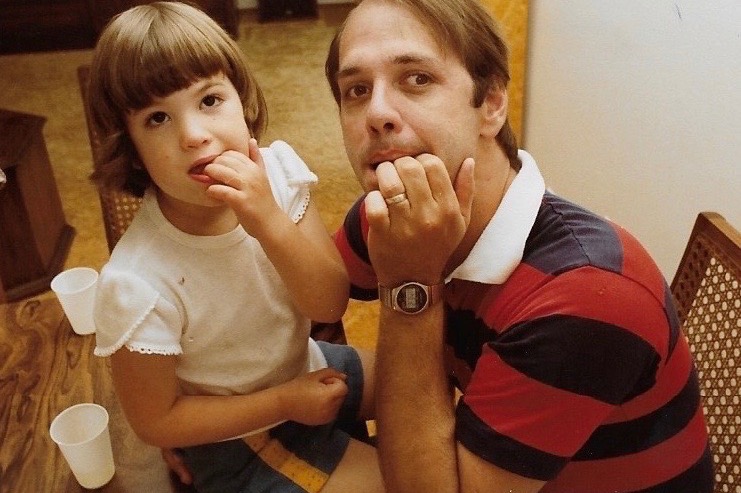 (Barbara - Age 7 and John Ewen)
Love Never Dies - A Walk in Memory of Barbara Ewen to #CUREMSD
Barbara Michelle Ewen, born in 1976, was the second child to her loving parents John and Kathleen. When Barbara was slow to meet developmental milestones her parents began a search for the cause, pursuing diagnostic tests and the best specialists they could find for their precious daughter. No one could answer exactly why Barbara wasn't growing and developing like other children, nor could they explain the reasons why she began to loose what little skill she did have at a young age. 
By the time Barbara was seven, the Ewen family was caring for their severely physically and cognitively disabled child, while still fighting to put a name to the disease wreaking havoc on their sweet girl. With fibroblast testing done on Barbara in 1983, John and Kathleen were finally able to call this terrible disease by name, Multiple Sulfatase Deficiency (MSD).  John and Kathleen were told their daughter would not live beyond her teenage years - that she would never regain her health, but rather would continue a slow and painful decline until her death. 
Despite all of this, John and Kathleen held firm to their faith and to a hope that someday a treatment for this disease would be found; hope in a day where the diagnosis of MSD would not be a definitive death sentence. 
In 1996, more than ten years after Barbara's diagnosis was confirmed, John and Kathleen reached out to radio stations in Dublin, Ireland in an appeal for help. Knowing that MSD had a genetic cause, and having a clear Irish heritage, the Ewen's felt there may be other children who were also being stolen by this terrible disease. Before the internet was readily accessible, this plea for a connection was their hope to connect to other families suffering the same fate, and perhaps even start a movement to bring attention to this disease and help their own child. 
Unfortunately, their attempts at connecting to other families in Ireland was unsuccessful. Barbara continued to decline, yet throughout her life remained "sweet to her core", John recalls. Barbara passed away surrounded by the family that loves her in February 2017. To date, she is the oldest known person to have battled fiercely against MSD.
Despite losing their own child, John and Kathleen remained dedicated to raising awareness of this rare disease and raising funds to support ongoing effortsto find a cure for MSD.    
John is a board member, along with Barbara's older sister, Dr. Jennifer Ewen Frank, of the only foundation based in the United States dedicated to finding a cure for MSD, the United MSD Foundation.   
The USA-based United MSD Foundation was founded in 2016 by Amber Olsen, a mother who is currently facing MSD head on as it devastates her precious four-year-old, Willow Cannan. Like John and Kathleen, Amber has refused to simply watch this disease consume her child's life.  With the help of social media, foundations and families across the globe are uniting to fight MSD with determination.  
The international partners of The United MSD Foundation are the MSD Action Foundation, based in Ireland, and Fundación Cure MSD, based in Argentina.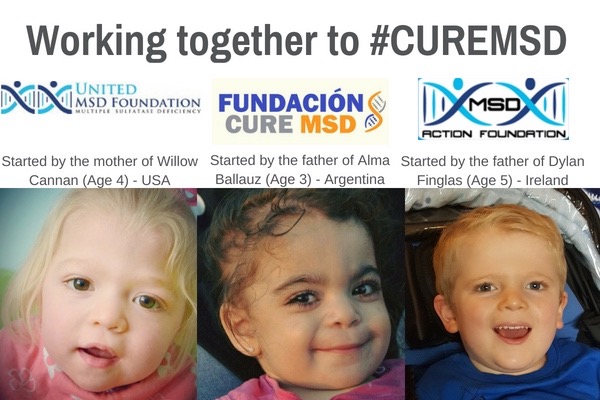 The three foundations are united to support John's walk across Ireland, hoping that his 170-mile trek will raise awareness of MSD and earn additional, desperately-needed funding to continue various projects currently ongoing in the USA and Europe focusing on treatment for MSD. 
Returning to where his original call to find more MSD patients went out in 1996, John has chosen to walk across Ireland as a part of his journey both as a parent, and a committed advocate for the MSD community. John will also finally meet face to face with Alan Finglas, founder of the MSD Action Foundation and fellow MSD parent. After collaborating for four years, this is a long-anticipated event for John and Alan. 
Due largely in part to the persistence of the three MSD Foundations, for the first time there are potential treatment options in pre-clinical development. The cause of MSD has been pinpointed to a single gene:  the SUMF1 gene located on chromosome 3. Science and medicine has now progressed to the point where a faulty gene can be replaced with a functional copy by Gene Replacement Therapy. 
There is an ongoing project in it's early stages of development at the University of Texas Southwestern exploring the efficacy of gene therapy for MSD.  So far the results are promising which indicate that the genetic defect found in MSD can be corrected. This may give MSD children like Willow, Dylan, and Alma and other MSD children like them a chance at a normal life. While the first steps have been funded by The United MSD Foundation, each of the three foundations are in support of this treatment option and plan to contribute financially to see it through to completion.  
To continue this first-of-its-kind research for MSD, additional funds are needed to bring it to the point of clinical trials where the treatment can be administered to children.  
The time is now – children are suffering today. Every dollar raised by this page will go directly to The United MSD Foundation (501c3).
Please Donate Today at least $17 in memory of Barbara, who passed away on February 17, 2017.
Please Donate Today at least $17 representing the 17 enzymes that children with MSD are deficient in, causing the break down of function across all body systems and leading to an early death, normally before 10 years old. 
Thank you!
For more information about the United MSD Foundation, please visit our website at
www.curemsd.org 
(Barbara - age 8)
Zukon Ltd T/A Auldshebeen Gastro Pub

Montse -Victor Garcia Melendo
Organizer and beneficiary
Brittany Z
Organizer
Ocean Springs, MS