Cumbrian Derwent Avian Predation Survey
ABOUT ME
My name is Chris Taylor and I live in Cockermouth . I developed a love for freshwater  environments as a child and have been involved in protecting river catchments going back as far as 1989 , mainly whilst in the employment of the National Rivers Authority / Environment Agency  where I acquired years of fishery survey and fishery enforcement experience  as well as attaining the Certificate and Diploma of The Institute of Fisheries Management. 
THE PROBLEM
Sadly , like many other UK rivers , the  River Derwent's wild salmon stocks are now considered At Risk / Severely At Risk by the Environment Agency. Numbers of adult salmon returning to the river from their sea feeding grounds in order to spawn have declined year on year to alarmingly low numbers which could soon not be enough to sustain the river's population and preserve this iconic King of Fish for present and future generations.
It is for this reason that all salmon fisherman on the River adhere to a self implemented 100 % catch and release policy in the hope that scientific research can identify the causes of the decline in order that measures can be taken to facilitate the reestablishment of the salmon population to numbers that are sustainable.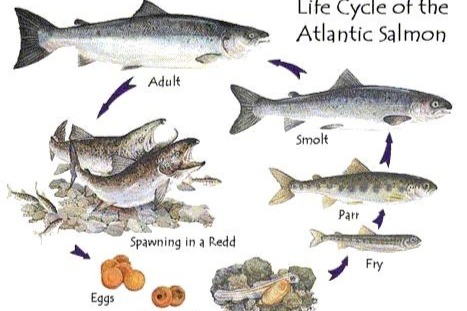 Many theories as to the reasons for the decline in returning adult salmon have been put forward , however recent scientific work involving the tagging and subsequent monitoring of the annual seaward  migration of juvenile salmon smolts ( known as the smolt run which usually occurs around late March  to early June ) on a number of rivers in the UK  have shown that up to 70% of smolts do not even make it to the estuary !
The obvious next step is to find out WHY and then to address the cause by implementing  SCIENTIFICALY BASED RIVER CATCHMENT  MANAGEMENT MEASURES  to protect the SMOLTS on their seaward migration.
WHY MONITOR AVIAN PREDATORS
Because despite the River Derwent being categorized as a SPECIAL AREA OF CONSERVATION due in part to it's once healthy and sustainable salmon population , the effects of avian predation have not been scientifically surveyed.
The two avian predators suspected by those concerned with salmon conservation of contributing  to the collapse of indigenous Wild Atlantic Salmon stocks are the EUROPEAN CORMORANT and the GOOSANDER. Neither bird originates from the UK whilst Wild Atlantic Salmon have been a part of the UK's environmental fabric for thousands and thousands of years ( the goosander was first recorded as breeding in Scotland in 1871 and the first colonies of breeding European Cormorants ( P. carbo sinensis ) were recorded in south east England in 1981. The European Cormorant is a different sub species to our native coastal Cormorant ( P. carbo carbo ) which is not considered to be a threat to our wild salmon stocks.
Both species have increased significantly in numbers in the UK, most notably after being given PROTECTIVE STATUS by The Countryside and Wildlife Act 1981 and the EU Birds Directive. Each bird is a formidable hunter of fish and the Goosander is especially adept at catching fish up to 20 cm in slow to fast flowing , unobstructed rivers like the River Derwent. Both can also hunt their prey at night.
Goosanders have been shown to contain 80 %  salmon smolt gut content during the smolt run. One Goosander / Cormorant can consume  10 + SALMON SMOLTS a day.
Below is a  conservative estimate of the potential cost of avian predation on WILD SALMON SMOLTS  if one Goosander / Cormorant  was killing 8 smolts a day.
 8  smolts a day equals the loss of 56 smolts a week
A 10-12   week smolt run would  cause the loss of 560 - 672 smolts
The above would deny a river of between 17 - 20 returning Wild Atlantic Salmon based on a  3 % return rate. ( present survival rates of returning adult salmon are estimated to be around 2.5 - 5 percent ).
Last year's Avian Predation Bird count on  part of the River Derwent was 188 Cormorants and 169 Goosanders but numbers are estimated to be twice  as high  in the overall catchment. 
 If we just address the Goosander count using the above conservative calculations we find that 169 Goosanders  could  be accountable for the seasonal  loss of between 2873 - 3380  RETURNING  WILD ATLANTIC SALMON. 
At present , due to these NON INDIGINOUS PREDATORS being given protective status by the EU and the UK GOVERNMENT , the number of Goosanders and Cormorants that fisheries can cull only allows for a small percentage of the numbers of birds that  inhabit a fisheries to be reduced  despite many now agreeing that culls should be based on numbers determined by science and not politics  in order to prevent the extinction of our wild salmon stocks.
THE AVIAN PREDATION SURVEY 2022     
 Here on the Cumbrian  Derwent ,  GLASGOW UNIVERSITY are currently undertaking a three year SMOLT TRACKING SURVEY which will allow me to concentrate on areas of concern from day one in relation to the SMOLT RUN . The AVIAN PREDATION SURVEY  will not however be confined just to the Smolt run , as I will be monitoring avian predation in the River Derwent's Catchment for a full twelve month period. This is because the loss of pre smolt salmon ( Fry and Parr ) could also be having a significant effect upon returning adults. Data will be gained  using a number of methods including  photographic evidence , the genetic analysis of Goosander and Cormorant faeces samples and the otolith analysis of Cormorant pellets.                                                                              
This Survey will be A MAJOR GAME CHANGER  in the implementation of  RIVER CATCHMENT MANAGEMENT STRATERGIES not just here on the River Derwent  but nationally too if it provides proof that AVIAN PREDATION is indeed having a detrimental effect upon our WILD SALMON  populations , as it will help to enable those Organisations concerned with the protection of our NATIVE WILD SALMON to present an overriding case for a change in the law to allow for the pragmatic reduction in the numbers of NON INDIDGENOUS AVIAN PREDATORS to levels that do not threaten the very existence of THE KING OF FISH in our waters.
All my time executing this survey including the analysis of otolith samples I give freely, the funds that I need to raise are solely for equipment , insurances and for the cost of acquiring DNA ANALYSIS of faeces samples from private Laboratories.
PLEASE HELP TO SAVE OUR WILD SALMON BY SUPPORTING THIS SURVEY AND DONATING NOW
Donations
Become the first supporter 
Organizer
Chris Taylor 
Organizer
Brigham, North West England, United Kingdom
#1 fundraising platform

People have raised more money on GoFundMe than anywhere else. Learn more

GoFundMe Guarantee

In the rare case that something isn't right, we will refund your donation. Learn more

Expert advice, 24/7

Contact us with your questions and we'll answer, day or night. Learn more