Mission:
Our mission is to travel to rural areas to support local people and groups achieve their environmental conservation goals at a grassroots level.  As we travel and make local friends we will get a chance to learn about different cultures and unique features that make these areas special. We will be sharing our experiences with the public through different media outlets in order to raise awareness and understanding about these parts of the world and the issues they face. This project will be initially completed through three countries; Papua New Guinea, Cambodia and the Philippines. 
Our Story:
We are two young environmentalists and adventurers who met in the Peace Corps  working on community environmental projects in Panama. We both have a common interest and passion for environmental conservation, learning about new cultures and working directly with local people.  As our time in Panama was coming to an end we started to discuss how we could continue this work we fell in love with. We decided that rather than just taking time off and traveling abroad, we would design a project through which we could directly work with and give back to the countries we were visiting. The result was the concept of Cultured Roots, a freelance environmental project in which we will be utilizing our personal skills in order to work directly with small community projects and local people. As conservationists who lived and worked in the same communities for extended periods of time, we came to learn that shared experience and human connection were vital ingredients to the success of conservation projects. Through this project we will be able to engage and connect with the people and communities on a more personal level and provide meaningful support for lasting change. 
How/Why:
Our project goals are: to promote environmental stewardship, develop and enhance scientific and environmental education opportunities for host country nationals, and establish a space for lasting connections and friendships through which continued collaboration and growth can be cultured. We will offer our technical and scientific knowledge, help plan community events, and provide small needed materials to address specific environmental initiatives.
From our experience working in international projects, we agree that reaching people through a grassroots approach is the most effective process for realizing a long lasting, meaningful and successful project. Taking the time to build trust and confidence with any sort of group or community is central when trying to engage in any type of events or knowledge exchange. Through this lens, we plan on connecting with established small community projects, schools, small research organizations and small NGOs who already have these connections and understandings. From there we will be lending aid to build on already existing in-country successes. In order to save time in the field, we already have local contacts in order to guide us in locating areas of interest and need.
Lastly, we will be sharing our experiences with the public through different media outlets in order to raise awareness and understanding about these parts of the world and the issues they face. We will be tracking our experiences and discoveries through writings, stories, images and videos. The Cultured Roots project rests on the belief that we are connected through storytelling and that linking people from different backgrounds helps make our world a better place. We hope by sharing this knowledge, we can create a platform that provides a glimpse into the state of the environment and culture in these countries and offer a better understanding of the people who live there.
With your contributions, we will be able to support our identified projects and help make local goals a reality. Thank you so much for your help and contributing to the common goal of bettering our planet and bringing people together. 
Funding Breakdown:
The majority of the money will be directly used to facilitate and achieve environmental events and projects.  While we will not be making any sort of profit, we will be using a certain portion of the money to help cut our personal costs while working on the project.
60% to be donated to community projects
40% to team members to support equipment, travel, lodging, food. 
Our tentative schedule is:
Papua New Guinea  September 21 - Nov 3 (45 days)
Philippines - Nov 4 - Nov 25 (21 days)
Cambodia - Nov 26 - Dec 16 (21 days)
About Us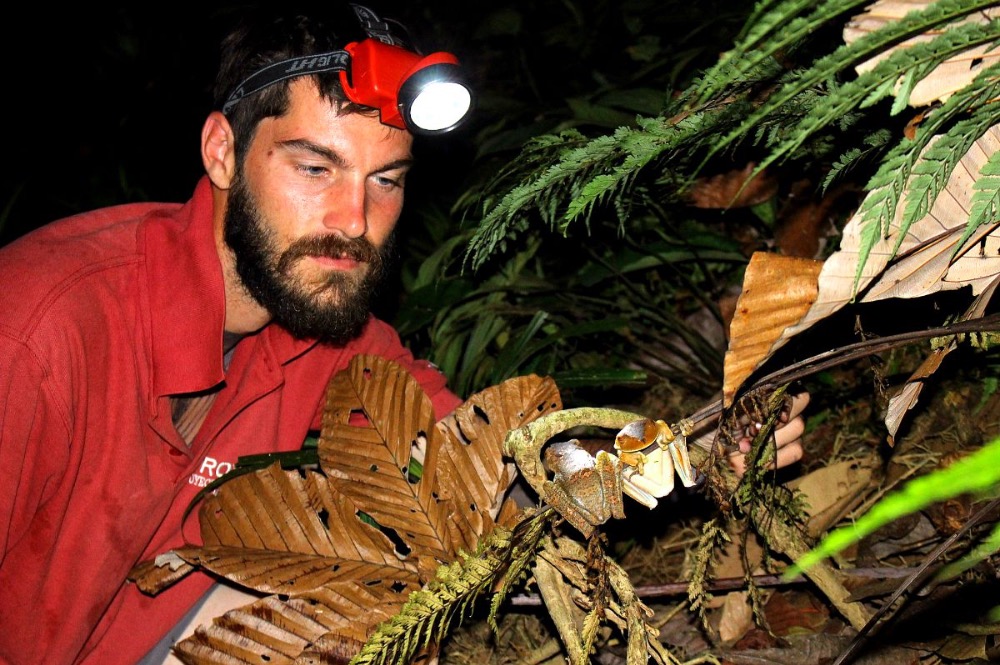 Andrew McInnis has a B.A. in Biology and Environmental Science from Washington and Jefferson College. He has has worked throughout Latin America and the Pacific. His specialty is tropical ecology and he has experience working with both marine and terrestrial environments. He has also worked extensively in engaging and supporting local stakeholders on a variety of projects.  
Christo Ferguson has B.A. from Michigan State University in sociocultural anthropology with a specialization in Latin American and Caribbean Studies. He has spent a majority of his life traveling to Central and South America and exchanging perspectives to better understand people. He has been exposed to the importance of community level projects through his work in local government and working in environmental conservation in Panama.

If you have any questions feel free to contact us at: [email redacted]