Yesterday evening, after returning from a kayaking trip, I was told that my dog had been hit by a car, had then run off, and had been missing for well over two and a half hours. He had somehow gotten out of the house and ran across the street. When he was coming back towards the house, he ran into the street and was struck by the car. When I was first told that he was hit by a car, my heart stopped and I felt like my veins had frozen in an instant. My first thought was that he had died. I considered myself lucky that he was able to get up from the accident. The woman stopped to check her car for damage. Odin is a big dog and ended up denting part of her bumper. She was very angry and threatened to hold us financially accountable for the damage to her car. She didn't ask if my pup was okay, or if there was anything that she could do. Luckily for her, I wasn't there to hear this interaction.
Odin, a 2 year old German Shepherd and Cane Corso mix, has been with me since he was 8 weeks old. He was a bear cub of a puppy!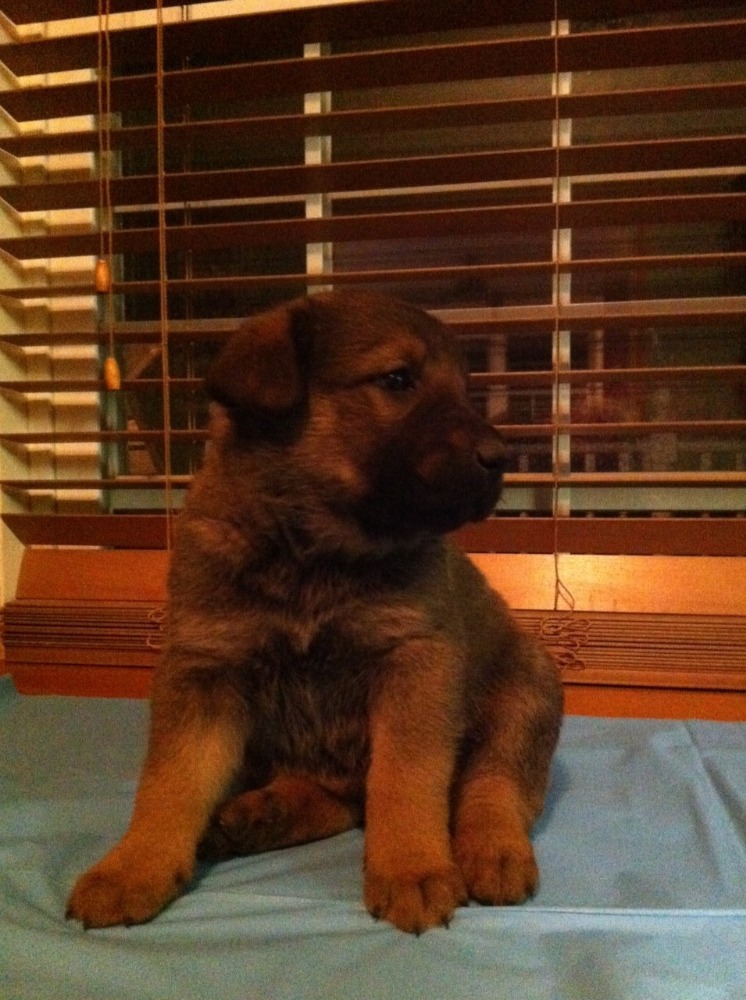 He's my constant companion and my best friend. It was love at first sight after he lumbered into my lap and flopped onto his back. And so, in that moment I knew, this was the start of my life with Odin. And what an awesome life it has been!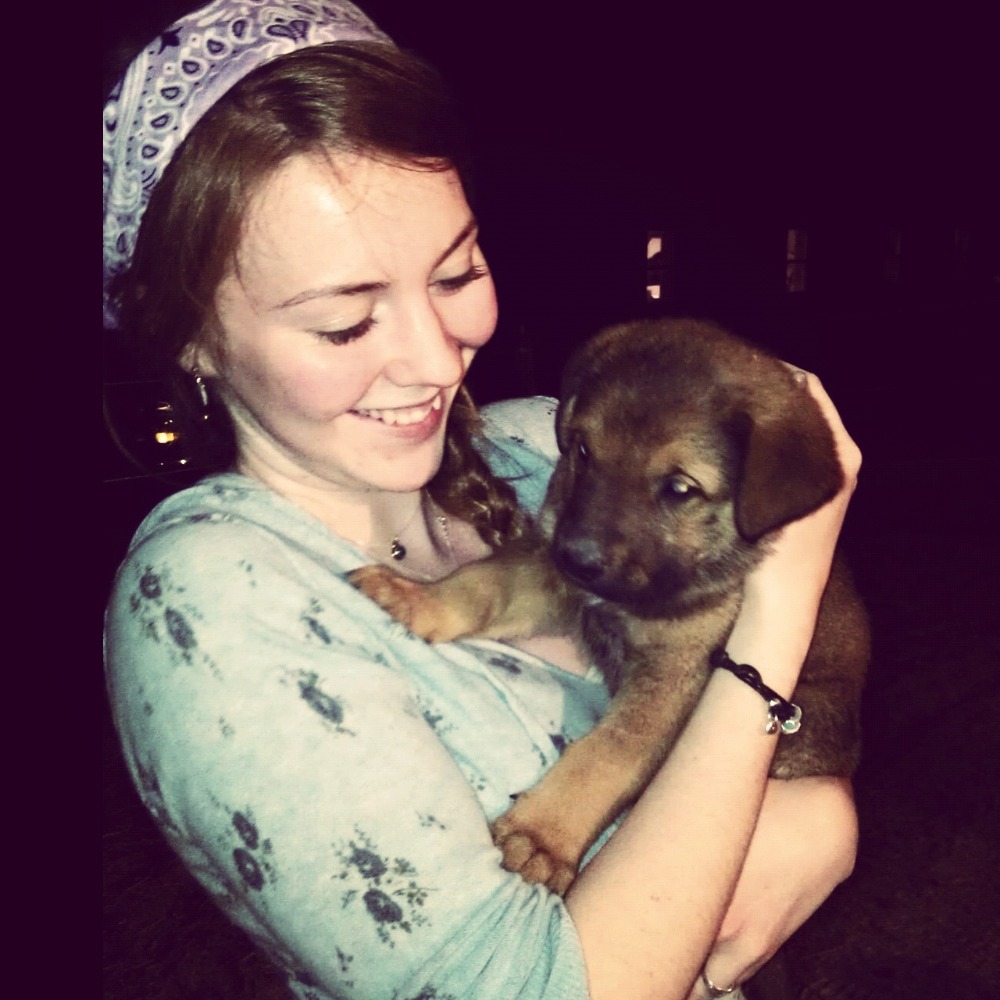 Odin is a goof ball for the most part...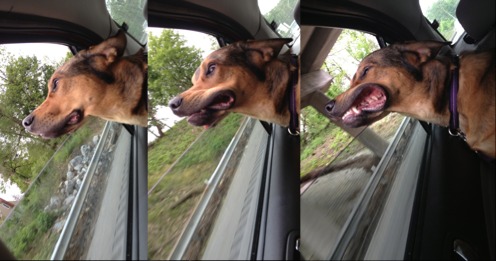 But he's sweet, and very gentle. He loves everyone and everything.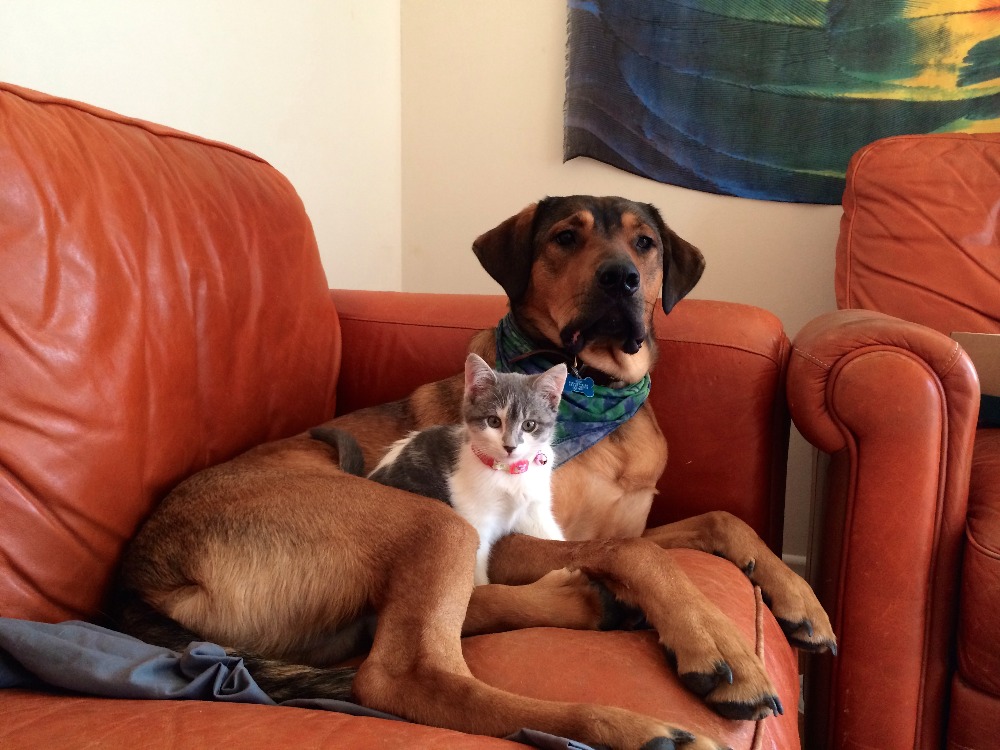 He's grown from a little nugget of a puppy....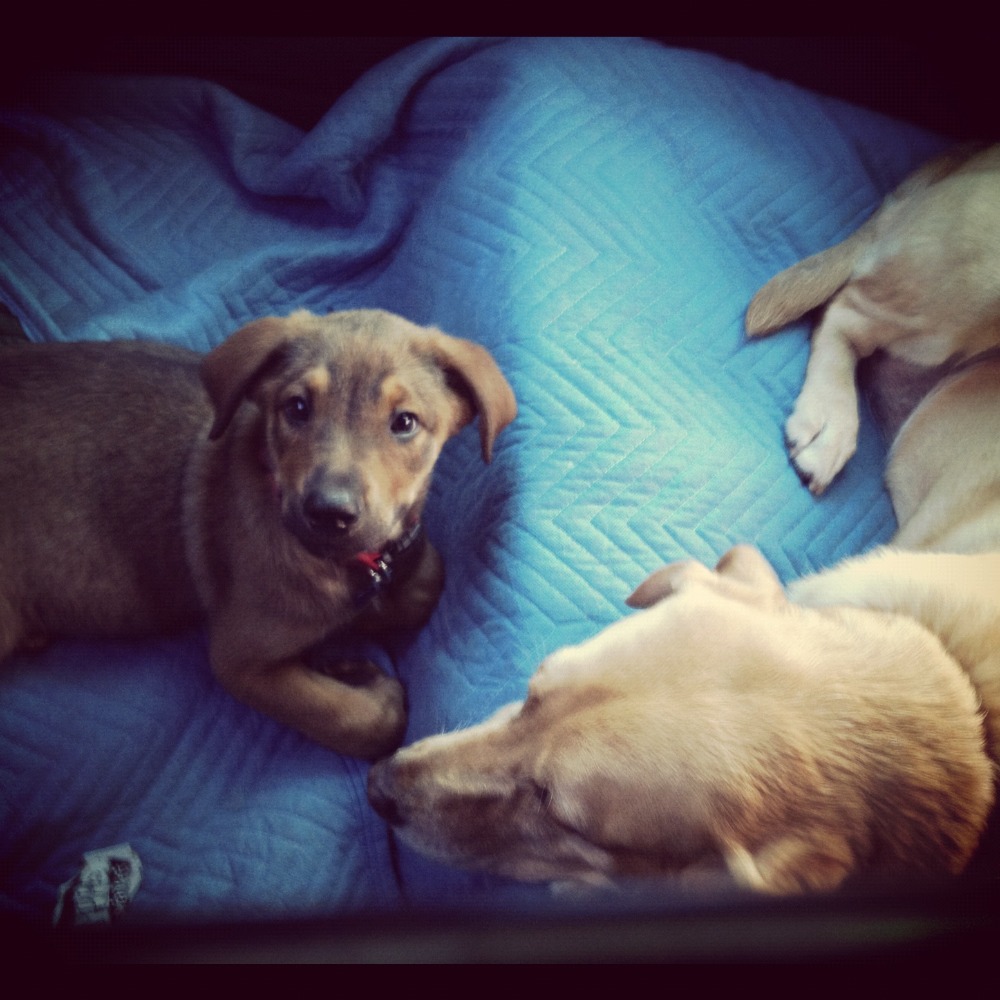 Into a regal pooch. He somehow managed to keep his eyebrows...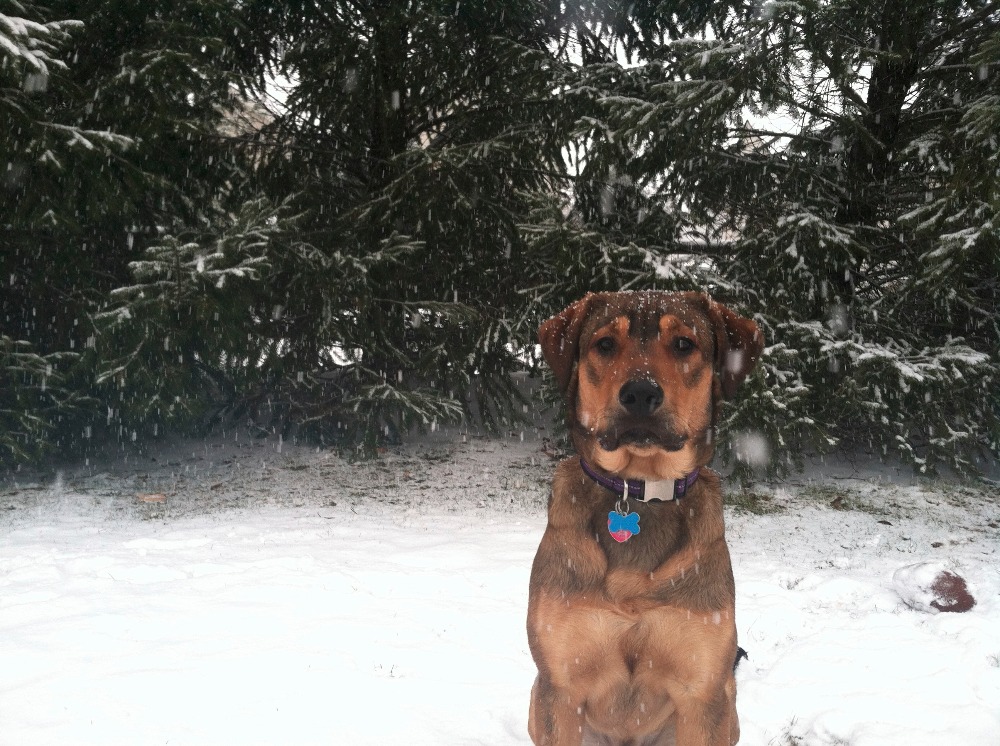 After he was struck by the car, he took off in a random direction. He was terrified, and probably very hurt. I'm sure his adrenaline was rushing, and it stopped him from feeling the full extent of the pain at first. The search for him continued from 5 PM that evening until 1:30 the next morning. I tried to remain calm, and assured myself that he would be okay. After I thought I had heard his bark in a nearby field, I ran into it only to be met by thorns, very wet soil, and no Odin. Cold and defeated, I walked back to the car. It wasn't until then that the long fingers of doubt had crept into my brain and claimed their residency. It wasn't until then that I had allowed myself to cry. I calmed myself down and plunged deeper. I thought of all the times Odin and I had hiked through fields like that, and of all of the times he'd drooled on me while I was trying to feed him. I began to think of his amazing transition from a squirmy puppy into a hefty dog. After another futile hour of searching, we returned back to the house, awaited by a night full of tossing and turning. I was woken up the next morning around 7 to be told that he was outside the house. I lept from the bed, only to be stopped. "He's pretty badly hurt," I was told. I braced myself for the worst and ran out the back door. 
And there he was; curled up around my bag that I had left outside for him to potentially smell. I felt like the whole world had dropped away from my shoulders. I almost wanted to pinch myself to make sure it wasn't a dream. He dropped his ears, raised his eyebrows, and began wagging his tail. I saw a large scrape on his front right paw where it was oozing a bit, some scratches on his muzzle, and a spot where he was missing some whiskers. It wasn't until he got up to come greet me that I realized to some extent what kind of damage he had sustained. His rear right paw was disfigured. It looked as if it were hanging there, skin missing, no fur in some areas, and broken claws. He couldn't put weight on it at all. He hobbled over to me in slow strides, and I could see the pain on his face. How he had hobbled all the way back to the house was beyond me, but I was so glad that he did. He laid in my lap for the next 20 minutes while we assessed his wounds, bandaged what we could, and found a nearby emergency vet clinic. 
The rest was a bit of a blur. He had severe chest trauma, and a punctured lung. All in all, the vets removed about 1 L of air from his chest cavity. The vets were incredibly concerned about this, as his left lung could collapse if too much pressure builds up from the air leaking out of the right one. They bandaged up his paw to the best of their abilities, but couldn't assess the damage fully because it was too dangerous to anesthetize him at that time. He has to be held for 48 hours, and he has to get a series of x-rays to determine the full extent of his injuries. He's a trooper though! When I finally got to see him, after six hours of wasting away in the waiting room and filling out forms, and I couldn't believe how much better he had looked already! Unfortunately this miracle work was quite costly. I am now in need of around $3,000 to make sure that he gets treatment for his injuries. I am asking everyone that reads this to please consider donating just five dollars. I already work 2 jobs to make sure that I can make it through college, and I don't have $3,000 for this. If all of my Facebook friends alone donated $5, the entire thing would almost be covered. I hate asking people for help; it's a flaw of mine. But, I'm asking now because it's not just me that needs the help... It's Odin that needs it too.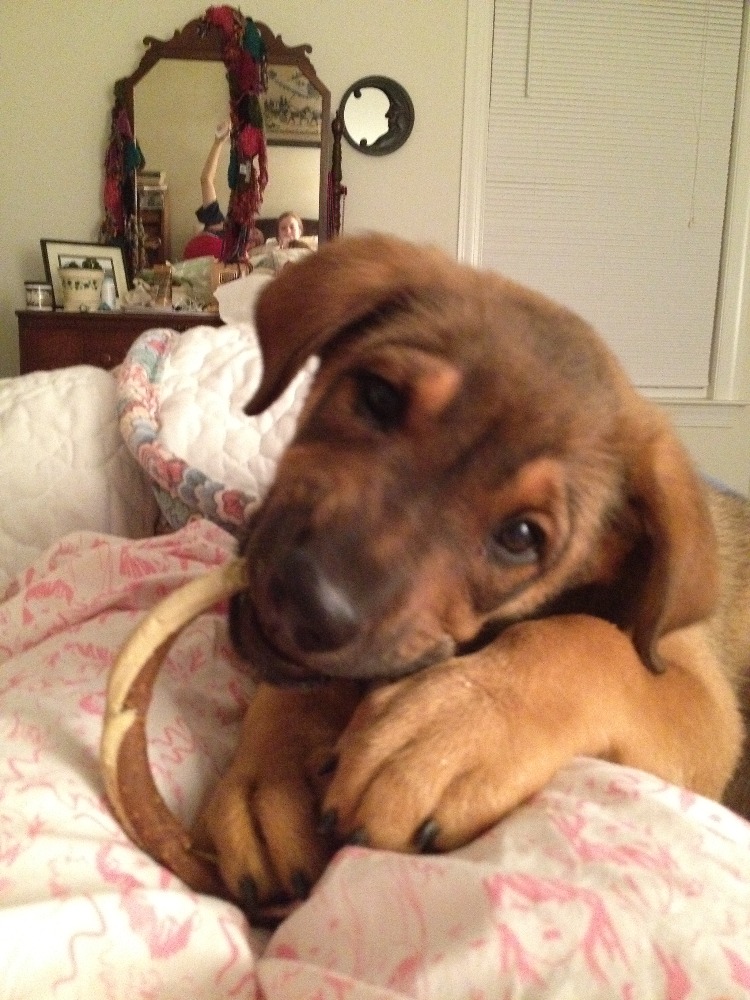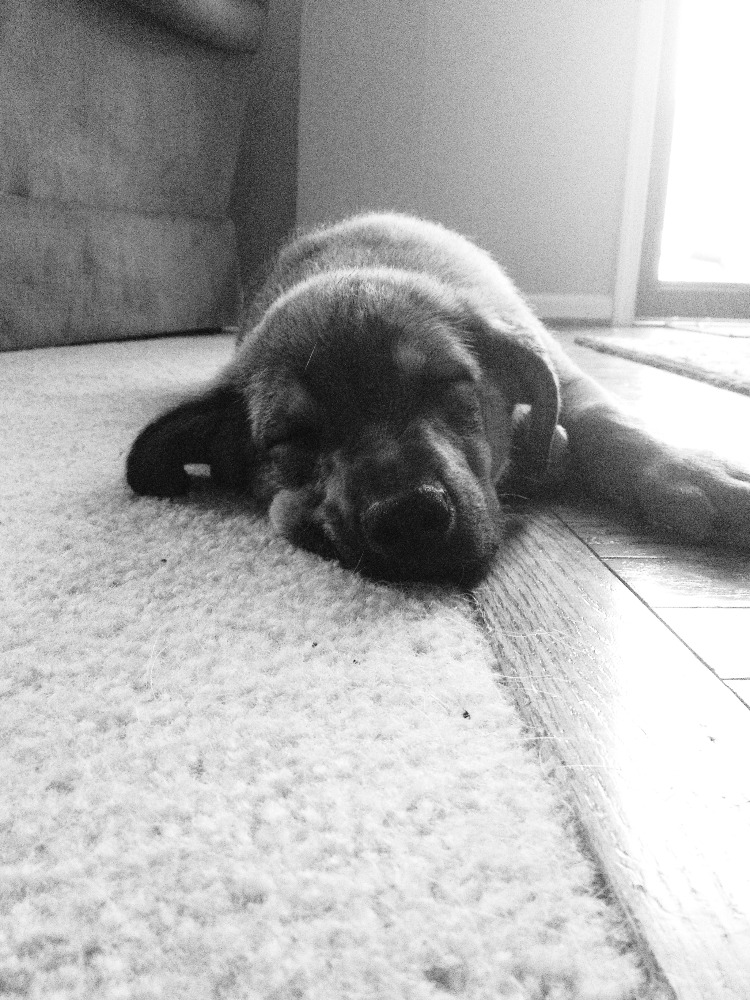 I just want my buddy to come home.
Organizer
Meg White
Organizer
Syracuse, NY