Thank you for taking the time to share our family's story and why we are seeking the help of family, friends and colleagues. Eight years ago, I was anxiously awaiting the birth of our son, Jacob. At 26 weeks, I was admitted to hospital due to severe pre-eclampsia. We were told Jacob's chances of survival were 50%. With my kidneys failing and my blood pressure dangerously high, my doctor told me that legally they had to deliver me or I would die and they were obligated to try to save my life over my baby's. A few hours after I was induced, I started to leave this world and indeed saw the light. The pull to cross over is incredibly strong because there is such a feeling of profound peace and love. In that moment, I felt so incredibly honoured and humbled to have the privilege of giving birth, as I realized that all life is precious.
Thankfully, Jacob was born alive at 1lb, 10oz. He was immediately put on a ventilator. I thought that all he had to do was gain weight until he reached 5 pounds and he could be discharged - a healthy, baby boy that just had a rough start. That was not Jacob's story. Jacob experienced almost every preemie complication that exists. When he was about one month old, he had to have heart surgery, without which he would not survive. At 3 months of age, we learned that his airway was not fully developed and he would require a tracheostomy ("trach") for about a year. The day before Jacob was due to have his surgery for his trach, he had a cardiac arrest and nearly died.
Jacob spent the first 8 months of his life in hospital. Prior to discharge, he was diagnosed with Cerebral Palsy ("CP"), which was absolutely devastating for us. His doctors could not predict how serious his CP would be and whether he would walk or talk. We took him home, grateful that he was alive and yet fearful of what the future would hold. Jacob had his first airway surgery 6 years ago, which was not successful. He also lost his ability to swallow. Jacob remains tube fed to this day. Jacob received his second airway surgery 4 years ago, again unsuccessful. After consultation with airway surgeons internationally, they concluded that it was too dangerous to further operate on Jacob's airway. For now, the best course of action is to let him grow and see if his airway will either correct itself or grow. This year, Jacob will have had his trach for 8 years.
What does life with a trach, a g-tube and CP involve? Jacob has no gross or fine motor skills, which means he is completely dependent on others for his care and mobility. Jacob requires 24 hour care and monitoring because he cannot breathe without his trach. While Jacob appears to be cognitively typical, he is non-verbal. He currently uses eye gaze to communicate. We are hoping he will eventually be able to operate a computer with the use of eye gaze. He is being home schooled, as he was spending most of the school year in intensive care, as his immune system was too fragile to handle the exposure to the germs. In kindergarten, again he almost died from a respiratory virus he picked up at school.
(Jacob - kindergarten 2011)
The financial consequences of raising Jacob at home are overwhelming, especially on one income. It became clear to us well before Jacob was discharged that even with nursing support, one of us would have to give up our career to become Jacob's primary caregiver due to Jacob's complex care. My husband, Andy has embraced this role with admirable grace, patience and compassion. This has allowed me to continue my career, but not without significant sacrifice. It is impossible for me to return to work at a pace where I could earn significantly more income. I have opted to remain self-employed and earn less income to allow me the flexibility I need to assist with Jacob's care when necessary; to attend critical appointments; be available to help Andy when Jacob is in hospital; and most importantly, to keep our family intact. The divorce rate is extremely high for parents of special needs children and our family's well being is far too important to sacrifice for a higher income.
The numerous hospital admissions result in several days of lost income and expenses in gas, food and motels. This puts us in a challenging situation, as we are a sole income family with extraordinarily high expenses and housing needs. Despite these challenges, we love Jacob unconditionally. Against unbelievable odds, he is an incredibly happy, loving boy. We know that he is very medically fragile and we cherish every day we have with him.
We relocated to the Niagara Region 6 years ago, due to the resources available for Jacob. We selected a nice bungalow, which we thought would meet our needs. Not knowing anything about accessibility or if Jacob might walk, we assumed it could be retrofitted if necessary for a reasonable price. We did not know that the ceiling in our current home would not be compatible to install a ceiling lift. We did not know we would have to sacrifice our privacy indefinitely, due to the number of caregivers in our home. We did not know that lifting a 50lb child and lugging a wheelchair up stairs is hard on the back.
It became clear to us last year that we would have to find a new home that better suited our needs and custom building was by far the best option. As it is so difficult to take Jacob out, we want to create a home that will be a place of love, comfort and well-being for all of us. Our intention is to remain in this home for the rest of our lives and we are designing it with this in mind.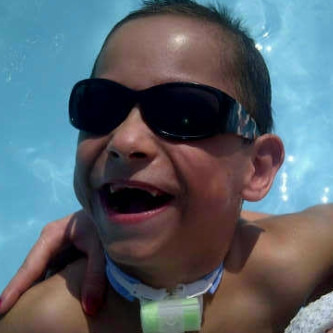 Our new home will give us the privacy we need, as well as the accessibility that Jacob requires, including a ceiling lift system; ramps; porch lift; accessible washroom; and elevator. Without this home, we could not continue to care for Jacob at home and institutionalizing him is not an option for us. Unfortunately, building an accessible home comes with a hefty price tag. As such, we are endeavouring on a fundraising campaign to help us with the accessibility portions of our home, which we estimate will cost approximately $100,000. Our goal is to raise at least $50,000.
This will indeed be our dream home and we sincerely appreciate any help that you may provide. Thank you so much for sharing our story and being a part of our dream.
Mountainview Homes and Trades People  
Organizer
Kimberly Thomas and Andy Stevens 
#1 fundraising platform

More people start fundraisers on GoFundMe than on any other platform. Learn more

GoFundMe Guarantee

In the rare case something isn't right, we will work with you to determine if misuse occurred. Learn more

Expert advice, 24/7

Contact us with your questions and we'll answer, day or night. Learn more