Brain Surgery aka Crack my skull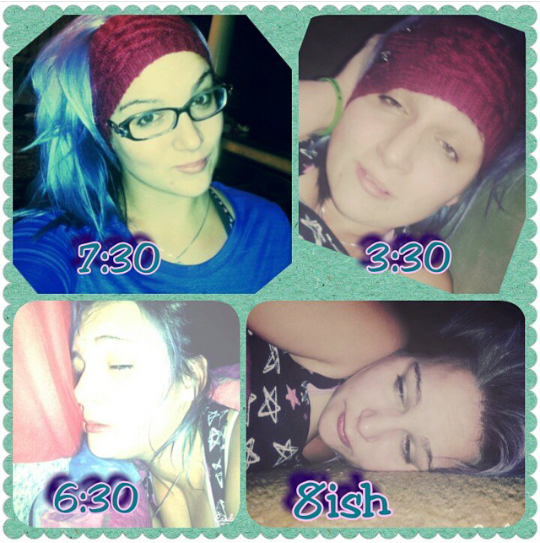 With only 14 days left until I have surgery I have finally decided to actually use my words and put my fear and anxiety aside.
A little over a year ago my life was pretty normal, you know as normal as I could ever dream of being. It was great honestly. I was working, full time (straight A's btw haha) student, I was planning on applying for the nursing program, with intentions of moving on to be a nurse practitioner, being an awesome crafty, parks, forts, fun, fabulous, running mom. Then one day in one moment everything changed. I fine walking across the room and BAM next second I had dropped to the floor, full blown tears, grabbing my ear. It quite literally felt like I had been stabbed in my ear with an icicle. (Others say ice pick I choose the icicle because it is a cold sharp stabbing pain, not just stabbing)
Over the next couple of months things just got worse. The pain was relentless, I would just hide in my room for hours shaking and sobbing, even typing this up brings tears to my eyes because the thought of the pain hurts. After going through doctors and nurses and hospitals and tests and having to drop all my classes being fully dependent on my family to help me with the girls. I had a friend once drive 45 mins to make my kids a peanut butter jelly sammich because I physically couldn't move due to the pain.  Around July last year is when we finally came across the diagnosis of….
Geniculate Neuralgia…aka Suicide Disease…
Never heard of it, don't feel bad there are only a handful of doctors who know what it let alone can or will treat it. GN  results in severe pain that may spread to the ear canal, outer ear, mastoid or eye regions. The pain of GN is sharp, shooting or burning and can last for hours.(or days) Painful attacks can be triggered by cold, noise, swallowing, talking, or touch, but triggers are usually unique to the sufferer. The deep ear pain which is usually sharp is often described as an "ice pick in the ear"—but may also be dull and burning. (I think I copied this from online somewhere so don't quote me.
Since it is resistant to medications brain surgery is the only option. Microvascular decompression (MVD) is a surgical procedure that relieves abnormal compressions of several cranial nerves(brain surgery, aka the cracking of my skull). In the year of searching I have only found one doctor who is willing to help me best she can regardless of the fact that before I found her she had no idea what GN was. There will never be enough ways to tell her thank you for helping with setting the ball in motion with this.  When I contacted the doctor in Pennsylvania I had no idea that they would take my case, and then on top of that schedule me so soon
July 22 is my scheduled surgery date in Butler, Pennsylvania. Through off and on small side jobs I have a little money saved. However, I don't have it all. I don't have the traveling expenses covered. The money that is raised here will help go to cost of the procedure, medicine, and for travel expenses. Although everything is scheduled I am still searching ways to get as much as the money I can. 
I am a single mother to 2 beautiful, intelligent little girls. Before this monster of a disease consumed my life, I was an avid runner going as far as 5 miles a day. The girls and I went on adventures, dates, runs, enjoying life like anyone should. I can barely take care of them since this has come into my life. Some days, I can't get out of bed at all. The attacks are vicious. I wouldn't wish this pain on anyone in my entire life. The pain is constant. I've build up and incredible tolerance. When a strong attack hits though I become hopeless and unable to function. I can't walk or talk, I've blacked out several times. I have a support system of family and friends who have come together to help me take care of my girls when I'm having rough days.
Please, please consider helping. If not for me, for my girls so that they can have their real momma back.  

Organizer
Candice Leigh ForeverFree 
#1 fundraising platform

People have raised more money on GoFundMe than anywhere else. Learn more

GoFundMe Guarantee

In the rare case that something isn't right, we will refund your donation. Learn more

Expert advice, 24/7

Contact us with your questions and we'll answer, day or night. Learn more