Hanna's Recovery and New Life
Hanna, 16 years old, was struck by tragedy on Monday December 30th. She was halfway on her drive home from Christmas celebrations with her Dad & family in Grand Rapids, MI to be with her friends on New Years Eve in Muncie, IN, but never made it. She had a moment of over-correcting her Rav4 and lost control, rolling several times in the median.  A Good Samaritan driver who witnessed the rollover from his rear view mirror stopped to stay with her and help until the first responders arrived.  She had to be extricated from her car by Jaws of Life and was taken by ambulance to Parkview Regional Medical Center in Ft. Wayne, Indiana (windy conditions prevented helicopter transport). Hanna called her Mom from the accident scene crying, and she remembers it clearly.
When her Mom made it to the ER, Hanna was being resuscitated and her survival was questionable. She lost an enormous about of blood and had multiple injuries: 
·      a small central brain bleed, which hasn't affected her cognitively and is resolving;
·      a couple broken ribs;
·      significant bruising from her seatbelt on her neck, chest, and lower left side;
·      a left lung contusion;
·      a small intestine tear & a few other minor abdominal injuries;
·      a compound fracture of her right tibia & fibula and bones broken in her right foot;
·      a left femur and left hip fracture; and
·      a fracture and dislocation of her lowest lumbar vertebrate with a chip of bone pressing on her spinal column. 
Since Hanna's accident, the trauma team of surgeons has been hard at work balancing and prioritizing her needs on a daily basis. She has undergone numerous surgeries to fix damage to her organs, to repair her left hip & femur, to clean/debride her right leg wound, and to stabilize the tibia fracture with a plate. Spinal surgery was also undertaken. She had a fusion of her lower lumbar vertebrae with rods and screws put in place. Additional surgeries followed throughout the first week to continue healing efforts on her Tibia and the open wound site. 
Obviously, Hanna's injuries and issues are multiple and complex, making all of it hard to track. Things change daily such as hemoglobin levels, oxygenation, fluid around left lung, heart arrhythmia, kidney functioning, etc., which means new interventions occur daily. She has been intubated due to her lung contusion and multiple surgeries and is kept quite heavily sedated. Also, there is a lot of uncertainty about her healing prognosis. For instance, her lower right leg wound and fracture are very severe and there are questions about if and how these will heal; amputation is a possibility. Although she has sensation and feels pain in her legs, she has not had any neurological motor functioning in her lower extremities since the accident. The longer her paralysis remains, the less likely she will regain it long-term. 
In the midst of any tragedy, maintaining optimism and gratefulness is hard but possible.  Her brain injury is mild and despite sedation, she is cognitively sharp when awake. The hospital has beautiful and convenient amenities with a Ronald McDonald house located on the first floor offering the family all necessary food and accommodations. It is also very meaningful and significant them to receive kindness, love, support, prayer, and offers for help from family, friends, communities, and even strangers from around the world. For instance, paramedics from the accident scene have called to check on Hanna, there was an offer to walk their nonexistent dog, hundreds of texts and phone calls have been received from people sharing care, love, concern, and wanting to know how to help.  
The road ahead for Hanna remains uncertain but we know the entire family will be looking at a whole new way of life that will most definitely involve financial challenge and hardship. We are beginning this fundraiser on behalf of the family to help Hanna get the best long term care possible and eventually help her get access to healing and resources that will ensure she maintains a mobile and independent life, such as updates to their home including a ramp and handicap accessible shower as well as a wheelchair van.
Just midway through her Sophomore year in high school, this vibrant, sweet, horse-loving teen has a lot of life left to live. We hope to take some of this burden off the family and aid in raising funds to help them prepare for whatever her new life may look like.
Whether or not you're able to make a donation, please consider sharing this fundraiser outward within your community at hand, and share with us a story below on how you got to know and love Hanna!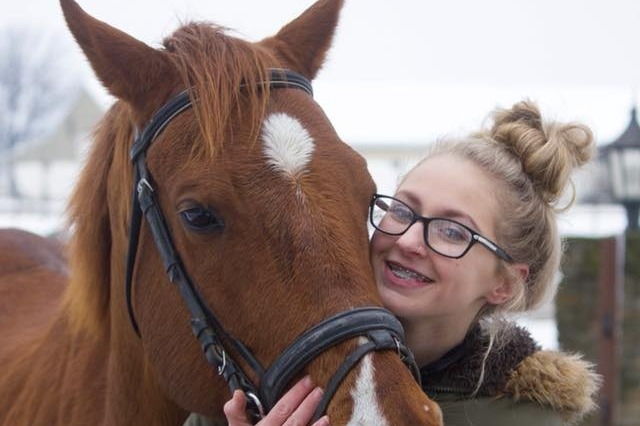 Fundraising team (3)
#1 fundraising platform

People have raised more money on GoFundMe than anywhere else. Learn more

GoFundMe Guarantee

In the rare case that something isn't right, we will refund your donation. Learn more

Expert advice, 24/7

Contact us with your questions and we'll answer, day or night. Learn more