In 2010 our families lives were turned upside down and since that day we have suffered many personal tragedies. Amanda was involved in a devastating 2 car accident with a drunk driver & another driver who was late for work.  Amanda was severly injured & in a coma. She had to be flown Flight for Life to UIC- Chicago, where she spent the next 3 weeks in a deep coma. Tests showed she had a fractured C1, a fracture of the occipital condyle, a severly bruised brain stem. Her hip injury was considered a minor injury compared with all else. Amanda showed No brain activity & only involuntary movement throughout her body.  I read books to her every day- the Velveteen Rabbit, the Giving Tree... Our daughter was on life support & had a trach, feeding tube, and picline. We traveled to the hospital in the city daily- 1 1/2 hours each way. We slept & ate little and continued to work as much as we could. The doctors finally came up with a plan to fix her injured head and neck. They removed a rib and set about to do surgery to repair & protect her neck. Several days after the surgery Amanda began to emerge from her coma and began her Long road to recovery which continues to this day. Amanda continues to battle intense pain, short term memory loss, balance issues, and bipolar disorder, depression, anxiety and discrimination. Amanda came home 3 months after the accident- still on life support.  While happy to have our daughter home, this posed many new challenges. And out of the blue, Amanda asked me if I had been talking about the Giving Tree- I asked Why? And she replied that she heard me telling the story the Giving Tree by Shel Silverstein to her 
NOW, fast forward to March 2016~~Amanda's father, My husband Ken  is very ill-
he has suffered a stroke, had heart bypass  and has heart failure. The future for Ken is likely to be in and out of hospitals..  this past year he has been in hospitals more than he has been home.
Ken in the hospital March 2015
Ken has severe asthma. His asthma has always been a concern and he has been hospitalized many times with complications of the disease. Due to largely experimental medicines for his asthma at a young age, Ken developed diabetes. Actually diagnosed in 1992 there is no way of knowing how long he had actually been suffering from the disease.  During this time Ken spent much time working, volunteering at schools on various school outings & camping trips, he also volunteered for our local youth soccer program. Spending winter, spring, summer and fall both coaching teams and training coaches. He also has spent much time furthering his own coaching knowledge, taking weekend and week long coaching certifications to become qualified to coach high school soccer.
Ken is a very quiet and caring man willing to give the shirt off his back to help those in need. Whether teaching a player to bend that soccer ball into the top corner of the net or committing random acts of kindness any where from a Starbucks coffee for a veteran to paying for someone's meal at McDonald's, whether in Woodstock, Chicago or when we were in Arkansas, where he gave a young mother money to buy a gallon of milk, bread and cereal for her children. That is Ken.
 2003~~Ken went back to college and got a degree in Radiology.  He was proud of his position in the health care field. When he graduated he received the Excellence in Patient Care award. This is the kind of person Ken is.  
In 2007 Ken began having heart issues and had to have stents. Then 2010, our daughter's accident caused more emotional & financial stress and in 2011, Ken had 2 more stents and a few days later he suffered a heart attack.  Every year we have to visit Ken in the hospital for days or a week at a time.
In June 2014, Ken had a severe asthma attack and we had to call the rescue squad.  Ken was dying -the rescue squad got here just in time. They took him to the hospital and he was there for 6 days, while they treated him with steroids and strong antibiotics.  The physician told us Ken would have died at home.
Ken was discharged on a Thursday and Delight, our little 10 year old dog (a Papillion), was so happy to see Ken and she went right outside with him.  She became very sick and then fell over on her side. Ken brought her in and I wrapped her in a towel and we rushed her to the Emergency Vet Hospital in Crystal Lake.  They told us it appeared she had had a stroke and they could put her on life support, but my darling Delight was suffering and I had to put her down that night.  I have her ashes and paw print but I will never hear her bark or feel her sit on my lap again.  She was our little Love- we adored her.  It was a difficult homecoming for Ken.
Delight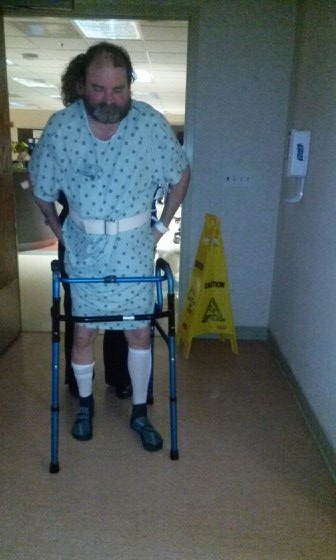 Ken at hospital~ April 2015
Also in June 2014 Ken injured his back on the job. He was simply pulling a patient over from a bed to a table. and felt a "pop".  He herniated a disc in his back which is extremely painful,   the doctors Refused to do surgery so he had back injectons which gave little to no relief.  Ken was in constant pain and with NO options he has been forced to live with this and must use a cane or walker to walk and cannot work. When Ken lost his job we lost our insurance, life insurance  And income, as well.  Worker's Compensation has been Dragging their feet and we are suffering for it.  
In  January/ February Ken suffered a stroke (but the doctors we took him to- were certain the problems were a part of his back or he was "getting" diabetic neuropathy) they never even considered stroke!!  In March Ken finally had to order the ER doctor to order a CAT scan of his Head!!! The doctor argued but finally called for one and was "shocked" to find Ken had had a Stroke- imagine that!
 The stroke affects his whole left side and his speech. In April 2015- He  finished in-patient rehabilitation,  made some nice improvement and is using a walker now .  
He also has chronic heart failure- and has to watch his diet and sodium intake.  His Cardiologist said he will also have to 'live with' some constant chest pain, because he is not getting enough blood flow to hs heart.  
Ken going to therapy
We lost our home due to the financial strains Amanda & Ken's medical issues have caused.  Turns out the bank didn't want the house back so it sits empty.  The city wouldn't Let us move back in without fixing up the exterior stucco.  How?  Ken is too ill to continue the siding. I am not capable of doing this and we had no money to hire anyone. So the city has Taken our home- saying we "abandoned it".  So we became Homeless officially.  Thanks to our daughter's boyfriend he allowed us to sleep in the living & dining room.
I have Never asked for financial assistance in my life but right now I ask for Ken.  Ken feels useless, worthless and completely deceived by his company, with whom he was very loyal... Amanda continues to need more therapy.  We continue to do as much for her as we can and she helps us when she can...
Amanda at Mainstay Therapeutic Riding- riding CowboyWhat can you do to help Ken and the Gray family? What do we need right now??   

At this time Ken is in a nursing home- they say for rehabilitation... Since arriving there last week he has only received 1 PT therapy. Ken is on an oxygen concentrator.  Life hasn't been easier just very different- a family living apart due to health problems. 
Ken will be celebrating his 50th birthday in a nursing home. 
My hope for the future is that we can get Ken home without oxygen and that I can take him somewhere on a small vacation... He has Never been anywhere other than Florida to visit his Mom.  We also need money for legal fees as we still do not have a solid answer from Social Security even after waitng a year and a half. Still fighting with Workman's Comp.  although the injury itself is cut and dry- they can't figure out How to separate the back injury from the stroke & heart.  So we are still in a waiting..waiting...waiting position.
Please consider how a dollar, or $5.00 can add up and help a family.  It can make the difference in purchasing baby aspirin or Ecotrin for Ken's heart or purchasing toilet paper, diapers (pull ups) for adults,  or keeping insurance on a car. Every dollar adds up and helps us.  We appreciate it very much.  
Please Share our page, even if you can't help with a donation, perhaps someone else you know can.  
Please know that any little bit helps! God Bless and everyone seeing this please say a prayer for our special little family. 
Amanda before her accident- doing a skit for a pageant
Ken with his dog, Nikolai before back problems,  & stroke could take it's tole on him.....

Di and Amanda- right after Amanda got out of hospital- taking her for her daily walk down the street at our old house that is now taken from us by the city.



Organizer
#1 fundraising platform

More people start fundraisers on GoFundMe than on any other platform. Learn more

GoFundMe Guarantee

In the rare case something isn't right, we will work with you to determine if misuse occurred. Learn more

Expert advice, 24/7

Contact us with your questions and we'll answer, day or night. Learn more