COVID-19 Iquitos Relief Fund
Iquitos Covid-19 Relief Fund
We are launching this campaign to help provide emergency relief to families and individuals in the Iquitos region affected by the current lockdown measures due to the Covid-19 pandemic. As a global epicentre of ayahuasca shamanism and jungle tourism, one of the major impacts of the corona crisis in the region has been the shutdown of the tourism industry, a large part of which is shamanic and ayahuasca related trade. Those affected include local curanderos, retreat centre employees, and the local artisania community encompassing indigenous Shipibo artists and sellers, as well as homeless people who usually survive from donations from visitors and residents. Having lived in this area for over seven years we have become ingrained with the area and its communities. Collectively, many of us both living here and across the global ayahuasca and psychedelic community, have gained so much from this area and its local cultures; now in this time of crisis, we have the opportunity to give something back and help these communities survive beyond the pandemic.  
With the money raised through this campaign, through a volunteer effort we will distribute foods and essential goods to indigenous and minority groups including Shipibo communities in the vicinity, local districts where supplies are diminishing such as Genaro Herrera and Cabo Lopez where we previously lived and worked, and the homeless in the city centre who currently have no support services available to them. We have been supporting some people in our area by providing food and water as much as we can. However, recognizing that the need is greater than we can manage ourselves, we are now asking for your support to formalize this effort and increase our impact.
We set out to help 50 families or groups and so far have helped approximately 500! We hope to continue to help these families and groups for the coming months as lock-down measures persist and tourism remains closed down for the foreseeable future. Thank you for your any support you can offer! PLEASE NOTE: DONATIONS CAN BE ACCEPTED IN ANY CURRENCY AND ARE CONVERTED THROUGH THE PLATFORM. We keep supporters updated with pictures and reports of this project's progress, and all funds will be accounted for.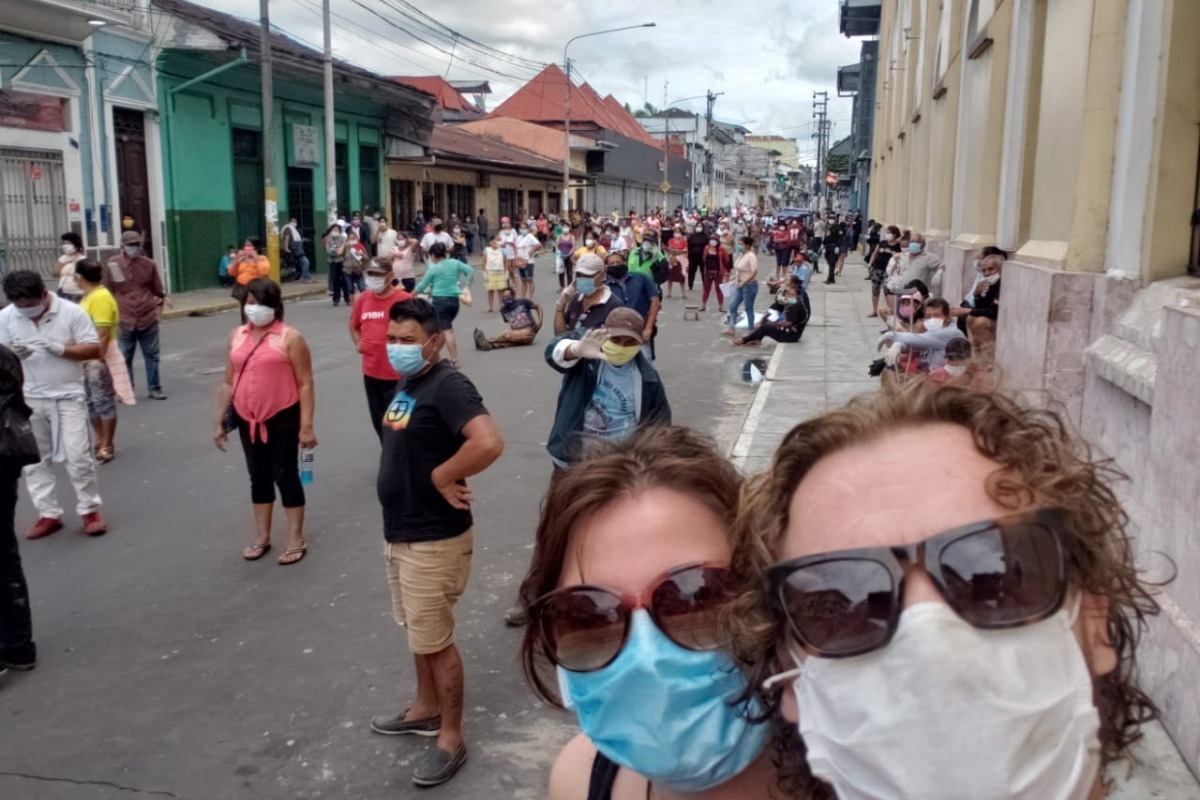 Fundraising team: Emily Sinclair and Freddie Findlay (2)
Emily Sinclair
Organizer
Raised £4,215 from 88 donations
Freddie Findlay
Team member
Raised £1,480 from 15 donations