Supplying Masks for Medical Personnel

A healthy nurse without the proper protective equipment can contract the virus and spread it without even knowing that they are sick! Imagine if that nurse was walking into a room to talk or to treat an immune suppressed patient, or the elderly. They can pass it on and not even know they are infected, with a 15% mortality rate among the medically vulnerable populations, just imagine if that was your grandmother being exposed accidentally simply because that nurse wasn't provided the proper PPE.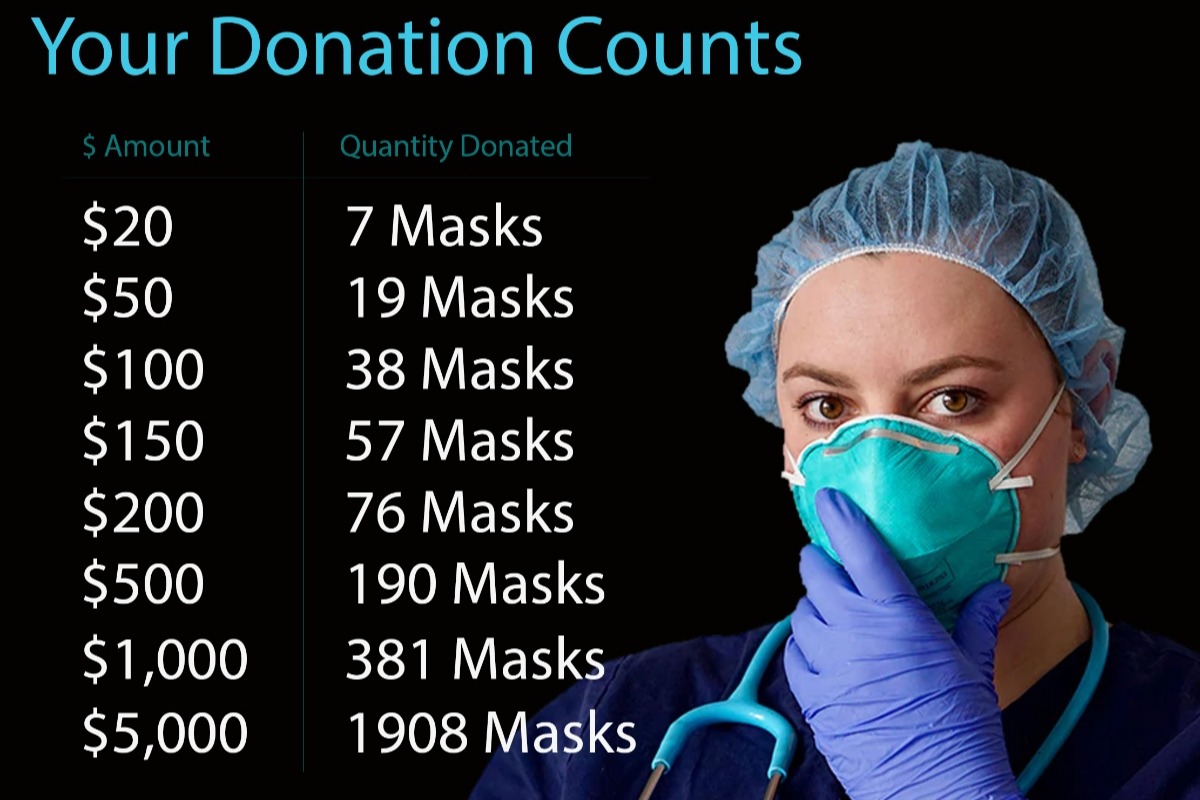 Or a second scenario:

What happens when our nurses contract COVID-19 and have to self-isolate? Who will take care of our sick? Or what happens when nurses start to become extremely ill or even die! Can you imagine the devastation that would wreak on our health care system? That is what we are trying to prevent.

Problem 1: The Federal, State, and Local Governments are working night and day to fix this issue, but they are behind the curve. Our team is working very closely with the Washington State Emergency Command Team and we can tell you that they are indeed working night and day. But they need our help. We need a stop-gap measure to protect our nurses, to give our government the time they need. 

Our nurses are being equipped with surgical masks and paper gowns! Completely inadequate. When they do get issued with a respirator like the KN95, they are told to reuse them far beyond what they were meant to, past the point where they provide protection, even becoming dangerous. 

Solution 1: Provide KN95 Respirators. These respirators are Certified by CNAS (China National Association of Standards) to be GB 2626-2006 compliant, which according to the CDC is the equivalent of the NIOSH Approved N95 and the European FFP2 respirators. They are approved by the CDC to be used during this pandemic.  

Problem 2: There is a world wide critical shortage of melt-blown fabric supply chain. This material is used to make respirators and certain protective suites. A strand of melt-blown fabric is thinner than 1 micron, an intense nano-manufacturing process. There simply aren't enough facilities with the necessary equipment to fill the world wide need. It costs billions of dollars to build just one facility with the right equipment and an estimated timeline of six months. Three months ago, it cost $6,000 per ton, now it costs $60,000 per ton. 

Solution 2: Our supplier already has 100,000 KN95 respirators in their warehouse, with a factory capable of manufacturing more. 

Goal: There is a minimum order quantity of 10,000 KN95 Respirators. Used properly, a respirator lasts for about eight hours, this means a nurse on a twelve hour shift should be given a minimum of 2 respirators, and that isn't including when a respirator is damaged during normal duties or if they become contaminated. If we can only raise enough for a minimum purchase order, so be it. For our nurses, it's better than nothing. But 10,000 respirators won't last very long. A thousand nurses would use that entire supply in just over three days. 100,000 KN95's would relieve the burden on our medical system and give vital time to the Government. 
Ideally, and according to medical standards, a new respirator should be used with each new patient. Right now the reuse of medical PPE is one of the greatest causes of infection. 

What is a KN95 Respirator?

These are respirators certified to be GB 2626-2006 by the Chinese National Association of Standards. They filter out 95% of all particulates .3 microns or larger. 

Operations Team:

Micah's Housekeeping LLC is a Washington State Small Business that specializes in residential and commercial cleaning and disinfecting. We've built very important relationships with suppliers in China. 

https://www.facebook.com/micahshousekeeping

ITI Manufacturing Inc is a Texas Corporation that specializes in helping small and medium sized business source factories in China. ITI will be performing the product inspection before shipping. 

https://www.itimanufacturing.com/

Clear Freight: Our Custom's Broker. They will be acting as the importer. 

https://www.clearfreight.com/

Cost:
Just three months ago these same respirators sold on Amazon for $1.89. Now they sell for up to $10, when they're in stock. We're at $2.62, including air lifting shipping and customs. That is the cheapest we can get them. 

Timeline: 
1. Launch GoFundMe Campaign 3/21/20
2. Upon Receiving funds, we place order next day
3. 5-7 Days to airdrop in Seattle
4. We will then begin immediate distribution to emergency centers in need. 

The steps we've gone through to figure this out:
1. Our Chinese supplier already had a warehouse stocked with 100,000 KN95's and stands ready to produce more if needed. 
2. We found emergency centers in need located in the State of Washington. 
3. We ran into issue related to certifications. The State of Washington Health Department were unaware of new CDC guidelines. We pushed for a conversation between CDC and Washington State Health Department and the Health Department agreed that the KN95's were suitable replacements for the American N95. 
4. Because American Hospitals don't read Chinese, we had an ATA certified translator, translate the documentation. Barbara's credentials will be posted below. 


Existing Inventory & Pricing:
100,000 in stock at the supplier's warehouse, at $2.62 ppc landed. The manufacture is also standing by to produce more if necessary. We have to also calcuate GoFundMe's fees. They charge 2.9% and $.3 cents per donation. This means we need to raise $269,598 plus the 30 cents per donation. 




Goals:


Mask Certification Details:
-  The KN95 Respirator is made in China and is certified as GB 2626-2006, which is the Chinese version of NIOSH N95 and the European FFP2.
-  KN95 masks are certified by CNAS (Chinese National Association of Standards) as GB 2626-2006, meaning they will filter out 95% of particulates .3 microns. 
- We will provide the certifications to the hospitals at the time of provision. 

CDC Whitepaper: https://www.cdc.gov/coronavirus/2019-ncov/hcp/respirators-strategy/crisis-alternate-strategies.html
- "These devices are expected to be suitable alternatives to provide protection during the COVID-19 response when supplies are short:

3M Comparison Data: https://multimedia.3m.com/mws/media/1791500O/comparison-ffp2-kn95-n95-filtering-facepiece-respirator-classes-tb.pdf

Interpreter Certification Details:
Barbara Robinson
ATA Profile Page: https://www.atanet.org/onlinedirectories/tsd_view.php?id=8702

US State Department Simultaneous Interpreter
US Department of Defense Simultaneous Interpreter
US Department of Justice/US Federal Court Professionally Qualified Simultaneous Interpreter
WA/OR/ID/AZ State Court Certified Interpreter (ID 10789)
ATA Certified Chinese Translator (ATA member number 236224)
Certified Management Accountant (Credential Number 12394)
Trainer for Washington State Court Interpreter Test
Member, Advocacy Committee of NAJIT

Legal & Medical Disclaimers:

*No government agency has solicited our help and have no knowledge of what we're doing. We are just members of the community wanting to help and have found ourselves in the right place at the right time to help. Some of us have family who are nurses and watch horrified as they are sent out unprotected. Others have family that are immune-compromised and are the most at risk of this critical shortage of PPE. 

*Any leftover masks will be given to a County in Washington or to Washington State Emergency Command Team 

*We expressly disclaim any liability or responsibility for the failure to land the masks in Seattle. If we are unable to import them the funds will be returned minus gofundme's fees. Reasons we may be unable to procure masks, but not all:

1.    Export/border shutdowns

2.    Import/border shutdowns

*If we raise more than the asked for amount of money we reserve the right to also provide surgical masks, surgical gowns, Tyvek suits, and other certified emergency PPE and supplies.

*If the supplier should run out of KN95's and N95's become available, we reserve the right to source those, though they will likely be slightly more expensive because of the brand name.
*Factory stock does fluctuate. But factory is producing 25,000 KN95's a day and we have first priority for all PO's

Fundraising team: Community COVID-19 Response Team (3)
Jake Parrick
Organizer
Raised $685 from 9 donations
Langley, WA
Anna Taylor
Team member
Raised $345 from 4 donations
David Farland
Team member
Raised $210 from 9 donations