Our dear friend Colleen O'Brien was diagnosed with Stage 2 ovarian cancer in January 2018. You might know Colleen as a professor at USC Upstate, or from grad school at Michigan, or from Le Moyne College, or from the dog park! Like many of us who graduated with humanities PhDs in the early 2000s, Colleen is both professionally accomplished and employed at an underfunded state university. Despite being named a Fulbright Chair to Canada in 2015 and writing Race, Romance, and Rebellion published by University of Virginia Press in 2013, and being a tenured professor, Colleen and her family still live paycheck to paycheck. Colleen is the sole support and single parent to her beautiful twin daughters Eva Kelly and Alina age 3.
Colleen's diagnosis of stage 2 ovarian cancer has been a huge blow to her family and friends. At a time in her life when she is focused on paying for her daughters' preschool, Colleen wasn't expecting to face mounting medical bills that are not covered by her insurance or by her deductible.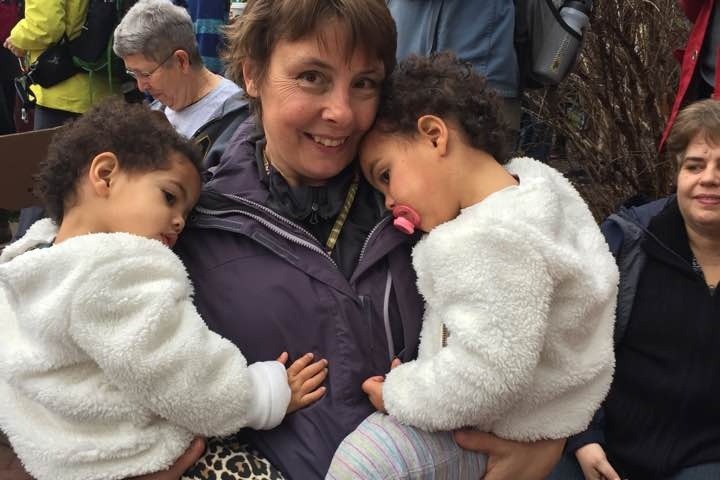 We're hoping to raise 12,000 for Colleen, Eva Kelly, and Alina. Goal #1 of $2,500 will pay for the medical prodedures Colleen had in January. These include $300 for her CT scan, $1600 for the surgery to remove the cancer, and $500 in fees and medications not covered by the deductible. We're hoping to raise that amount by February 26. 
 After we reach that goal we'll be working on Goal #2 to raise the $2,500 Colleen has to pay out of pocket for the chemo she'll undergo for the next four months. We're hoping to reach this goal by mid March.  
Colleen's mom was able to provide at-home health care in January, but as treatment goes on the family will need our help to pay for continued care for Colleen and the girls. Their daycare alone costs $1,079 a month. Our final goal will be to raise $7,000 to pay for the daycare, prepared meals, and after hours/respite care that Eva Kelly and Alina will need during Colleen's standard four months chemo treatment. As a single parent, Colleen will need our support to pay for transportation, food, and other household help she might need. Ideally, we'd like to raise this amount by April 20, 2018. 
Thank you so much from Colleen's daughters, family, and friends, for chipping in to show her our love and support, and give her courage for the next coming months. 
We'll provide regular updates on Colleen's progress, what the raised funds have helped pay for, and why Eva Kelly and Alina always seem to be choking each other in photographs.