Image:
Tia Celi
Image:
Tia Celi with her daughters, Paola (Red dress with her significant other and two kids) and Natalie.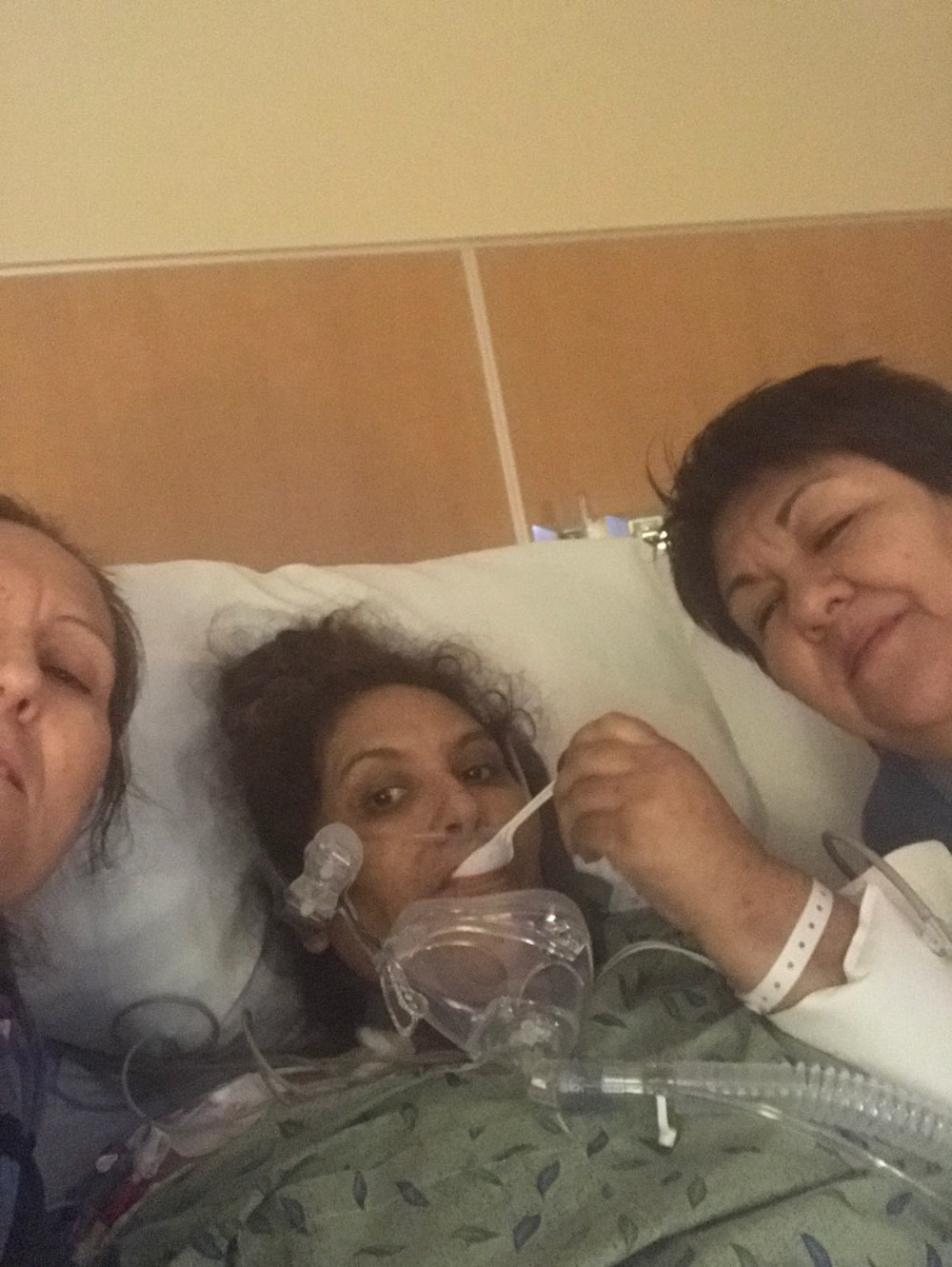 Image:
Tia Celi with two of her sisters.
Image:
Tia Celi with her two sisters, two brother, and mother (in blue)
HELP US SAVE OUR AUNT'S LIFE
 Our names are Danielle & Octavio, we are 20 and 28 years old, and we have started this GoFundMe page because we are fighting to save the life of my beloved aunt, Celina, as she struggles with cancer.
Update:
Tia Celi passed away at 8:30pm on January 27, 2018.
New Objective:
Provide Tia Celi with the proper funeral service that she asked for.  
My Aunt's Story
My Tia Celi (Aunt Celina) is one of nine children and the seventh youngest at the age of 50. She was born in a small town in Sonora, Mexico called Los Hoyos (The Holes). At the age of 28, two of my other aunts and my mom decided to come to the United States searching for the American dream and to be able to provide for my aging grandparents and remaining siblings. Tia Celi decided to jump on the act and made it a plan to follow in her siblings footsteps as soon as she had her first daughter, Paola. My aunt was able to make it and relocated in Chandler, Arizona. This is where she has called home ever since she left Mexico in 1994.
Image:
Tia Celi after her 16+ hour days, she would always come home in a great mood.
She immediately started working the following day by cleaning houses through a private company. My aunt lasted many years cleaning houses and washing dishes at different restaurants. She went on to do this for  years before deciding to become a caregiver. During that professional transition, she was able to raise her daughter and even had the opportunity to fall in love with the man of her dreams. They would go on two have two beautiful kids, Henry and Natalie. This fairytale would soon end when constant domestic violence that forced my aunt to relocate herself and her three kids Paola(12 years old), Henry(2.5 years old), and Natalie(months old) to a different home. She realized that she would dedicate her energy and time to providing a better life for her kids.
Image: Tia Celi (left in red); Henry (Baby on right); Tia Celi's man of her dreams in the back.
Image:
Paola (Far left in red); Henry (boy in the front); Natalie (girl in the front)
Now a single parent of three, Tia Celi dedicated her spare time to improve herself in a manner that would give my cousins the opportunity to have a better life than she did. Aside from working 2-3 jobs at a time, she decided to learn how to speak English, drive a car, and start process of becoming US resident in order to support my cousins. As a family of four, they lived in a one bedroom house. Even though she was working late, she would always make time each night to sit down with my cousins.
Not going to college, immigrant status, and in the process of learning English, made it difficult to find a job. Some years, Tia Celi couldn't even afford to purchase school supplies, but she always made sure my cousins had a roof over their head and food on the table. Whether it was working longer, cutting costs, or borrowing money, Tia Celi always did everything she could so that her family would not be homeless or hungry. For the following 16 years, Tia Celi supported my cousins single-handedly through her strenuous jobs.
Although Tia Celi was poor, she always taught my cousins to strive to help those who had even less. Already suffering financially, she would always send any financial remains to support her parents and remaining siblings in Mexico. She was the type of person that you could always count on, no matter the time of day. Whether she had to work or it was her only day off, she would make it happen.
Tia Celi has a warm, caring, and bright personality. She is adventurous, courageous, and kind. Thanks to her hard work and sacrifice, our cousins have been able to have a better life. Currently at the ages of 29, 18, and 16. She didn't have the easiest life and it never got better. One problem after another, but her perseverance always got her through it. We are just one of the many that has been touched my Tia Celi's kindness acts and now we want to give back to her and do everything we can to give her a chance to continue to live, so that she can continue to share her light and warmth with the world. 
Image:
Tia Celi during her favorite time of year, Christmas where she is spending it with her two kids and family. Natalie (far left) and Henry (brown hoodie)
Cancer Diagnosis
The first week of the month of November 2017, Tia Celi gradually started to feel more exhausted as the days went on, but continued to work. Days later she started to notice an insatiable itch throughout her body with a slight change of skin color to yellow. She continued working until she couldn't take it anymore. She decided to take a few days off to see if it would help. It didn't. The yellowing on her skin started to be more pronounced and she started to get dark brown circles around her eyes. She was having issues getting out of bed from exhaustion and knew it was time to visit her primary care doctor.
Her primary care realized that a liver condition may be taking place, so he referred her to the specialist. The week of Thanksgiving, Tia Celi went in to discuss with the hepatologist and do an MRI. From her signs and symptoms, it seemed that it may be autoimmune cirrhosis.
December 4th
, the hepatologist wanted to discuss with her that mass was seen around the bile duct area and was diagnosed to bile duct cancer. To understand to what extent the cancer had spread, Tia Celi went in for Endoscopic retrograde cholangiopancreatography (ERCP) [One of the major risks with this procedure is it can damage the pancreas and cause pancreatitis]. Unfortunately, Tia Celi, ended up getting pancreatitis on top of being diagnosed with cancer. 
This type of complication just caused a snowball effect of complications that would arise over the following weeks. She got pneumonia, constant tachycardia (increased heart rate), constant hyperventilation (breathing too fast), constant hypotension (low blood pressure), and complete kidney failure. She received multiple CT scans; dialysis every other day; was in the intensive care unit (ICU) multiple times. She had a team of physicians working on her complex case.
December 15th
, after a series of exams extending over days, this is when we finally received the diagnosis that she has Stage IV liver cancer.
When we hear the word cancer, it seems that our mind links it with death. My entire family became devastated when they heard about the initial diagnosis. Her kids were extremely devastated from the news since Tia Celi had been their rock and mother-father throughout their entire life. Even in that situation, Tia Celi remained strong infront of her kids and family. Constantly saying, "wipe those tears away" or "Don't you dare cry infront of me." 
Roller CoasterDecember 25th
, seems like instead feeling joy and excitement for the holidays we were feeling sadness and despair. Tia Celi wasn't showing signs of improvement but more along of the lines of a worsening condition. Things got so bad that a Palliative(End of Life) Care physician came to take on her case.
When we were told my aunt was getting a palliative care physician, a dull pain took over our chests and tears brimmed our eyes. Then we got the worse news we could possibly receive.
My aunt had weeks maybe only days.
Her care team recommended that the entire family come in and say their goodbye. Hearing that news was like a slap in the face. Our hearts broke and our tears fell like waterfalls, we didn't want to lose this amazing person from our lives.
With eyes that couldn't shed another tear and broken hearts, we said our goodbye one-by-one. She made sure to speak to a few of us and asked to please watch after her kids. 
December 26th
, A MIRACLE occurred! Tia Celi woke up a completely different person. She woke up with a smile and had kidney function after having
ZERO
function the day before. The care team could not believe it and her kidney function improved over the following days.
With improved kidney function and a lively Tia Celi, the new objective was to get her strong enough to receive chemotherapy. 
The family made sure to be there around the clock to assist Tia Celi with eating and getting physical therapy.
January 3rd
, just when we thought we were in the clear, Tia Celi started to have some swelling around her neck. A CT scan showed inflammation which eventually led to an infection. The major concern here is that this could disrupt her breathing, which is a reason she was taken back to ICU.
January 6th
, after intense antibiotic treatment and ICU care, the swelling and infection went away. In addition, she received a blood transfusion since her body was having issues producing blood cells.
January 8th
, removal of catheter took place after it was confirmed that she had compelte renal function! We were also told that if things continue at this rate,  Tia Celi would be able to leave to a rehabilitation center a week from today. 
January 19th
, it was found that the stent that was placed in her bile duct on December 4th dislodged and perforated her intestine. This caused a bacterial infection and it was decided that it could not be treated. Palliative care said my aunt had only a few days and provided the options of (1) end of life care at the hospital, (2) hospice care at a facility, or (3) hospice care at home. Tia Celi decided that end of life care at the hospital was best.
Image:
CT scan displaying the damages of the punctured intestines.
January 23rd
, Tia Celi's condition kept on getting worse and she asked to be taken home and recieve hospice care there. She was transferred to her home that day.
January 27th
, surrounded by her kids, her mother, and family, Tia Celi passed away at 8:30pm. An empty void was left in everyone's chest, but we knew Tia Celi wasn't suffering anymore.
What We Could Do To HelpOld objective:
While we got ahead of ourselves and started grieving for a situation that had not happened; Tia Celi surprised all of us by making a complete 360 and began improving greatly. She went from having complete kidney failure to her kidneys recovering pretty much 100 percent. Now that my aunt is improving they will be moving her to a rehabilitation center to help her walk, sit, stand and etc. With the great improvement Tia Celi has made she will now be eligible to receive chemotherapy.
Out of pocket cost for the rehab center, chemotherapy and monthly bill coverage will be $50,000.
That being said we don't have any insurance coverage because Tia Celi lost her insurance when she was let go from her job(s). She has only been a resident of the United States for about 3 years and in order to be eligible for Medicaid she has to have been a resident for 5 years.
Tia Celi is only 50 years old and most likely will never be able to work again. This is the woman that was working 2-3 jobs to cover all expenses and provide for her children. For the last few months we have been pitching in as much as we can to cover all her expenses and her children have been working non-stop to help cover some of these expenses. In such a difficult time they would like to be at their mothers side more often than they are allowed to. This is why we are sending out this desperate plea for help for my aunt. Anything and everything will help us.
New Objective:
We would like to give Tia Celi the funeral service that she always asked for. After visiting multiple funeral services around Phoenix, the cheapest one that we could find came out to be a
total cost of $15,000. 
 As a family, we are contributing as much as we can, but are coming up on the short end. We ask if you can please help us provide Tia Celi with one of her final wishes. Anything that is contributed is greatly appreciated. 
If a financial donation is not available, please keep Tia Celi in your prayers and your thoughts. 
Image:
Tia Celi was always complimented on her nail polish. This nail polish was on her nails since she went in to the hospital on December 4th, 2017. From constant procedures to bed/room movements, the nail polish remained its shine just like Tia Celi.
Thank You!

Become the first supporter
Your donation matters
See all
Organizer and beneficiary
Danielle Imelda
Organizer
Phoenix, AZ