Colectomy, Liver Transplant & J Pouch
Welcome and thank you for visiting my page! For those who don't know me, my name is Dan Warnke and this is the latest chapter in my fight against PSC disease :

An Unforgettable Journey Continues…
2018. Where to begin? The most challenging and best year of my life…so far. The journey has been an unforgettable blur, but I wouldn't change a thing. During my last procedure one of my doctors asked me "You've been through a lot! Has it all been worth it?" Over the years I have come to realize and greatly appreciate the simple acts of kindness people have bestowed upon me and to cherish every moment I have in life. It's not about what has been done or why, but to realize and acknowledge what I have received and the opportunities that have been opened up to me. "Yes, Doc. It's been worth it. Every second of it. Thank you for everything you do!" The journey continues, but I look forward to the near future when I can start returning those same acts of kindness to all of you!
My Strength is in Numbers…
During this past year I have received more prayers, love and support then I could have ever imagined. From your visits, gifts, messages, cards and prayers to my family being there every step of the way, these are the reasons the fight is worth fighting! You all are my strength and have powered me through the tough times. When I had to get up and walk the hospital halls after my surgeries, you all were there. When I had to endure another 24-hour round of Thymoglobulin, you all were there. And now, as I prepare for the final steps of my battle with PSC and have to do it all again two more times, you all are here! I am extremely blessed and forever grateful to have you all in my life and I can never thank you all enough!
Along with all the support came lots of questions and the comment: "I don't know everything you've been though, but I know it's a lot!" The following is for those who want to know a little more about what my battle with PSC Disease has entailed. I am NOT looking for pity, nor am I gloating over what I have been through. The purpose is to inform those who wish to be informed. So here it goes…
Medical History (CliffNotes Version)…
The following are the conditions and procedures I have been through during my fight with PSC disease, most of which have occurred the last 10 years:
500+ Blood Draws – A blood draw is the removal of blood, usually by venipuncture (phlebotomy, venous blood sampling).
100+ IVs - An IV is an intravenous injection of medicine or blood into a vein through a syringe.
50+ Medical Infusions – Infusions are a procedure to administer medicine directly into your blood stream intravenously through an IV or inhaled orally through a mouth piece connected to a hose and air compressor.
5 Blood Transfusions (1-6 Units) – A blood transfusion is a procedure to administer blood intravenously through an IV. A pint of blood is referred to as a unit of blood.
20+ CT/MRI/Ultrasound Images – An MRI scan uses a large magnet, radio waves, and a computer to create a detailed, cross-sectional image of internal organs and structures. CT stands for computed tomography. The CT scan can reveal anatomic details of internal organs that cannot be seen in conventional X-rays. Diagnostic ultrasound, also called sonography or diagnostic medical sonography, is an imaging method that uses high-frequency sound waves to produce images of structures within your body.
20+ Flexible Sigmoidoscopy Procedures – A flexible sigmoidoscopy is a procedure to evaluate the lower part of the large intestine (colon). During a flexible sigmoidoscopy exam a sigmoidoscope, (a long, flexible tube with a camera and scalpel) is inserted into the rectum. Polyps maybe removed and samples of bacteria are taken for examination and testing.
10+ Upper GI Endoscopy Procedures – An upper endoscopy (esophagogastroduodenoscopy) is a procedure to evaluate the upper part of the GI tract (esophagus, small intestine and stomach). During an upper endoscopy an endoscope (a long, flexible tube with a camera and scalpel) is inserted into the mouth and passes through the esophagus into the stomach and small intestine to examine the upper GI tract.
4 Liver Biopsies – A liver biopsies is a procedure that involves removing a small piece of liver tissue from a damaged liver, using x-ray guidance, for examination with a microscope for signs of disease and to determine the amount of the liver scaring. This is done by inserting a hollow needle through the abdomen (between the ribs) into the liver. 
Esophagitis (2010, 2012) – Esophagitis is the inflammation of the lining of the esophagus, the tube that carries food from the throat to the stomach. If left untreated, this condition can become very uncomfortable, causing problems with swallowing, ulcers, and scarring of the esophagus. Twice I food got lodged in my chest while eating and had to be rushed to the hospital to have an emergency procedure done to push the food stuck in my esophagus down into my stomach.
Moderate Acute Pancreatitis (2012) – Moderate acute pancreatitis is a disease in which the pancreas becomes inflamed. Pancreatic damage happens when the digestive enzymes are activated before they are released into the small intestine and begin attacking the pancreas. Treatment of Pancreatitis involves heavy pain medication and stopping the digestive tract until the digestive enzymes stop attacking the pancreas. This includes no consumption of food or liquids until the pancreas has returned to its normal state.
Variceal Banding to repair 4 Ruptured Veins (2017) – Variceal banding a procedure in which an endoscope is inserted through the mouth and into the esophagus and stomach. Once the varices have been located, the scope will be removed and the banding device will be attached to the end of the scope to suck the enlarged vein into the device chamber to band it.
Liver Transplant List Registration (2017) – A week-long series of doctor visits, procedures, x-rays, labs and exams to be admitted onto the liver transplant list.
2 Transjugular Intrahepatic Portosystemic Shunt (TIPS) Procedures (2017)- A TIPS is a procedure in which a tract is created within the liver using x-ray guidance to connect two veins the within the liver. This is done by inserting a needle into the internal jugular vein and creating a shunt. The shunt is kept open by the placement of a small, tubular metal device commonly called a stent. This procedure is done to relieve blood pressure in the portal vein system and to reduce the risk of bleeding during GI surgery.
Full Colectomy and Ileostomy (2017/18) - A full colectomy is a surgical procedure to remove all of your large intestine (colon). This is done by cutting an opening the abdominal wall and carefully disconnecting the colon from the small intestine and removing it. Once the colon has been removed an ileostomy is produced. An ileostomy is an additional opening in the abdominal wall which made during the colectomy surgery. The end of the ileum (the lowest part of the small intestine) is brought through this opening to form a stoma, usually on the lower right side of the abdomen.
Wound VAC to Heal Colectomy Incision (2018) – A vacuum-assisted closure (VAC) of a wound is a type of treatment to help wounds heal. It's also known as negative pressure wound therapy. During the treatment, a device lowers air pressure on the wound. An adhesive film will be put over the dressing and wound. This seals the wound. The foam connects to a drainage tube, which leads to a vacuum pump. When the pump is turned on, it draws fluid through the foam and out the drainage tubing. This helps the wound heal more quickly.
Chronic Liver Failure and Transplant (2001-2018) – Chronic liver failure occurs when repeated injury and repair, typically over many years and even decades, scars the liver permanently. A liver transplant is a surgical procedure that replaces a failing or diseased liver with one that is normal and healthy.
For more information on the liver transplants (from chronic liver failure to the transplant list and immunosuppression) check out the following website:
https://transplant.surgery.ucsf.edu/conditions--procedures/liver-transplant.aspx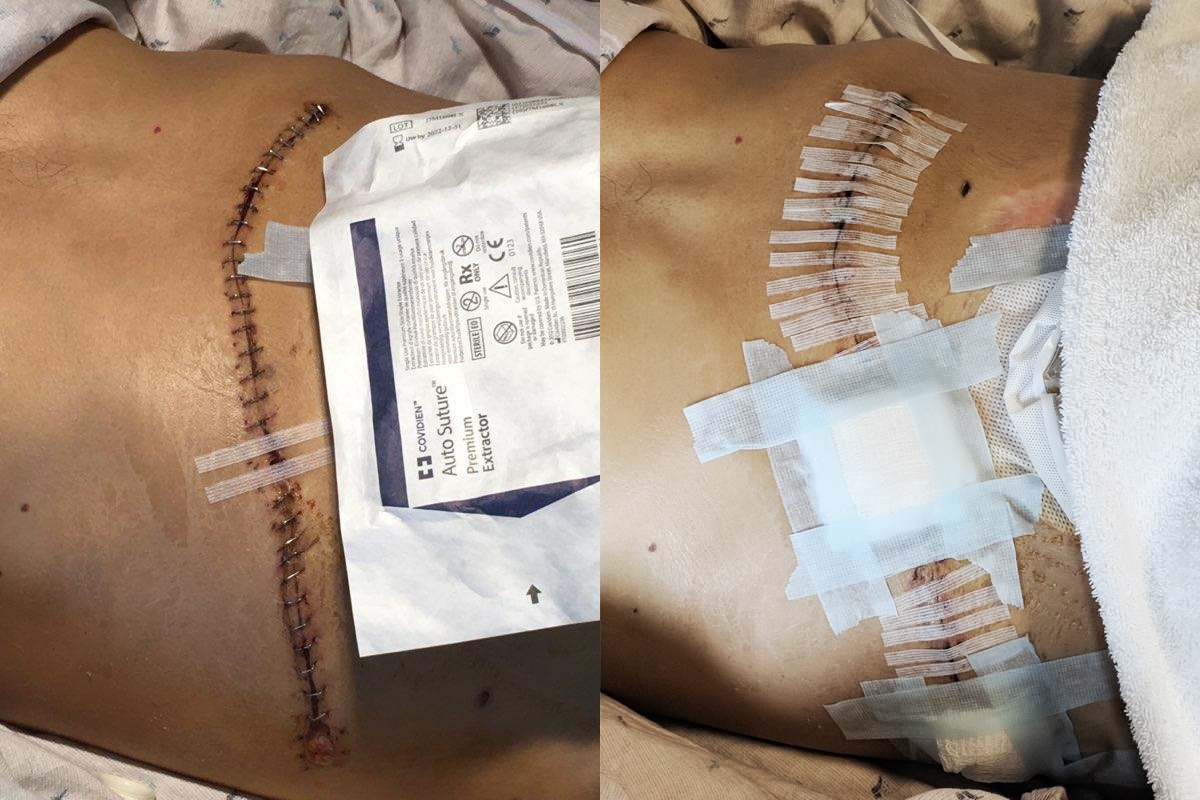 Moderate Acute Cellular Rejection (2018) – Moderate acute cellular rejection is dysfunction caused by the recipient's immune system reaction to the transplanted organ. Injury to the liver is typically mediated by immune cells, T cells or T lymphocytes. Rejection typically causes no symptoms. The first sign is usually abnormally elevated liver laboratory test results. When rejection is suspected, a liver biopsy is performed. Acute cellular rejection occurs in 25-50% of all liver transplant recipients within the first year after transplantation with the highest risk period within the first four to six weeks of transplantation. The first line of treatment is high dose corticosteroids. The patient's maintenance immunosuppression regimen is also escalated to prevent subsequent rejection.
Acute Cellular Rejection Exploratory Surgery (2018) – An exploratory surgical procedure after acute cellular rejection is preformed to check the liver for infections, permanent liver damage, and to troubleshoot any other unforeseen complications after transplant surgery.
8 Thymoglobulin Infusions (2018) – Thymoglobulin is a high dose corticosteroid indicated for the prophylaxis and treatment of acute rejection in patients receiving a kidney or a liver transplant.
UNMC
I cannot emphasize enough how amazing the UNMC Liver Transplant team has been during this entire process. They are #1 in the country for a reason and are the main reason I am where I am today. From the Surgeons (Dr. Wendy J Grant, MD and Dr. David F. Mercer, MD, PhD, FRCS(C), and Hepatologists (Marco A. Olivera-Martinez, MD and Tim McCashland, MD) to the Transplant coordinators and RNs, they all have provided me with unbelievable care and genuinely care about my health and well-being. My GI doctor (Dr. Livingston, DO) and my GI Surgeon (Dr Langenfeld, MD) have also been incredible over the years as well. Once again, I am truly blessed and thankful!
DONOR
My donor, and his/her family, remains anonymous at this point in time. I can tell you it's very unlikely my donor lives in the Omaha DSA Zone (Wyoming, Colorado, Nebraska, Kansas, Iowa and Missouri) since the liver was flown in via helicopter and took 7 hours to reach UNMC. Once I have finished my next set of surgeries I will be able to send out a screened letter to my donor's family. Then it will be up to them to decide whether or not to make contact with me. I can only hope and continue to pray that I will one day be able to meet them face to face and share my love and gratitude with the family that helped save my life.
WHAT'S NEXT?
After 17+ years the end of my battle with PSC Disease is in sight. With four major surgeries down all that remains now is a two part "J-Pouch" surgical procedure to reverse my stoma which are listed below.
J-Pouch Procedure Part 1 (February 19, 2019) – after the colon is removed a pouch, commonly in the form of a "J", is created at the end of the small intestine and joined to the top of the anal canal. At the same time, a temporary opening known as a loop ileostomy is created. The ileostomy will allow waste to pass through the abdominal wall into an ostomy bag while the newly formed pouch heals.
J-Pouch Procedure Part 2 (May or July 2019) – the second surgery occurs 8 to 12 weeks after the first surgery is completed, once the pouch is healthy. At this time the ileostomy is closed and the two ends of the bowel are reattached. Waste is now able to pass through the small intestine, collect in the pouch, and be expelled through the anus.
I never in my life would have anticipated needing to be potty trained for a second time, but once these final two surgeries are complete I will gladly slide on some adult diapers and accept the challenge. Once that is all said and done for the first time in as long as I can remember my calendar will not contain any red medical labels! No more procedures, surgeries, exams, tests or doctor visits. A once a year check-up with the UNMC Liver Transplant team and a quarterly blood draw, that's it! I will also be able to resume "normal" life activities like working out, swimming, traveling and wearing pants that actually fit my waist! The future is bright, so bring on! I'm ready!
FUNDING
One of the requests I continue to receive from people is for a way to help with my medical funding. As much as I would like to say this isn't an issue, paying medical bills is still a major challenge I am facing, especially with these last two surgeries approaching. If you wish to donate it is greatly appreciated, but please know it is not necessary. Cards, messages and most of all prayers are the most powerful forms of support I can receive!
GOALS
Last but not least, I have a three short-term goals for when I finish my second J-Pouch surgery:
1)    To visit/meet my donor's family. This of course is out of my control, but none the less is at the top of this list if they wish to contact me.
2)    Participate in a sprint distance triathlon. I have already started to feel much better since the liver transplant! It's simply amazing how you don't realize just how sick you are until you start to feel better! I have a long way to go, but feel this is a goal that will get me to where I ultimately want to end up physically…healthy!
3)    Become a volunteer at UNMC.
A NEW BEGINNING…
Thank you all again for supporting me all these years! I can't express enough how much it means to me! A new beginning awaits, and I looking forward to the next set of challenges life throws my way!
God Bless! Forever Grateful!
Daniel A Warnke
Michael & Emilie Lawrence 
Organizer