Cold Steam Tesla Turbine - Open Source
OUR MISSION IS TO BRING NIKOLA TESLA'S COLD STEAM ENGINE & FLYING MACHINE TO LIFE FOR THE BENEFIT OF HUMANITY


We are a team based in England, Sweden & USA completely dedicated to delivering this open source technology to the people of the world, so that we all have the chance to thrive with access to cheap, clean energy and transport.


WHAT IS THE ENERGY SOURCE?


Nikola Tesla invented an engine, turbine, pump, compressor and vacuum pump between in 1906 - 1930 using super heated steam or atmospheric pressure / heat as the motive medium to drive the machinery.
By 1931 he had switched to using cold steam (water vapour in a vacuum) as the motive medium because it was safer and far more powerful.
Safety was paramount to Nikola Tesla which is why in the US Patent 1,061,206 Tesla teaches how the turbine can be used as a prime mover that uses frictionless bearings and supersonic periphery speeds to tap into the invisible evaporation cycle.
Nikola Tesla had figured out how to incorporate the 4 stroke cycle into the 360 centripetal path with his turbine meaning that the machine could never explode no matter how fast it was going.
Wind mills, water wheels and solar panels can be replaced by Nikola Tesla's most misunderstood invention which harnesses nature day and night, even when there is no wind, water or sun! The evaporation cycle continues regardless and is inexhaustible.
Ambient heat energy can be harvested 24/7/365 from the atmosphere using Nikola Tesla's ideal heat engine which he postulated in 1900 and then patented in 22 different countries by 1913.
Nikola Tesla didn't patent any of his other inventions in as many countries as he did with the turbine, rotary engine, pump and compressor.
In fact, 8 of the 21 counties it was his only patent. Japan, Australia and India are three of those 8 countries.
21 of the countries patents featured the turbine, rotary engine, pump and compressor together in one patent. Part numbers 1-29.
In USA the patents were separated and this has caused mass confusion. The truth has taken a long time to surface.
The British and Canadian patents came to light thanks to a great researcher called Bruce Perreault who obtained them from the British patent office and kindly put them into the internet public domain.
The British patents revealed new truths about Nikola Tesla's work and how he developed this machine with aviation as the ultimate goal.
His work from 1909 was pretty much dedicated to developing every component, instrument and safety device needed for what he saw as "the perfect flying machine". It was his childhood dream!

OPEN SOURCE TECHNOLOGY
Our work is open source which means it can be freely shared, copied, replicated and improved by anyone in the world.
We offer transparency and embrace collaborations. Many brains coming together with the same goal is superior to just a couple of people with a vision for a better world.
Our work is published, transparent and copyrighted, which protects the work from being claimed by any individual or company anywhere in the world and most importantly keeps the designs in the public domain ready for anyone to use and improve.

THE STORY SO FAR
We have worked full time on the project for 22 months.  During that time we have built and tested around 40 prototypes to understand Nikola Tesla's ideal heat engine.
Many of these prototypes can be seen on our YouTube channel.
Grav Inert :
https://www.youtube.com/channel/UC4uJgCHU3s4AOA-uT5SDA4w
We would like the project to remain open source and for the benefit of everyone, rather than it getting shelved like many other technologies that could of furthered our human progression.
The reason this technology never made it to the mainstream in Nikola Tesla's day is because his machine features an extremely simple design with one moving part and has no planned obsolescence built in. In fact quite the opposite, there are no parts to need servicing or repair.
Inside Nikola Tesla's machines they have no, pistons, vanes, blades or oil. They feature frictionless bearings and an ultra high tensile stainless steel rotor.
We have found that the steel used for circular saw blades is an ideal material for the rotor and there are a number of metals suited to the axle if needed. The flying machine versions need no axle because they are shaftless.
The casing is best to be cast or machined from aluminium but can be made from acrylic or polycarbonate for educational purposes.
Even the most novice mechanic could assemble and dissemble this engine.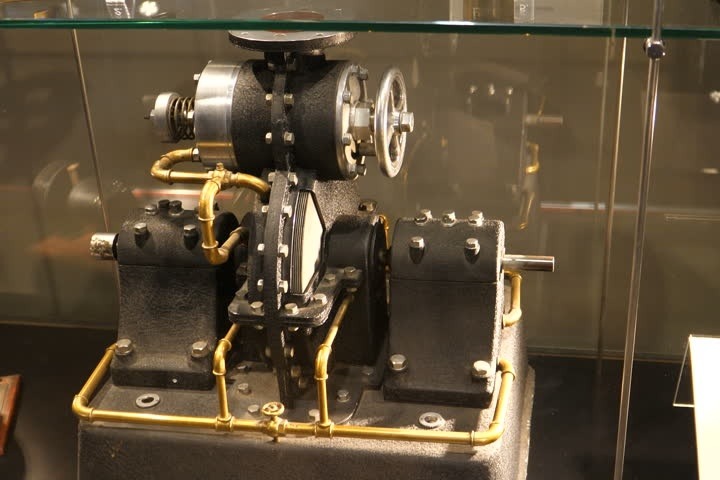 THEORY TURNED INTO REALITY


We have studied Nikola Tesla's patents and built the machines to understand the wording. We have then produced more advanced prototypes based on the test results.
We have tested single stage and two stage versions of the turbine,rotary engine, pump & compressor.
We have also successfully replicated Nikola Tesla's 1916 low pressure super heated steam boiler and 1935 cold steam nozzle.
Tesla's mechanical machines use the principle of adhesion and viscosity to lever the rotor. Cold steam is 1.7 times more viscous than water and 85 times more viscous than air.
The rotary engine rotor is spun up to the speed of sound using either vacuum, compressed air, cold steam or low pressure super heated steam. As soon as the rotor periphery is travelling at the speed of sound the rotor will be compressing a rarefying the motive medium which causes a high partial vacuum. This converts a large quantity of latent heat into kinetic energy causing a cold sink that provides a draft for the latent heat from the atmosphere to flood into the engine and continuously implode to provide a large amount of torque on the shaft and a large air mass to be ejected from the exhaust which can be used to drive a second stage at a lower RPM. A heavy load can be taken from the second stage which doesn't need frictionless bearings.
This is just one variation, probably the most useful for using off the shelf alternators.
A generator is attached to the shaft of the second stage rotor and provides clean electricity with zero emissions and very little noise.
IS A SONIC BOOM LOUD?


Did you know that thunder is the sonic boom of lightning?
Lightning happens in open air whereas the continuous sonic boom in the cold steam engine is in a partial vacuum which greatly muffles the sound energy.

HOW IS THE ENGINE FRICTIONLESS?
Tesla's ideal heat engine requires almost frictionless bearings and these can be"aerostatic", "aerodynamic" or "active magnetic" or "passive magnetic" and therefore no efficiency is lost by friction.
If you look at the photograph below with the top of the casing removed, Tesla uses an egg shaped lump on the axle to allow the air, cold steam or super heated steam to support the axle and prevent up and down movement as well as side to side movement, enabling an almost frictionless stable design.
We are currently finalising a design for a passive magnetic bearing and also a aerostatic bearing both of which will be frictionless from 0 RPM. Below is one of our older permanent magnetic bearings aka passive bearing prototypes.


ENGLISH, SWEDISH & USA RESEARCH & DEVELOPMENT TEAM


The whole world will benefit from the discoveries we have made recreating the mechanical machines invented by the Serbian genius Nikola Tesla.
With your financial help we can speed up the process of building prototypes, making quality videos and publishing our test results to our YouTube channel.
We have worked out the design for Nikola Tesla's twin implosion rotary engine/turbine used in his flying machine patents.
The engine needs to be manufactured from metal and with your help we can build and demonstrate flight in a way no one has seen before.
We have also designed the mechanism to point the engine in the direction of travel to enable the aviator to choose the direction in which they wish to go.
So far we have achieved 682mph without the frictionless bearing or ultra high tensile stainless steel rotor just using SKF 608/Z1/C3 bearings and a stainless steel 316 rotor.
WHAT CAN THIS TECHNOLOGY DO?


Using the frictionless engine technology we can produce:
a) Clean electricity with zero emissions 
b) Clean and safe transport using propulsion
c) Clean water 
d) Clean air conditioning
e) Clean heating
f) Clean and safe aviation using vacuum implosion which is safer than any jet turbine.
With collective funding, this technology will swiftly be available at a low cost.
This goal will be easily be achieved by many people donating a small amount!
We will continue to keep the technology in the hands of the public!
Together we can swiftly create a better world!
Many thanks to all the people that have supported us so far in our quest!
Organizer
Paul Townley 
Organizer
Durnford Street, Stonehouse, Plymouth