Climate Sentinels in Svalbard
A FIRST IN POLAR SCIENCE, EXPLORATION AND EDUCATION

Our story

Hello this is Anne, Silje, Dorothée, Alia and Heidi, we are four young scientists specialized in polar regions studies. Together we created Climate Sentinels to raise awareness on climate change and climate solutions. Our goal is to make our science accessible and show what it is like to work in the region that is warming up the fastest on earth. We are also tackling our carbon footprint. We want to conduct  polar field science while limiting our environmental footprint as much a possible, in one of the most unforgiving regions on Earth.
Our project
In April 2021, we will set off for the first carbon-neutral research expedition on the island of Spitsbergen in the Norwegian High Arctic. Spitsbergen is found halfway between northern Norway and the North Pole. We will cover hundreds of kilometers using muscle force only, and collect new samples to better understand the deposition of particles of pollution on the Arctic snow and ice. This will be the first time such an expedition takes place.
The Expedition
The Team
Coming together from the four corners of the world, they're all driven by the same passion for Science and the polar regions.
Meet Dr. Anne Elina Flink from Sweden, Prof.  Dr. Alia Khan from the US, Dr. Heïdi Sevestre from France, Dr. Dorothée Vallot from Sweden and  Dr. Silje Smith-Johnsen from Norway!
Meet the team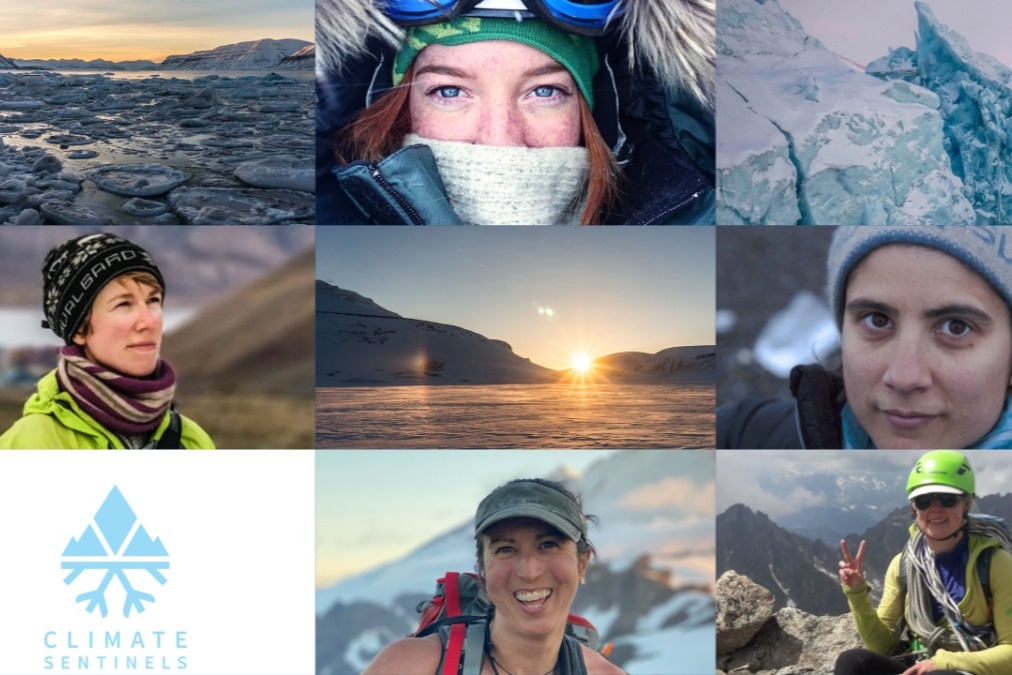 To inspire, empower and educate!

We are partnering with schools in our four respective countries to educate the young generations on climate and science in the polar regions. Their teachers are incorporating Climate Sentinels in their 2020/2021 school programs. For us, it is essential to share a positive approach in finding simple and concrete solutions against climate change. 
Two extraordinary mentors
Felicity Aston, MBE:
"There are many reasons to cheer for this expedition. There is integrity in the scientific investigation at the heart of the journey; in its efforts to be carbon neutral the expedition sets new standards of responsibility that others will follow; the route is an exciting one, inspiring others (including me) to daydream about the Arctic and take greater notice of the region; and finally, each member of the team is an ambitious and capable scientist and adventurer who also just happens to be a woman. This is 21st Century Exploration done at its best".
Jean-Louis Etienne:
"Ever since pioneers started to explore the polar regions, the tools and scale of Exploration have not stopped changing, so much so that field missions are still indispensible today. This is the exact mission that these four women, who all have Arctic experience, aim to fulfill. They are driven by scientific curiosity, the will to understand, the need to communicate and share their knowledge of the great outdoors. They are the illustration that scientific adventure is still alive and well, and I give them my full support".
Funding
Climate Sentinels is entirely self-funded. This expedition is a lot less expensive that normal expeditions that rely solely on fossil fuels. Nonetheless there are essential costs that we need to cover, such as equipment, transportation, insurance and communication. 
Please, help us spread the word!  Share this link on social media and email!
More information about our expedition:
www.climatesentinels.com
www.instagram.com/climatesentinels
www.facebook.com/climatesentinels
www.twitter.com/climatesentinel
BE A PART OF CLIMATE SENTINELS and support our expedition.
We are working with Greenlandtrees.org to help plant trees in southern Greenland 


 For donations between:
- 1 and 49 euros, you will receive a signed postcard from Longyearbyen, the main town on the island of Spitsbergen and northernmost town in the world.
- 50 and 99 euros, you will receive a signed postcard, a Climate Sentinel beanie, and 1 tree will be planted on your behalf in Greenland! You will receive an official certificate.
- 100 and 249 euros, you will receive a postcard, a beanie and we will tag your name on our pulkas as one of our supporters, and 1 tree will be planted in Greenland on your behalf (with certificate).
- 250 and 499 euros, you will receive a postcard, a beanie, your name will be tagged on the pulkas and you will receive a Climate Sentinels fleece. 2 trees  will be planted in Greenland on your behalf (with certificate).
- 500 and 1999 euros, you will receive a postcard, a beanie, a fleece and your name on the pulkas. One of us will give you / your company a free webinar to discuss the expedition after April 2020. In addition, 5 trees will be planted in Greenland on your behalf (with certificate).
- 2000 and 3999 euros, you will receive, in addition to the previous package, you will be cited among our main supporters (prime spots to display your brand on our equipment, and social media). 
- Over 4000 euros, in addition to the previous package, one of the sentinels will come to your company to show the documentary of our expedition (only *if travelling by train is possible, *if the distance is <500km, *if you are located in France, Norway, Sweden or Washington State).
Become the first supporter
Your donation matters

Fundraising team: Climate Sentinels (7)
Heïdi Sevestre
Organizer
Raised €4,960 from 44 donations
Silje Smith-Johnsen
Team member
Raised €175 from 2 donations
Alia Khan
Team member
Raised €150 from 3 donations
Dorothee Vallot
Team member
See all