CIBIC Coop Store and Restaurant
July 2019 Update

CIBIC Executive Director John Bosco Tusingwire has provided a further update regarding the status of CIBIC Farmers Grocery and Restaurant Coop facility. This update reflects status as of May 2019.

"Thank you for your generous donations that enabled our community to start and begin operating our Coop. And thank you for the donations that have been received since our previous update to you."

"First, I am extremely pleased that our grant request to the Rufford Foundation was awarded for £7,000 (approximately $8,900) with 75% allocated toward the Coop construction. Another $750 was raised from tourist donations and $530 was allocated from net revenue."

"We continue to learn how to successfully operate our new facility. Much has occurred as we expected and planned for. And we have also encountered many unexpected things that changed our understanding of our customers and how to fulfill their needs and how to efficiently manage and operate our facility. We have had to adjust and adapt our plans and priorities. The same is true for the co-operative grocery we are operating in this facility. So, your additional funding may be viewed as "donations for sustainability" as we learn and grow."

"We have determined the following items will improve revenue and profitability for the Coop:"

·        20 chairs $300
·        Shelves $360
·        Kitchen utensils $270
·        Water storage tank $500
·        Restaurant utensils $490
·        Restaurant tables $380 
·        Furniture and equipment $600
·        Painting the kitchen front view $250
·        Food warmers $2000
·        Refrigerator $1200

"Here are some photos of operational capabilities we have been able to build with our current funding."


"We have been able to extend our community's existing gravity water system 200 feet from the crowded public water tap directly into our kitchen. Many thanks to our donors!"


"Hydro- and solar-based electricity has been installed to improve our ability to operate in day and night. This has resulted in an increase of evening customers. The solar power source provides load shedding to relieve stress on the primary hydroelectric source and enable running a variety of electric devices with variable power needs like refrigerators, office computers and printers, coffee grinders, meat mincer, juice blenders, etc. Many thanks to our donors!"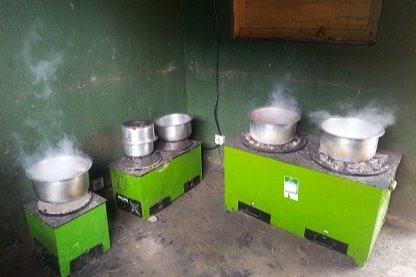 "We have installed Eco-Stoves that reduce indoor air pollution by 70%. These stoves use volcanic stones, heated with a much smaller volume of charcoal versus a charcoal-only heat source. This also reduced the environmental impact of collecting wood from the forest to create charcoal. Many thanks to our donors!"


"Our customers are very happy with services and delicious meals like mushrooms, fish, vegetables and salads. Mr. Bob Mbabazi Ntegyereize said: At Farmers Choice Restaurant, value for your money is satisfied. Quality of the food is very good especially the fresh greens and salads added. I usually enjoy the rare diets served such as mushrooms. One is always sure to be served satisfactorily. When you visit this restaurant with a hunger problem."

"This have been achieved by your help. But we still have much need, we kindly request your continued funding to help us reach our goal for complete sustainability."

October 22 2018 Update

CIBIC Executive Director John Bosco Tusingwire has provided the following update regarding the status of Farmers Grocery and Restaurant facility. This update reflects status as of mid-September. Since then Mr. Tusingwire was invited by Rufford Foundation to submit another grant request to continue this work. The request identified three funding sources: 1) the grant request, 2) this GoFundMe campaign, 3) Coop revenue (temporarily diverted from the micro-loan facility until the Coop is complete).

"With much pleasure, I am very happy to report we started using the restaurant facility yesterday. I want to warmly thank you for supporting our work through fundraising. The US $1400 withdrawal allowed us to complete sufficient work to open the facility. We purchased 20 chairs and 5 dining tables. It helped put shutters on the kitchen, and complete the interior painting of the kitchen and toilet. We designed and installed the sign post, and purchased plates, cup, pots and pans and several other key items necessary to open the facility for business. Our first day in business at the Coop was 7th September 2018.  Kindly see the attached photos to see what we achieved with the donations.


"Joab Kwesiga is my name, the manager at Farmers Choice Restaurant (FCR). I am a Ugandan and a native of Bwindi where our restaurant is located. I hold a Bachelor's degree in Commerce (with accounting option) from Makerere University and am also the CIBIC Treasurer. I feel so glad in my capacity as a manager at this facility.  I am leading a small still but strong and determined team of three people. I hope as we grow our business so will the team grow in number. However, our man power is still low due to limited resources in terms of finances. We have started this facility on faith and our understanding of the local need and Thank God, customers have started to come. Some are also returning, and we are getting referrals, a gesture that our service is good. Thanks to my team and our supporters. We are committed to work and maintain high standards of local food service and intend this restaurant will be second to none by the end of its first year."


Our FCR team Kwesiga Joab, Manager; Clever Abaasa, support staff; Philmon Tushabe, chef; and Onesmus Kabyesiza, waiter.

 
Chef Thusabe in the kitchen preparing fresh fish harvested from the CIBIC organic fish pond.

Chef Thusabe: "My name is Philemon, I am a native of Buhoma-Bwinid, I have never gone to school but am an experienced cook and I love my Job. I have been doing this Job for the last six years in different tourist lodges. My aspiration is to prepare our food to be served on time and hot. I feel happy when I serve a customer who eats all their food, it helps me gauge that the food is delicious and appetizing."


First group of tourists eating at our restaurant report the food is delicious!


  Our new sign is up and in the kitchen we await new prep tables and oven that are under construction.


The facility is offering much needed service as we sell our vegetables, fish, chicken, honey, fruits and other produce grown and raised by our 350 farmers including reformed poachers and Batwa natives.

We plan to have an event to launch the facility when it is completed.  We will inform you with further updates as we make progress.

Original Story:

Community Initiatives for Biodiversity Conservation (CIBIC) is a non-profit registered in the Kayonza Sub-County, Kanungu District of Uganda with registration number 271/2012.

The CIBIC organization is raising funds to complete the CIBIC Farmers Grocery and Restaurant facility. When completed, the facility will house an agricultural cooperative, a grocery and an affordable restaurant.

The profits from this facility will help CIBIC continue and expand its mission in conservation education and agricultural extension services supporting the local population originally displaced from their traditional hunting and gathering grounds in the Bwindi Impenetrable National Park. CIBIC is reducing poverty and malnutrition within these indigenous groups by helping them learn low-cost, sustainable farming practices to produce their own food for consumption and income. This in turn results in reducing poaching and encroachment into the protected areas set aside for the Mountain Gorillas and other flora and fauna in Bwindi National Park. And it helps ensure the farmer's children can reliably attend and succeed in school.

The facility is managed by CIBIC as a cooperative for collective sale of 350 local farmers' production to attain better pricing than the farmers can demand individually. Farmers receive 85% of their sale proceeds, with the remaining 15% applied as 5% administration costs and 10% contributed to build a micro-lending facility for farmer loans.

The facility also includes shelf space for fresh meat and produce, and a restaurant. The grocery will service the local communities and the Mountain Gorilla tourist lodge kitchens. The restaurant will serve fresh, affordable, nutritious meals for local workers in the Mountain Gorilla tourism industry including tour guides, government employees, protected area (Bwindi National Park) staff, and others workers and volunteers from local and overseas organizations.

CIBIC Founder and Executive Director John Bosco Tusingwire procured 70% of the funds to complete this facility through a grant from the Rufford Foundation (www.rufford.org).  This was the third grant received by CIBIC from the Rufford Foundation - the first two invested in the CIBIC mission to create agricultural extension services for the local Batwa Pygmy and other indigenous people living near the protected areas where they formerly lived.

If you would like to learn more about how CIBIC began, here is the story of "How I Met John Bosco Tusingwire": https://1drv.ms/w/s!AmFz7QA93rjbmq5kZf8FxxKAiQrbWw

Here are some photos of the facility in construction - the building construction phase began in April 2018 and ended in June 2018 when the grant funding was depleted:


Construction has begun - the bricks are made in a nearby kiln originally built to construct a gravity-fed water storage and utility providing clean, fresh drinking and irrigation water at the CIBIC Demonstration Farm.


Manager's office


Kitchen (front) and toilet (rear)


Interior restaurant area

This campaign will raise the funds necessary to open the facility with the following budget in US dollars:

- 40 chairs, each at $15 amount= $600
- 10 tables, each at $25 amount =$250
-  shelves at $320
-  kitchen utensils $500
-  restaurant utensils $750
-  plumbing works $234
-  paints and painting $210
-  opening operating stock $750
-  staff uniforms $120
-  electricity installation $400
-  oven $370
-  furniture and equipment $885
- kitchen shutting $489 
-  water storage tank $500
- staff salary for the first 3 month $1250
-  7 food warmers $500
- refrigerator $1200
- contingency 10% at $1000

This sums to $10,328. The Edwards family contributed the first $328, leaving $10,000 to be raised.
Become the first supporter
Your donation matters
Organizer
Michael D Edwards
Organizer
Snohomish, WA