Mother of 2 Struck with Severe Brain Bleed during Florida Vacation


-
Christmas 2018 photo of Chrissy and her children
Wednesday before Thanksgiving (11/27/19), Chrissy Stricker of Missouri surprised her two children, ages 10 and 14, with a Caribbean cruise.  Chrissy had saved for the trip out of her income as a nurse and pre-packed their bags, waiting until the last minute to tell them that they were going to Ft. Lauderdale, Florida, for a couple of beach days before boarding the Royal Caribbean cruise out of Miami for The Bahamas.  
                                   - Chrissy and her children at the airport
On the way to the airport, Chrissy called her parents and mentioned she was feeling flu-like symptoms.  As an RN and 41-year-old mom, Chrissy thought she'd feel better within 24 – 48 hours, but by the time she boarded the ship, she felt worse and ended up lying in bed while her friend and fellow nurse--also treating her kids to a special trip--entertained the kids.  Chrissy checked in with the ship's doctor, and continued feeling worse.  When the ship docked, an ambulance transported her to a Miami Hospital.    
At first, Chrissy was diagnosed with viral meningitis; further testing revealed a massive brain bleed.  The pressure on her brain was steadily getting worse.  Chrissy was intubated and taken to emergency surgery, where a neurosurgeon performed a craniotomy to relieve pressure on the brain stem, drilled a small hole in her skull, and installed an external ventricular drain (EVD).
 As Chrissy began to recover in the ICU, the doctors tracked the source of her life-threatening problem to the mechanical heart valve installed several years ago to correct the mitral prolapse valve she was born with and aortic stenosis.   An infection on the valve had spread to her brain, resulting in massive bleeding.  Chrissy began a slow recovery in Miami, miraculously talking and eating on her own much more quickly than doctors had anticipated, but she was still very confused.
On Dec. 27, 2019, one month after she left home, Chrissy's doctors approved her return to St. Louis, and she traveled via air ambulance to Spirit of St. Louis airport and then ground ambulance to Mercy Hospital St. Louis.  She continued her recovery, surrounded by family and friends happy to have her nearby again.  She was also able to see her children with whom she shares custody with her ex husband.  Chrissy was doing well enough--eating, some walking, talking--that the medical team attempted to move forward with medications necessary to treat her heart valve, which will require another surgery.  Unfortunately, she suffered another hemorrhagic stroke, and on Jan. 8, another craniotomy was performed to relieve pressure, and another EVD installed.  She has been in the ICU since then.  She is alert and starting to move forward again, but she has a long road ahead.   
The cost
of ICU and many more days in the hospital is yet
unknown but sure to put stress on a mother with 2 children and the usual bills associated with maintaining a modest life for her family: home, car, utilities, etc.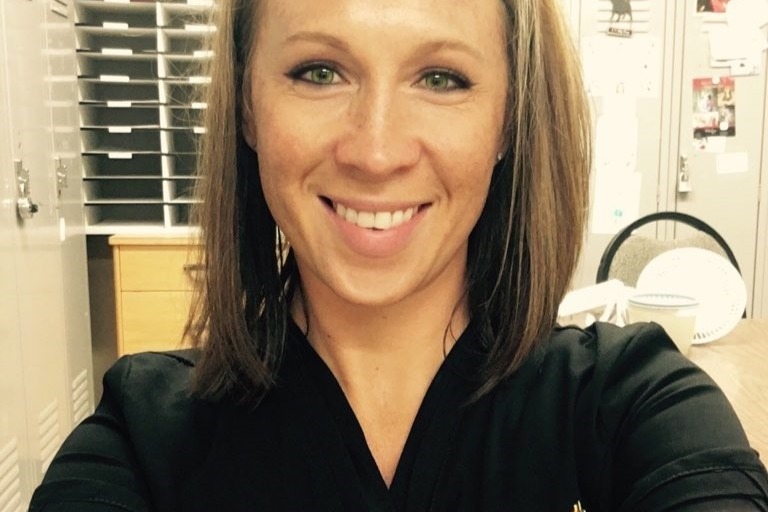 Chrissy is an
exemplary RN
  who serves alongside the amazing people at
Mercy Hospital Jefferson (Festus, MO)
.  She was awarded the prestigious
Daisy Award
to acknowledge the extraordinary care and compassion she provided to her patients and their families every day.  Now, she relies on other caregivers, like her, to provide the compassionate care she needs. 
We truly appreciate you taking the time to read Chrissy's story.  Our family has received an unbelievable outpouring of support during the past couple of months.  We are working to take care of Chrissy's bills, both medical and everyday, until she is able to do so again herself.   Any donation, no matter the size, means everything as we continue to pray for a quick return to good health.
A first round Facebook fundraiser, sponsored by Chrissy's nursing friend, Kristy McKinney, was a huge success.
If you missed that opportunity, please consider donating to this GoFundMe appeal. 
Or, if preferred, checks may be sent to: 
Deposit to Chrissy Stricker Benefit
c/o Geralyn Cash, Bank Manager
Commerce Bank 
1102 Bradley Street
Festus, MO  63028    
Deposit to Chrissy Stricker Benefit
c/o Keith Crews, VP
United Bank of Union
15 East Main Street
Union, MO  63084
Thank you!
The Stricker Family
Thanks also to Chrissy's friends at TotalWebPartners.com for creating and donating this GoFundMe page.