Chris' Stage 4 Cancer - Round 3
 Hello, before I get into my husband's battle with cancer part two, let me start by saying, "God bless you for even taking the time to check out this page." Our family can't thank you enough for anything you can do to help. Although financial support this time around is certainly needed, your prayers are the most important support you can give us. Please keep praying for Chris and our family to not only be able to treat this cancer, but to BEAT it this time around.


 Let me give you a brief introduction into our family. I am Charisse (age 45) the wife of one of the most amazing, bravest, funniest, creative, talented, artistic, athletic, adventurous, faith-filled, and handsome husband and father I have ever met, his name is Chris (age 47). I admire all of Chris' passions, which include, first and foremost his relationship with God. Other passions include coffee roasting, mountain biking, basketball, surfing, restoring his cafe racer motorcycle, the appreciation of art, and his ability to be cherished by everyone he meets. God has blessed us with one beautiful daughter Carissa (age 15) who is an old soul talented beyond most in music, art, and writing. She's also my rock. Then God completed our family by blessing us with our son Christian (age 9) who is a mini daddy with all his comedy, athleticism, creativity, and charm. He's truly a daddy's boy. Both kids have the biggest hearts, strong faith, and make us so proud of them daily. Chris is the sole provider for our family financially. I am currently a stay at home mom homeschooling both our children. Carissa is in 10th grade, also doing the college credit plus program at our local college. Christian is in the 3rd grade. We are a typical busy family with both kids involved in many activities like sports (swim teams, basketball, and baseball) and youth activities (church youth group, church youth classes, art and book clubs). No matter what battles we are fighting we are so blessed to be together.

 My husband Chris had been five months shy of hitting his five-year cancer free anniversary when just one routine physical on August 28th, 2017 changed it all. Chris had been having some odd wheezing that he mentioned at this routine work physical. By God's grace, the doctor had him go for a chest x-ray immediately. He had his routine chest x-ray back in January by his oncologist and all was good.  He thought that they would say allergies or possible chest cold starting. Then the call came, "You have an unusual mass in your lung. We want to schedule you for an immediate CT scan today." Within the next two weeks, Chris had two CT scans, a breathing test, a PET scan, and a bronchoscopy. The final results came in telling Chris and I on Wednesday evening September 13, 2017, at 8 pm that his Stage 4 head and neck cancer has returned. This time it was not one mass in the back of the throat, but three masses in the left side of his lungs and one under the arm outside the lungs on his right side.


 Words cannot describe the feelings that came flooding back into all of our lives. All I could think of was how incredibly hard five years ago had been. Chris's previous experience with cancer, we did not ask for help besides immediate family watching our kids (at that time ages 10yrs and 4yrs old). Chris didn't qualify for FMLA (Family Medical Leave of Absence). He had just changed companies under a year. He would have to take off work at least 3 months for treatment before going back part-time. He had to go on short-term disability and I had to quit my part-time job to take care of him (we've been playing catch up financially ever since then). He went through surgery of the neck, a feeding tube put in him, aggressive cancer treatment for two and a half months of six radiation appointments five days a week, two separate all-day chemotherapy infusions (the second one sending him to several days in the hospital). The memories of how thin he was towards the end of treatment, it was the thinnest I've ever seen him. I had to push him in a wheelchair to his appointments. He only ate through his feeding tube starting in the middle of the treatment and lasting three more months. The smells that nauseated him were everywhere. Every night I spent coating a thick layer of ointment to help relieve the burns and blisters he had all around his neck from the intense radiation. Then my mind returned to the present and my thoughts focused on this was just one small mass. We had thought during the continued PET scans and chest x-rays for the past five years that the cancer was gone for good.  His oncologist is now telling us it's back and there are 4 masses. The only thing we could do once the fear, anger, and sadness overcame us was PRAY for God's grace to show us some HOPE in this nightmare unfolding all over again.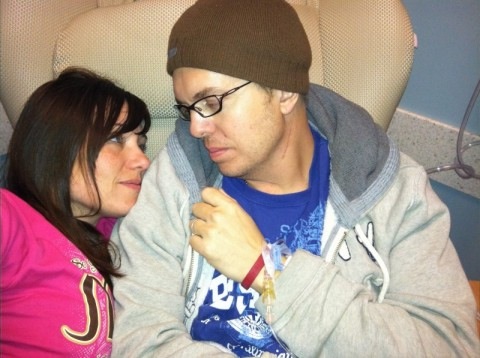 Prayers are truly powerful. The cancer, from what we were told, is not curable only treatable, but a ray of HOPE has appeared in all of this. We were told that surgery would not be an option and would prolong treatment. Chemotherapy is not an option right now and would not be as effective as the new therapy they recommend. The new therapy is Immunotherapy. We were hoping to be a candidate for this treatment because Chris should have little side effects. He was told he could live a normal life working, being active, and feeling more like himself with this type of therapy. From what we understand so far, this immunotherapy is very new and may prolong life, shrink, or make the cancer dormant. A small but HOPEFUL percentage we are told could diminish this monster.


 Chris started his first infusion last Tuesday, September 26, 2017. There are so many unknowns for our future right now.
We are blessed currently that Chris is able to work. Again, he is our only income. We are still paying medical bills from five years ago and cannot imagine how we are going to financially make it through all of this with all of the unknowns. Financially within the past several weeks, we have had to pay out of pocket: copay and coinsurance at almost every visit, while commuting an hour away from our home. Aside from the infusion visits, we have to pay for parking each time. Not to mention what the cost to us is after insurance covers their part. Again, we are still in debt from the original cancer treatments. The financial stress cancer puts on our family is very overwhelming. Our goal is for Chris to come out of this cancer free and financially stress-free so we can give back to others. Whatever you can do to help is greatly appreciated.


Thank you,

The Barbian Family
Become the first supporter
Your donation matters
See all
Organizer and beneficiary
Austin Barbian
Organizer
Geneva, OH
Charisse Barbian
Beneficiary