I'm Checker a Bernese Mtn dog pup
My name is Checker & I'm a Bernese Mountain dog puppy. My life didn't start off too great. I was born on June 17, 2016 in a puppy mill environment, where I didn't have any kind of real medical care. Luckily, this AMAZING organization called BARC (Bernese Auction Rescue Coalition,
https://barcinc.net/
) came to my (and several of my friends) rescue. When I was finally removed from the puppy mill I was examined by a vet, who determined I had: Entropion (that's when the bottom eyelashes grow inward towards your eye,) Whip worms, Round worms, Giardia, a potential upper respiratory infection & a herniated umbilical cord. Soon after that visit I was transported to a "foster" home at the end of November, 2016. These people took me for another visit to their vet. At this point I was so exhausted that I almost slept the entire time I was there. The vet said she'd never really seen that, except in rare cases when an animal was truly sick, which it turns out I was.
Sleeping at the vets

We were sent home w/a bag of medicines & I started to feel a little better. Yet after a week or so, I felt crummy again. After another test, it was discovered that I had a UTI. Since I was already on an anti-biotic, we just stayed the course & about 3 weeks later, I started to feel better (again.) Then . . . I had to have my eyes "fixed." Luckily that went o.k. Just had to wear the "cone of shame" for only a couple of weeks.
Wearing my "cone of shame."



After my eye surgery, I looked like I was wearing goggles until my hair grew back.

We finally began going for walks, over wintery terrain, with the wind blowing through my hair. At first, I was having fun, even though my puppy legs got tired. But then, my legs couldn't really carry me very far. I just wanted to sit. I didn't want to go for walks anymore.
My "foster" people (who by the way, I should mention, became my forever family in early February,) noticed that I was walking funny. They thought maybe I was still getting my bearings, especially on their wood floors. In April, my mommy said, "It's just not right that she doesn't like going on walks," so it was back to the vet. There they took some X-rays & discovered that I already had arthritis in both of my elbows. This made everyone very sad. Why would I, a 10-month old puppy have a crippling, disease so young? The vet recommended a specialist, whom we visited in early May. At that visit they took a special X-ray called a CT & that revealed what is called, "medial coronoid disease." Both of my elbows were affected & the progression was quick. The specialist noticed actual fractures in my elbows & he told my people that this should be surgically addressed as soon as possible.
So on May 16th I had surgery. The specialist's intention was to do both elbows at the same time, but he found the damage too extensive & opted to do only one. That meant, I had to have another surgery, one week later for the second elbow. As if that wasn't enough, I ended up with an eye ulceration from the surgery. 2 more meds for me. Plus the anti-biotic from the surgery.
One week later, on May 23rd I had the 2nd elbow surgery.
After my elbow surgeries. I'm so tired & so sore.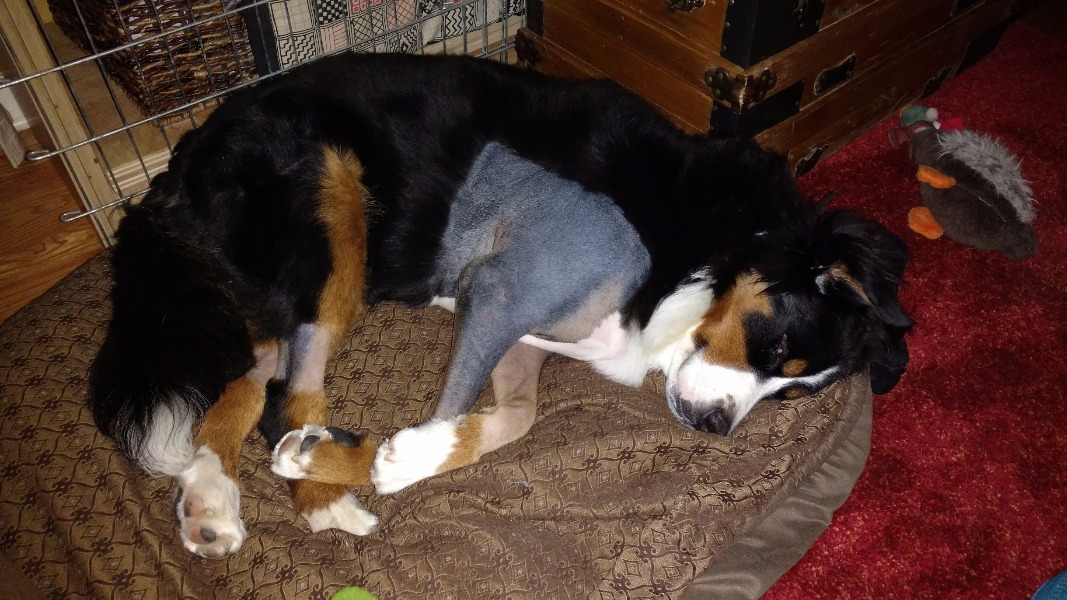 Bone fragments that the specialist took from my elbows. These were "floating" around my cartilage causing all sorts of damage.
However, it doesn't stop here. It was during the 2nd surgery that, somehow, my right hip was fractured. No one is sure how it happened, but it did. Now I can't do my rehab for my elbows because I can't walk correctly or even support myself. The elbow surgeon recommended we go to someone who specializes in hip fractures.
Our next stop – the Veterinary Specialty Center in Buffalo Grove, IL. We tried to see a specialist at Ohio State University, but they aren't available until August & that's too long for me to wait.
I think my mommy & daddy are going to start calling me Frankenpup. Me, after my hip surgery.
Unfortunately, these visits & procedures cost a lot of money & my new parents are feeling the financial pressure. The elbow surgery alone cost $3,300. The eye surgery was $600. The hip repair is estimated between $3,900 - 4,200. Of course, they have the option of doing nothing, but they know that would mean I would have a horribly, painful life & they don't want that & of course, neither do I!! They're hoping that I can have the best, most happy life possible.
With that being said, I'm asking friends & people I don't even know, to open up their hearts & if they can, lend a little to help their burden. Even $1 would help. Donations can be made right here, at my gofundme.com page.
I'm thanking you in advance. Thank you for helping me achieve my full Bernese Mountain Dog potential. Thank you for your generosity. Thank you for your kindness. Thank you for being a friend to me.
Thank you, thank you, thank you.