Help Chantelle heal from CRPS
Chantelle Baxter - our friend, our inspiration, our world-changer, and the shiniest f*cking unicorn in the room, has just been diagnosed with a rare, progressive neurological disorder, called Complex Regional Pain Syndrome or Reflex Sympathetic Dystrophy. Otherwise known as CRPS / RSD. Or by it's nickname "The Suicide Disease."

What's CRPS in a nutshell? It means either localised or widespread excruciating, debilitating pain coursing through your body. Every moment. Of every day.

The pain you experience with CRPS / RSD is unimaginable. This condition is considered the most painful condition that exists on the planet today. Worse than childbirth, worse than amputating a limb, and although the pain goes up and down in intensity, it's always there in some form.



Chantelle was first diagnosed in January 2017. In the beginning the CRPS / RSD was confined to her left ankle. But within a month it had spread into her calf, and soon after it had spread like wildfire across her arms, upper back, side of her neck and down her right leg.

What started as a burning sensation like severe sunburn all over her body, soon became an unbearable level of pain that led to convulsions and multiple trips to the ER.



Then came hospitalization, a myriad of drugs and treatments, and moments where Chantelle was begging to die, just to make the pain stop.

Chantelle describes it as though "someone is melting the bones inside my legs. Like I'm being burnt alive from head to toe. Or that my entire body was being dipped in acid."



She can't walk, sit or lie down without pain. And still the pain continues to spread - lately to her elbows, wrists and hands.  

She's currently in the middle of her second treatment at a facility in Fayetteville, Arkansas, USA.

This treatment is over a period of 10 weeks and has already improved the management of Chantelle's pain levels. However, the CRPS is still spreading and Chantelle is need of additional treatment that supplements what she is currently doing.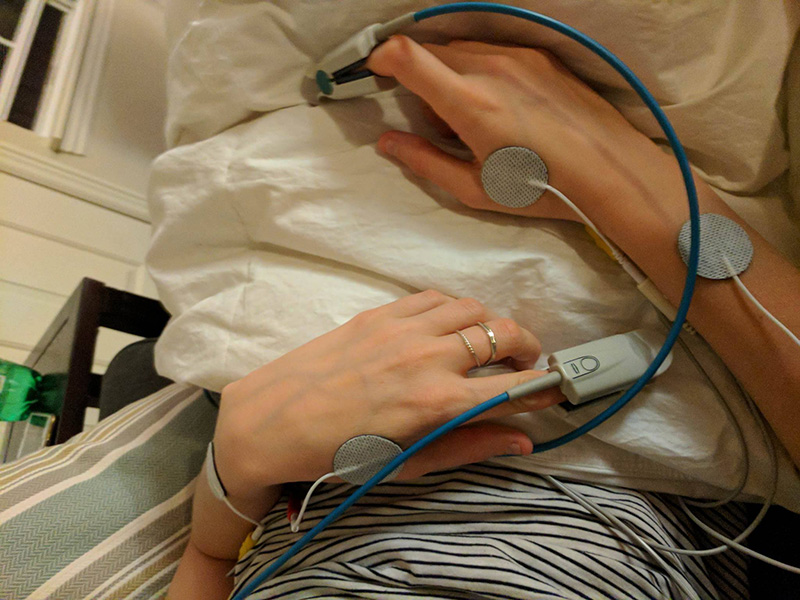 The next step, is a trip to a specialist clinic in Bologna Italy, where a different treatment for CRPS / RSD exists - it's a drug called Neridronate Acid.

Neridronate Acid will be infused into her body over 4 treatments across a 2 week period. They've used it to treat CRPS there for years with an 80% success rate.

Chantelle is scared about this treatment, but is clear that it is her best chance of being able to live her life again.

And here's where you come in.



Chantelle is a person of bravery, strength, inspiration, and hope. She's been a game-changer, a compassionate, fierce, unstoppable fighter for the rights of others, for empowerment, for equality, and for change.

Even if you haven't met Chantelle personally - you've been inspired by her story. By what she's created through her passion and her actions, through One Girl and Be. Bangles. She cultivates hope and joy and possibility in everything she does. That's just the kind of person she is.

She's spent her life fighting for others. And now it's time for us to join her next fight against this rare and devastating chronic pain condition.

We're rallying around Chantelle to crowdfund her trip to Italy and other medical expenses. And we need your support to make it a reality.

There are so many times in our lives when we can feel helpless. Like the problem is too complex, too big, or too far away. Like our actions won't make a difference.

We might not be able to have the answers to CRPS, or find a cure ourselves. But helping Chantelle? This we can do. This is something we CAN make a difference in.

Here's what we'll be funding:

(all amounts in USD, campaign is in AUD)

1. Bologna & Milan, Italy - 2-3 weeks for Chantelle's treatment

Flights to Italy for two people - $6,180 USD
Bologna Treatment - $1,400 USD
Specialist in Milan - $400 USD
Living expenses in Italy - $2,000 USD 
Car hire - $800  USD
Accommodation - $2,800 USD 
Travel insurance company with a rare pre-existing condition - $1,100 USD


2. Purchase of pain relief machine
Upon return from Italy, Chantelle will continue her treatment in Arkansas. Her treatment and recovery would be supported by the purchase of 2 medical machines that assist with pain management and relief.

Frequency Specific Microcurrent Machine - $2,000 USD
https://frequencyspecific.com/

Chantelle is currently using this machine here in Arkansas. After using the microcurrent machine during a pain flare it brought the pain down by 25% after the first hour of treatment, which is extraordinary considering the relentless nature of the pain.

3. Fayetteville USA (current treatment facility)

Treatment in Arkansas - $6,000
Living expenses in Arkansas and keeping our AirBnB whilst Chantelle is in Italy - $2,000


In total: $24,680 USD or $32,000 AUD


FAQ

Has Chantelle tried X / Y / Z treatment?

We are LOVING how much interest there is in wanting to help Chantelle get well. She is currently receiving treatment close to 6 - 7 hours a day, 5 days a week and there currently is very little room for new treatments. 

We've done a lot of research on what many CRPS people have done to put themselves into remission and we are following 'best practice' in this area and based on our doctors advice.
We have already tried Calmare Therapy with no success - and so this is our next best option.


Why doesn't Chantelle just sign up for the Neridronate Acid Clinical Trial in the US and skip Italy?

We've looked into this. Chantelle is currently using medical marijuana to help manage her pain - and to participate in the trial she would need to wait 30 days to clear her system of the marijuana, get on new pharmaceutical drugs to help manage her pain, plus wait up to another 60 days for enrollment into the clinical trial in the US. Time is of the essence with CRPS, another 3 months wait could mean the condition spreads or continues to get worse.

Additionally, because it's illegal to import pharmaceuticals into the US - the US company running the trial has created their own version of Neridronate Acid that they are testing. It may not be the exact same make up as what has been so successful for so many people in Europe.
Because of this we believe Italy to be our best option.


Will I get updates on Chantelle's treatment as she goes through it?

Yes! We will be posting updates on this page and also on Chantelle's personal facebook page to let everyone know how her treatments are going and if she is responding positively.



Donations

Organizer
#1 fundraising platform

People have raised more money on GoFundMe than anywhere else. Learn more

GoFundMe Guarantee

In the rare case that something isn't right, we will refund your donation. Learn more

Expert advice, 24/7

Contact us with your questions and we'll answer, day or night. Learn more