With the help of my sponsors I have decided to start a GoFundMe fundraiser in order to start a campaign called "Changing the Stigma." As a professional Ultra Marathon Runner my main sponsors are Incredibles, Marys Medicinals, Big Agnes and Roll-uh-Bowl, Body Helix and Nola. The goal here is to change the negative connotation that is associated with Cannabis use. Its been regarded for years as a plant that causes people to become very lazy. However, I have found and many others have found that Cannabis has many other positive uses in Athletics. For example, in my every day use I use Marys Medicinals coumpounds to rub on my muscles after each and every run, the compound helps calm down my muscles after a very hard workout and recover faster. Another example would be my use of Incredibles "Mikiba Bar," and edible bar that has a 50mg THC: 50mg CBD ratio, I like eating this particular bar before a run because it is not only healthy but it also puts me into my own "zone," it helps keep my mind in the right place, not thinking about anything else going on in the world except to live and run in the present moment.
The money raised for this campaign will go to travel and expenses so I can make appearences at dispenseries throughout the country in order to continue to educate and inform people upon how Cannabis can be used in a productive manner on a daily basis. Cannabis use is such a new forefront that there needs to be a pioneer on this forefront showing all the positive ways this plant can be used. In addition, the money will also go to costs such as:
-Mountaineering Gear
-Trainers
-Training equipment
- Racing gear for Skiing and Running
These are just a few examples. At the end of the day what has driven my success in the Cannabis space has been my athletic abilities and with that being said I have to continue to push myself through running and mountaineering. With extra money to put towards my adventures means that I will have more time to continue to inspire others to push themselves and their limits as well. Through my adventures I can then do public appearences and speeches about living a life without limits as well as talk about "Changing the Stigma."
For some of my most recent and soon to come adventures feel free to follow me on facebook---->
https://www.facebook.com/AveryCollinsUltradude/?ref=hl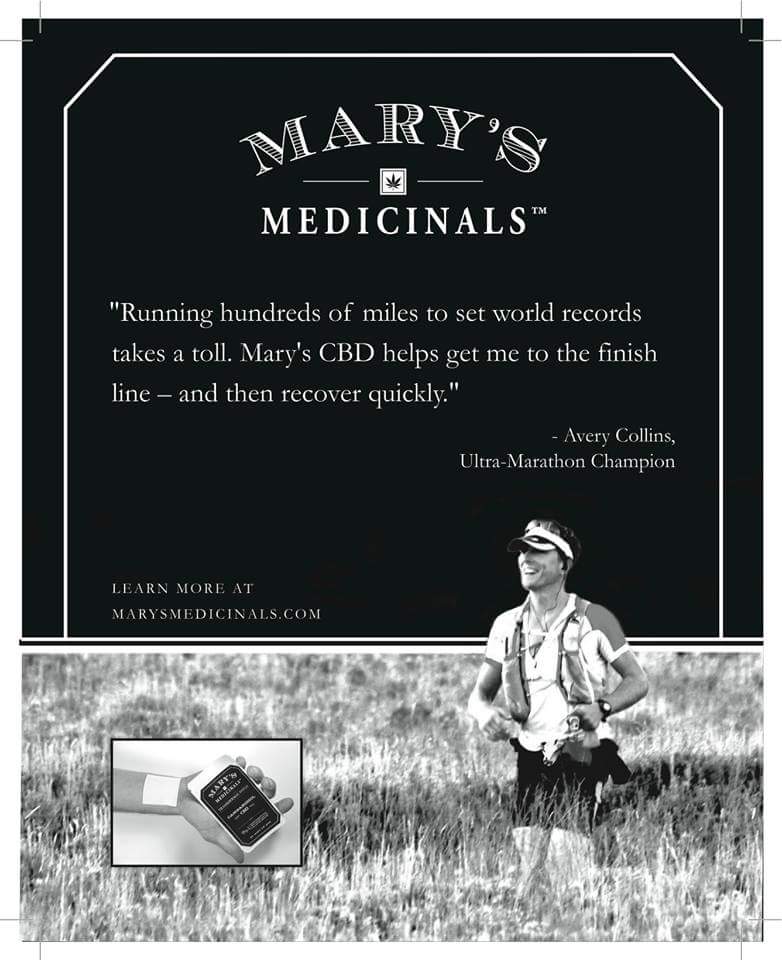 Some of my results from the past 2 years include:
~ 20-April-13-Blue Ridge Double Marathon - Virgina - 5:17:09 - 4th Place
~6-Sep-13-Hallucination - Michigan - 100KM - 10:32:40 - 1 Place (Course Record)
~14-Dec-13-Table Rock Ultras - North Carolina - 54 miles - 8:16:52 - 1st Place
~11-January-2014: Tecumseh Trail Marathon, 3:22:36, 2nd Place
~8-February-2014: Louisville Lovin' The Hills 50k, 5:12, 1st Place
~8-March-2014: Graveyard 100k, 9:32:12, 1st Place (Mens Course Record)
~15-March-2014: Buzzard Day 100k, 10:21:00, 1st Place (Course Record)
~19-April-2014: Bel Monte 50 Mile, 1st Place, 9:10:14
~26-April-2014: Blue Ridge Double Marathon, 1st Place, 8:46:00
~15-August-2014: Fat Dog 120, 3rd Place, 29:40:40
~4-Oct-2014: Cloudsplitter 100, 1st Place, 21:08:00 (Course Record)
~14-Feb-2015: Sean O Brien 50, 1st Place, 7:35:00
~25-April-2015: Indiana Trail 100, 2nd Place, 16:49:00
~ 13-July-2015: Colorado Trail 200, 1st Place, 65:49:00 (Course Record)
Organizer
Avery Collins
Organizer
Steamboat Springs, CO