RUNNING FOR SHELTER: THE STREAK
*** NOTE: This fundraising goal of $650 represents the amount I had left to meet my original $2,000 goal before converting to this new page. (I had raised $1,350, so $2,000 - $1,350 = $650)***

Here's the story of RUNNING FOR SHELTER, THE STREAK:
Back in early June, 2020... the lockdown had been in full effect for two-and-a-half months. The lakefront path was closed, so many of us who run there had to find alternate routes. And with all gyms closed, there weren't many other fitness options available. In my case, I found some sidewalks, streets and other paths near my home just west of Lake Shore Drive. It was better than nothing, but not quite the same. There were at least a couple times when I was almost hit by a car, something you don't have to worry about along the lakefront! I didn't realize how much I loved running on that path until I couldn't do it for a couple months. So when it reopened in June, I was so happy to be back that you couldn't keep me off of it. I ran there every day for the first two weeks. I had no intention of putting together a consecutive days running streak, it just happened.
At one point, one of my coworkers asked me how long my longest running streak was, or if this was it. The answer was 35 days. I had run every day from Thanksgiving Day, 2013 to New Year's Day, 2014. So that became my goal-- beat 35 days. I decided to end it on a nice round number: 40. But on Day 41, I felt great and wasn't going to NOT run just because I met that goal. So I kept going.
AUGUST 29, 2020 UPDATE:
As of today, August 29, I'm still going-- over 80 days and counting. Each run has to be at least a 5K (or 3.1 miles), and they all have to be outdoors-- treadmills don't count! (These are my self-imposed rules.)
This time, I WILL end it on another nice round number: 100. And that will be the central focus of my Team CCO fundraising campaign this year: ONE HUNDRED DAYS FOR THE HOMELESS.
Day 100 will fall on Thursday, September 10. I will complete that run in the evening (around 6:20pm) at the track between Wilson and Montrose, just east of Lake Shore Drive.
JANUARY 17, 2021 UPDATE:
I didn't end it on a nice round number. When I woke up on Day #101, I felt good and once again decided I wasn't going to stop running just because I hit a certain number. So as of today (January 17), it's still going strong at 229 days and counting. I have no end date in mind, just taking it one day at a time. I might start fresh with a new fundraising page (UPDATE: I did), but the streak will continue. A big thank you to those of you who have already donated. This is an ongoing campaign, so please continue to give if you can!
FEBRUARY 6, 2021 UPDATE:
It's COLD!! But my streak is still going. I have now run every single day since June 3. Same rules—at least a 5K (most runs have been four miles), all outdoors. Another milestone is right around the corner: I will hit 250 days on Sunday, February 7. The weather forecast calls for below zero temps, so I'll bundle up (the key is a good base layer), but I have no plans to stop the streak at this time. And more importantly, I will keep raising money for Team CCO. Please give if you can!
FEBRUARY 27, 2021 UPDATE:
I hit the 250 mark on February 7 as planned, with the temperature dropping down to -4°F during my run. It was my second coldest run ever. It's really not as crazy as it sounds if you're dressed properly. (OK, maybe it's still a LITTLE crazy!)
I'm up to 270 and counting now. With warmer weather upon us and February coming to an end, it should be smooth sailing from here on out. A huge THANK YOU to those of you who have donated so far. I started this new fundraising page earlier this month, and I'm already at 45% of my goal. A special shout-out to my New York area based coworkers!
MAY 1, 2021 UPDATE:
A lot of great things have happened since my last update. First, on March 29, I hit the 300 day milestone! A big thanks to my friends Aaron, Andrew, Ted, Claudia and Laura for joining me that day. A couple weeks later, I took part in my first organized race since before the pandemic: the Lakefront 10 Miler. Training for and running a 10 mile race is a little tricky while you're still trying to keep your streak going, but I was able to pull it off, and actually had a decent race.
A couple weeks ago, I received my first dose of the Pfizer vaccine with the second one scheduled for next week. The light at the end of the tunnel is getting brighter!
Today my streak will hit 333 days. Next goal: ONE YEAR!
JUNE 16, 2021 UPDATE:
One year is in the books! I hit that milestone of 365 days in a row on June 2. Thank you so much Aaron, Ted, Bruce, Laura and Claudia for joining me!
As of today I'm at 379 days in a row and counting, and I'm one of only 2,292 people in the United States who have an active running streak of at least one year or more! (For more info on that, check out
www.runeveryday.com
.)
The only goal on my mind right now is to get up tomorrow morning and run again. One day at a time!
AUGUST 3, 2021 UPDATE:
I hit another milestone, 400 days, on July 7. Today I'm on day 427 and still going, but starting to feel a little sluggish. The warmer temps and humidity aren't helping things, and I'm also experiencing some heel pain in my left foot. I want to keep this streak going but I also want to be smart about it, so I have an appointment in a couple days to see my podiatrist, Dr. Michael Chin at The Running Institute. He's worked wonders for me in the past and I'm hoping he can come up with a treatment plan that enables me to keep running while it heals. That's a tall order, and if it can't be done, then I wouldn't rule out ending the streak. (But I won't go down without a fight!)
Also, since my last update I did a radio interview about this streak and CCO that aired during the morning of Sunday, July 25 on a few stations here in Chicago, including The Drive 97.1 FM and The Mix 101.9 FM. Thank you to Rachel with Hubbard Radio for making that possible!
SEPTEMBER 7, 2021 UPDATE:
Dr. Chin diagnosed my foot issue as plantar fasciitis, which can be managed with a little physical therapy and a variety of treatments/stretches/exercises. The good news is, I can continue to run as long as it doesn't get any worse. And so far, so good-- just hit 462 today. The discomfort comes and goes; some days are good and some are bad, but I'm confident that my foot can heal as long as I follow the treatment plan that Dr. Chin and my physical therapist have outlined.
Also, I signed up for a couple races: the Bucktown 5K on October 3, and the Hot Chocolate 15K on November 7. I've done both of these in the past. The Hot Chocolate race is one of my favorites so I'm looking forward to that one, it's been a while!
OCTOBER 10, 2021 UPDATE:
I hit 495 today, and I've decided to end this streak in five days, so the finish line for this streak will come on day
500
(October 15). I've had a couple "end of streak false alarms" but I'm REALLY, REALLY going to end it this time.  All good things must come to an end, right? 
Some highlights since my last update: Last weekend, I ran back-to-back 5Ks (organized races)-- the
Race to Wrigley
and the
Bucktown 5K
. I ran Wrigley in 24:38, which was my fastest 5K since 2012. We started and finished at Wrigley Field and actually ran onto the field, along the warning track! The next day, I took to the streets of Bucktown and ran that 5K. I love running along the lakefront but sometimes it's nice to mix things up with these neighborhood races!
OCTOBER 19, 2021 UPDATE:
MISSION ACCOMPLISHED-- THE STREAK ENDS AT 500 AND OUR FUNDRAISING GOAL HAS BEEN SURPASSED!!
This may or may not be my final update, but I'm happy to report that my running streak has come to an end at 500, and as of today we have raised $2,661, exceeding my goal by $661!!  (NOTE: We raised $1,351 prior to switching to this new fundraising page.)  A HUGE shout-out to my coworkers who responded in a big way-- I'm blown away by the generosity shown by everyone at the office. And THANK YOU, THANK YOU, THANK YOU to everyone who supported me with various forms of encouragement and of course CCO donations.  This streak started very unintentionally, then turned into a fun challenge, and then became a platform from which we were able to help CCO's mission of "Addressing Homelessness, Providing Shelter, Accepting People, Finding Home."
Thank you to Robert "Raven" Kraft for being a HUGE inspiration when it comes to running streaks.  Raven has run eight miles every day since January 1, 1975 on the sands of South Beach, Florida.  He's a living legend and I've had the pleasure of running with him a handful of times. If you complete an eight mile run with him, he gives you a nickname. My nickname is "Lakefront"-- very appropriate since that's where I do the majority of my runs!
And thank you to Team World Vision and Michael Chitwood and Rusty Funk.  This awesome organization was my entry point to running for a good cause back in 2010, and there's no way I'd be doing this now if it weren't for them.  Just as I was inspired to run every day by Raven, I was inspired to turn my running into something that can help others by Michael, Rusty and all the other amazing leaders with Team World Vision.
I will enjoy a little break here, then it's on to the next fun challenge!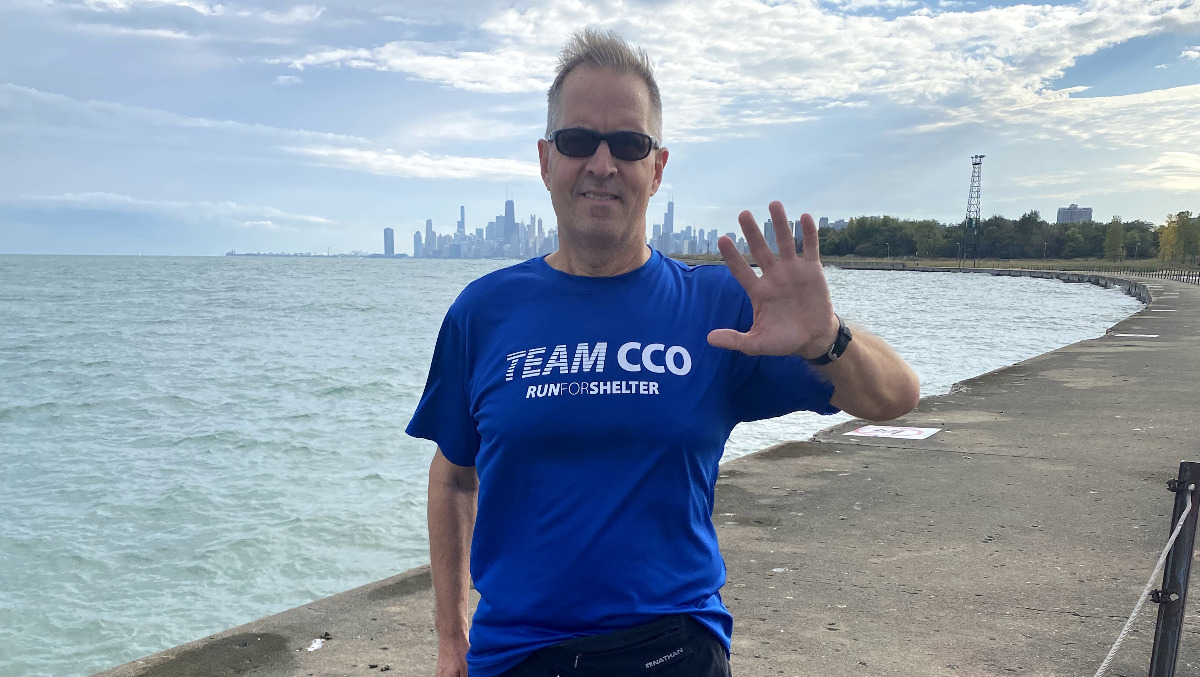 Team CCO is the charity fitness team for Cornerstone Community Outreach, a Chicago based social service agency that provides shelter to families and individuals experiencing homelessness, over 330 people each night!
Cornerstone Community Outreach (CCO), an Illinois not-for-profit organization, was founded in 1989 to raise the quality of life for low-income residents in the Uptown area of Chicago.  And over the last thirty years, CCO's programs have expanded to serve nearly 500 men, women and children daily.  With Cornerstone's help these families and individuals can begin to build a new life, one step at a time. Check out
www.ccolife.org
to read the wonderful stories of success from the families and individuals who have stayed at CCO!
#RunForShelter
Follow the team on Social Media:
facebook.com/teamcco
instagram.com/teamcco
#RunForShelter #TeamCCO
Help Spread the Word!
Organizer
Tim Necas
Organizer
Chicago, IL

Cornerstone Community Outreach
Registered nonprofit
Donations are typically 100% tax deductible in the US.