On August 1st, my partner (Ausup) and I started making the transition into our new apartment - we had just rented this cozy little spot located in a beautiful green area overlooking a creek, and were excited to make this place our new home.
That is exactly how it felt like from the start - home.
We had been doing the entire moving just the two of us (including heavy, bulky furniture), so needless to say the place still had a few boxes of unpacked stuff laying around, though it was quickly shaping up to be our dreamy little corner of the Earth.
As quickly as that, it all fell apart one morning, just a little over a single week living there.
We were woken up by our friend, who'd been visiting, saying the water level was getting higher and higher outside.
It started as nothing but infiltrations under the carpet, to which we had already been reacting by placing all the valuables we could on higher shelves/cabinets, but the rain remained relentless.
We made several calls to different emergency services, but nobody offered real help against the seeping water. In the short amount of time we had - a mere couple of hours - the three of us had moved everything we could out of the place, but not without severe losses.
The water level inside the apartment rose to about 3-4 feet in height, and ended up destroying all of our furniture, matress, our pillows, as well as clothing that had been sitting in lower shelves/drawers, bedding, cables, electronics as well as a ton of smaller items that got ignored in the confusion as they still sat neatly packed in their move-in boxes. That along with some irreplaceable, personal items with years of sentimental value behind them.
Having spent most of our funds moving to/renting this apartment, we were already in a strained financial situation. We surmise that, altogether, we've lost about 8000 dollars worth of memories. Insurance here doesn't cover flood damage, and even with FEMA flood insurance, even if we had signed up on August 1st we would've had to wait 30 days for coverage to start.
Now we're left stranded, without an actual home, for 1-2 months (depending on how long the maintenance crew will take to refurbish the place, not knowing even if the building itself won't be condemned permanently due to structural damages).
We have both made temporary arrangements to stay at my mother's place until we have some good (or bad) news, though the estimates have been very vague.
The money raised with this Go Fund Me will be geared towards replacing our lost furniture - once we have a new place to live - as well as helping us deal with emergency moving costs (possible storage of items, renting moving vehicles and so on).
We appreciate you taking your time to read this. It's okay if you can't spare any money right now, but if that's the case please help get the word out and you'll have our gratitude regardless.
Thank you,
Caz and Aus.
PS.: Most of the pictures below detail the situation as it was escalating. By the end of the day we were all nearly waist-deep in sewage water trying to salvage the last bits of things we had.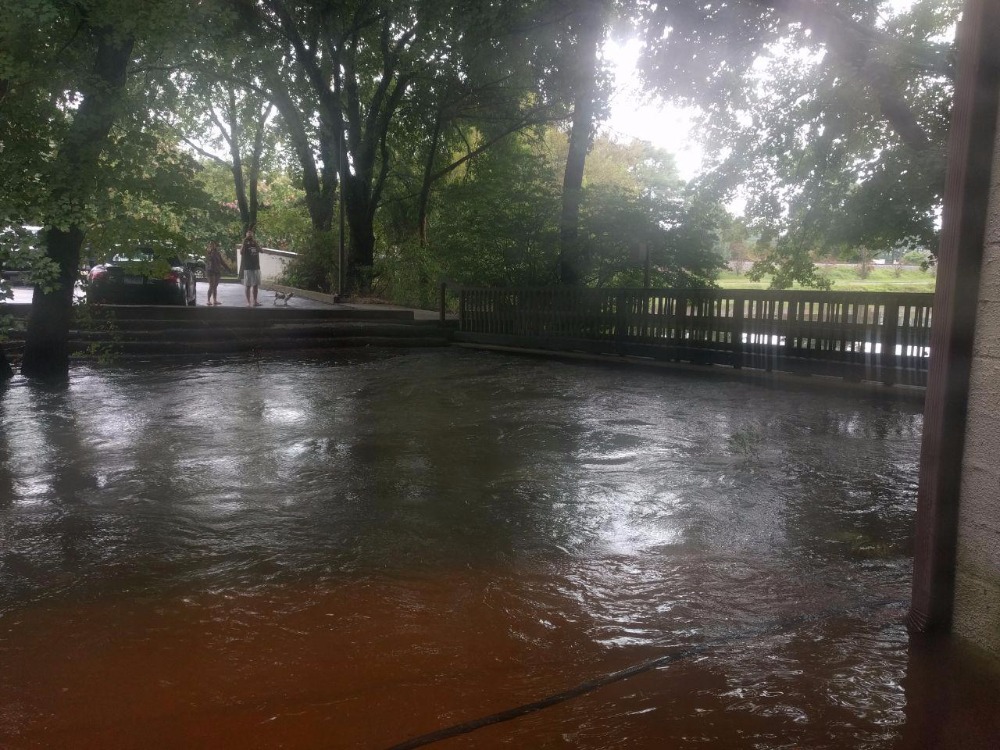 The water level outside, about 6-8 feet above where it usually sits.
Sewage started flowing back in - by the end of the day the water level was higher than the tub.
We're still trying to wash/clean our clothes. Trying to salvage anything we can.
The inner access to the apartments. The flood was so severe it reached some of the air-conditioner units - which usually sit multiple feet above ground.The beggining of it all. We had no idea just how bad it was going to get in the end.