The handsome gentleman with the pretty blonde in the picture is Casey "Catfish" Hunter. The pretty blonde is his bride, Amy. Thats me, Casey's best buddy, spoiler of many romantic evenings, and eternal third wheel , in front. My name is Matt. 
Please allow me to tell you a quick story about a great guy and a pretty inspiring survival story:
Casey has been my right hand man for quite some time now.......And in our hunting, fishing, snowmobiling, motorsports, baseball, and many travel adventures through the years together we have encountered just about every impossible scenario imaginable. In most cases, I'm the teller and screamer while Casey keeps a cool head and brings me back down to earth so we can put dog our heels in and fix whatever is broken to get us home safely. He's a great dude; a small town farm kid, a selfless man with a strong will, good heart, and a bulldog work ethic. If you've ever been broken down in the middle of nowhere, you'd be very lucky to have a guy like Casey stop by.
On July 5, Mr Hunter was in a horrible hiking accident. Before I get to the details let me give you a quick back story. In April, he and I decided to go for one last snowmobile ride.....The guy lives to snowmobile...As do I. On that day he flipped his sled at the very top of a very steep Wasatch Mountain chute and rolled his sled 100 yards down the hill. (We call that a "yard sale" due to the parts that typically fly off the sled as it rolls). Thanks to the record breaking and famously fluffy snow , neither Casey nor his beloved Skidoo were harmed that day....BUT...He the key did somehow work it's way out of his ignition as it tumbled down the hill. We spent 4 solid hours digging that day and never found the key, which made for a tough tow trip back to the trip back to the truck...Which my Polaris and I were very happy to document with a number of pictures proudly displaying the tow rope.
Ok now that we are caught up, back to the present:
Since our snowmobile season ended that day.....Casey has had some extra time on his hands. Not only did he replace his key but he also got a start on the family he's been talking about for quite some time. Amy is 4 months pregnant with what I hope to be a Major League prospect....Or a world renowned orthopedic surgeon for my own selfish reasons.
Casey has been talking for months now about hiking back in to the chute to find the key.....Just for fun and to get out to explore the area. 99 out of 100 time I would have been there with him but on July 5, Casey returned to the chute with a metal detector to try to find his key. Even with record temperatures in Utah, there was still snow in the chute area , though patches of large jagged boulders protruded from it, void of soil and vegetation, which is common for peaks above the 10,000 feet. After a long hike on a beautiful day Casey approached the chute cautiously but lost his footing at the top and slid, without any way to stop on the slick snow that has undoubtedly been thawed and frozen many times over, approximately 80 feet to a patch of large boulders protruding from the snow. The collision nearly his right ankle completely....Leaving only his achilles tendon in tact. He also lacerated his right arm, to the bone, in four different spots....But Casey being Casey, stayed cool, collected himself, and got to work. He turned his boot laces into a tourniquet for his leg and had fleeting thoughts about dying on the mountain....Alone.
He credits thoughts of Amy and his unbourn first child for his agonizing crawl back up the mountain to search for his phone to call for help. After a 40 yard army crawl, in which he found a 4 inch piece of his tibula and put it in his pocket, (see pics)up the snow covered chute, he miraculously found his shattered iPhone and was able to get a call out to Amy with only 5% battery remaining.
3 grueling hours later, life flight arrived and despite record high temps, altitude, and extreme terrain (which made for a very unique flight plan and rescue), the talented team was able to basket lift Casey from the chute and to the hospital where he was whisked into the OR.
His first surgery was successful, but there are many many more to come. We are all very hopeful that his foot will be saved but only time will tell.
This page exists because I, his best friend, was not on the mountain to help him yesterday.......He will hate that I'm asking for help but it's all I know to do to relieve the burden of the enormous bills that are looming in the very foreseeable future.
I hate that I wasn't there to help; so here I am.
That being said, he's not a handout kind of guy, nor am I.
I don't know how to bake nor am I suited for a bikini car wash fund raiser....But for a donation, I'd be very happy to come mow your lawn, help change your brake pads, throw you some batting practice, take you fishing, smoke you some world class ribs, sing you a country tune, tie you a wooly bugger, ask my mom to make you some cinnamon rolls (they're amazing), help out on your next elk hunt, or take you for a snowmobile ride when the snow starts to fly again.
Casey and Amy are incredible people....With another incredible a person on the way. Casey I have helped many strangers over the years in some sticky situations.....I'm hopeful there are a few of those that somehow run into these words.
Much love, thanks guys!
-Matt
http://fox13now.com/2017/07/05/search-and-rescue-operation-underway-in-big-cottonwood-canyon/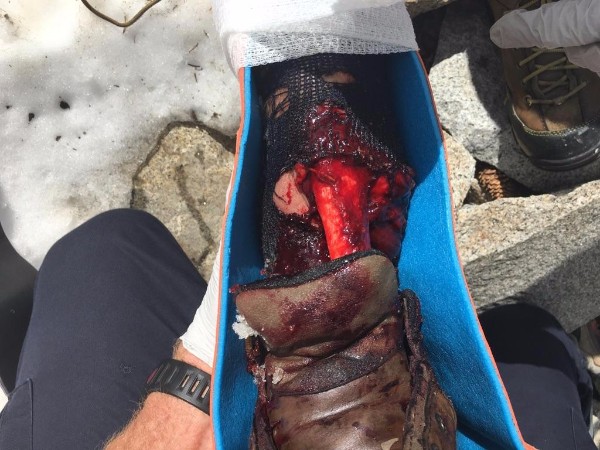 Organizer and beneficiary