Fundraiser for Vietnamese Youth Affected by COVID
Thousands of Vietnamese children have been orphaned by COVID-19 in the past year; more than 1.5 million children face overwhelming challenges posed by the pandemic, requiring medical, financial, and emotional support. Project Carry Forward will support these vulnerable youths by providing them with basic necessities and resources. The fundraiser has been organized by VietChallenge, STEAM for Vietnam, VietSeeds, Stay Strong Saigon, and VietBay along with other prominent nonprofits and US entrepreneurs.  
We urge you to join in our collective effort to help brighten the future for these children.  A goal of $300,000 has been set.  Plans for distribution are outlined below.  
VIETNAMESE CHILDREN AND YOUTH NEED YOUR HELP 
As we enter into the holiday season, many of us are looking forward to sitting down to big dinners with our families and exchanging presents with our loved ones.  This year, moments like that remain far out of reach for too many children in Vietnam.
During the past year, over 1,500 children in Sai Gon alone have been orphaned by COVID-19.  Some have been taken in by distant relatives; others have been placed in orphanages.  A total of 14,000 children throughout Vietnam have recently been diagnosed with COVID-19.  Along with medical attention, these children require financial and emotional support to keep up with the increasingly difficult demands of life and education. Even those who have not contracted the virus have been affected by it.  Classes can no longer meet in person, but an estimated 1.5 million children lack the most basic equipment necessary for remote learning.  This not only delays their education, the isolation from their peers is impeding their social progress. As the pandemic continues to take its toll on Vietnam, the number of those affected is expected to increase, leaving thousands of children and students in need of medical, financial and emotional support.
OUR FOUNDING ORGANIZATIONS
VietChallenge
VietChallenge is a 501(c)(3) nonprofit organization headquartered in Massachusetts whose mission is to nurture the entrepreneurial spirit of young Vietnamese and to foster business synergies through mentorship, networking, and access to funding.  Since 2015, the organization has helped elevate more than 600 startups, who have now raised more than $10 million. VietChallenge has also connected them to 100+ investor networks.  Throughout its previous seasons, VietChallenge has awarded contestant $200,000 in cash with no strings attached. 
STEAM for Vietnam
STEAM for Vietnam is a 501(c)(3) nonprofit organization operated by a large network of volunteers (Steameses) including Vietnamese alumni from all over the world.  These alumni share a vision of fostering Vietnamese future talents by providing them high-quality STEAM education at a young age. Boasting a completion rate of 100%, STEAM for Vietnam has attracted more than 18,000 students to its free online STEAM courses.  The ultimate goal is to bring world-class, free education to all Vietnamese students.
VietSeeds
VietSeeds is a nonprofit organization committed to bringing equal access to college education to all students in Vietnam. VietSeeds invests in highly motivated students from underserved demographics. VietSeeds' graduates are the seeds who are breaking the cycle of poverty within their own families to not only change their own lives but to serve their communities, become a new generation of active citizens and future leaders from diverse backgrounds, and foster positive social changes.
Stay Strong Saigon
Stay Strong Saigon is a nonprofit campaign started during the fourth wave of COVID-19 in Vietnam.  Through a partnership among VietSeeds, IEG Foundation, and other local organizations, Stay Strong Saigon has been providing essential food, necessities, and mental support to Saigon residents. In just a few months of operation, Stay Strong Saigon has supported thousands of youth and children in Vietnam.
VietBay
VietBay Inc. is a 501(c)(3) non-profit organization based in California.  It started in the early 2000s with volunteer-based events designed to preserve Vietnamese culture and cultivate bonding among the multi-generation American-Vietnamese families living in Northern California. VietBay also conducts fund-raising events to assist socio-economically disadvantaged Vietnamese in the face of emergencies, including the COVID-19 pandemic.
OUR FOUNDING TEAM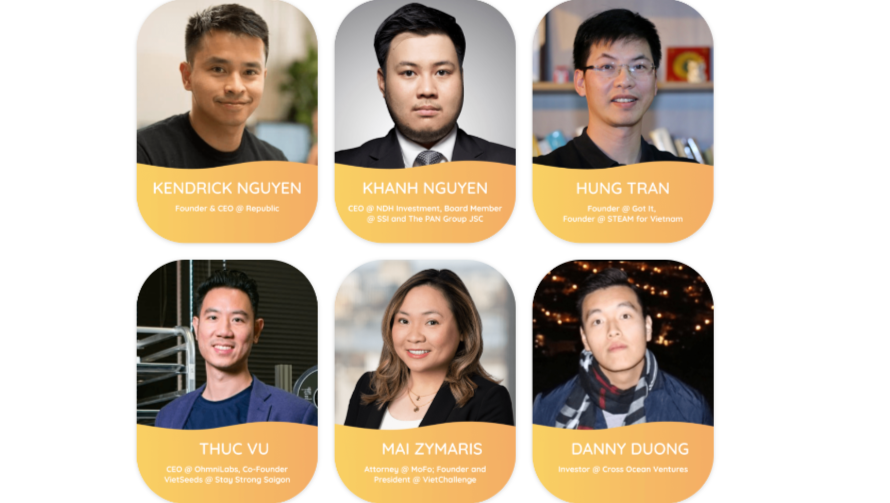 ●      Kendrick Nguyen (CEO, FinTech Entrepreneur)
Kendrick Nguyen is the Co-Founder & CEO of Republic, a fintech unicorn that connects tech startups and blockchain projects with global investors. Although Kendrick moved from Vietnam to the U.S at an early age, he remains deeply connected to Vietnam. Along with his success as a prominent Vietnamese American entrepreneur, Kendrick is committed to a variety of social causes, including those that support vulnerable populations.
●      Khanh Duy Nguyen (CEO @ NDH Investment, Board Member @ SSI and The PAN Group JSC)
Mr. Khanh Nguyen is currently a Board Director of SSI and the CEO of NDH Invest Ltd., a boutique private company that invests in leading companies in various business sectors including finance, securities, agriculture, food and biotechnology. Mr. Khanh joined SSI, one of the largest financial service providers in Vietnam; at the age of 24, he became the youngest Board Member in the company's history. Since then, Mr. Khanh has taken an active role in SSI philanthropic efforts, which prioritize promoting Vietnam's economics, education systems, and sustainable development.
●      Hung Tran (CTO @ Got It, Founder @ STEAM for Vietnam)
One decade after founding Got It and becoming a successful Vietnamese tech entrepreneur in Silicon Valley, Hung founded STEAM for Vietnam, a non-profit coding training project for Vietnamese youth. Hung wants to help Vietnamese children succeed without needing to travel to other countries to study. To do so, STEAM for Vietnam provides free computer programming lessons in Vietnam taught by experts from Google, Facebook, Amazon, and Microsoft.
●      Thuc Vu (CEO @ OhmniLabs, Co-Founder VietSeeds @ Stay Strong Saigon)
In 2011, tech entrepreneur Thuc Vu founded the VietSeeds Foundation with the dream of helping Vietnamese students overcome poverty and lead meaningful lives through college education. Now celebrating its 10th anniversary, Thuc's organization has helped over 3,000 students complete their Bachelor's Degrees in Vietnam. More recently, Thuc founded Stay Strong Saigon, an ongoing community campaign that has been providing food and necessities to underserved residents in Ho Chi Minh City during the long quarantine.
●      Mai Zymaris (Attorney @ Morrison and Foerster; Founder and President @ VietChallenge)
Mai is a big law IP transactional attorney and a nonprofit leader.  While in law school, Mai founded VietChallenge, a global startup competition providing a pipeline between Vietnamese startups with high growth potential and American venture capitalists. In just 6 years, VietChallenge has become the largest annual startup competition for Vietnamese founders, having helped launch more than 600 startups and having built a network with hundreds of active investors and VC funds.  
●      Danny Duong (Investor @ Cross Ocean Ventures)
Danny Duong grew up in one of the most prominent Vietnamese American business families. Currently, he is not only carrying on the family business, he is also carving out an impressive name for himself. In addition to his incredible business acumen, evidenced by his impressive investment portfolio, Danny exhibits a generosity of spirit and a personal philosophy that one needs to support the community from which they came.
FUND DISTRIBUTION AND TIMELINE●      Children Orphaned due to COVID-19
Stay Strong Saigon will provide education along with physical and emotional support to 100 children who were orphaned by COVID-19. During the first year of the campaign, Stay Strong Saigon will rely on existing models of philanthropy to develop its pilot program. That program will then be modified based on outcomes and changing needs. The goal is a long-term, stable source of support for orphaned students until they complete high school.
The fund package is $75,000. This will support 100 children during the program's first year.
●      Students Lacking Equipment for Virtual Learning
Because remote learning and technology have become vital to Vietnam's next generation during the pandemic, our Fundraiser will designate a significant portion of the donations received towards promoting virtual learning.
The fund package is $150,000. This will provide 1,000 Chromebooks for 1,000 Vietnamese students. Each Chromebook is priced at $150 (including operations and logistics costs).
●      College Students with financial hardships
Due to COVID-19, an increasing number of students have abandoned higher education in order to pursue more immediate sources of income. These numbers include students who have passed the national college exam with great results. During the current academic year (2021-2022), VietSeeds has already provided financial aid and scholarships to 300 college students. Our Fundraiser will allow VietSeeds to assist 50 additional college students. The $1,500 allotted to each student in scholarship money will cover tuition fees for public university attendance and provide a small allowance for living costs.
The fund package is $75,000 dedicated to 50 college students.
PRESS
Project Carry Forward has received coverage in various national news outlets in Vietnam.
Lao Dong
https://laodong.vn/kinh-te/5-to-chuc-phi-loi-nhuan-cung-3-doanh-nhan-dong-gay-quy-cho-tre-em-978143.ldo
Tien Phong
https://tienphong.vn/gay-quy-cho-tre-em-va-hoc-sinh-viet-nam-bi-anh-huong-boi-covid-19-post1396180.tpo
NgayNay
https://ngaynay.vn/gay-quy-cho-tre-em-va-hoc-sinh-viet-nam-bi-anh-huong-boi-covid-19-post115438.html
NDH
https://ndh.vn/nguoi-lanh-dao/nam-to-chuc-phi-loi-nhuan-cung-ba-doanh-nhan-noi-tieng-tai-my-dong-gay-quy-cho-tre-em-va-hoc-sinh-viet-nam-bi-anh-huong-boi-covid-19-1304650.html
For more information, check out our website
PROJECT CARRY FORWARD
  - A global effort to uplift young Vietnamese affected by COVID-19
Check out the website at
https://www.carryforwardvietnam.org/

Organizer
Project Carry Forward
Organizer
New York, NY

Registered nonprofit
Donations are typically 100% tax deductible in the US.