Care Packages for Frontline Nurses & Caretakers
A few days ago a photo of healthcare workers traveling to New York went viral. This plane full of medical professionals was heading from Atlanta straight into the heart of the Coronavirus pandemic. 

Like many, I noticed my cousin Vincent Lopane posting about this photo on Facebook.  What made this different that most people sharing...Vincent is in the photo! (he's the guy in the back, repping his New York roots).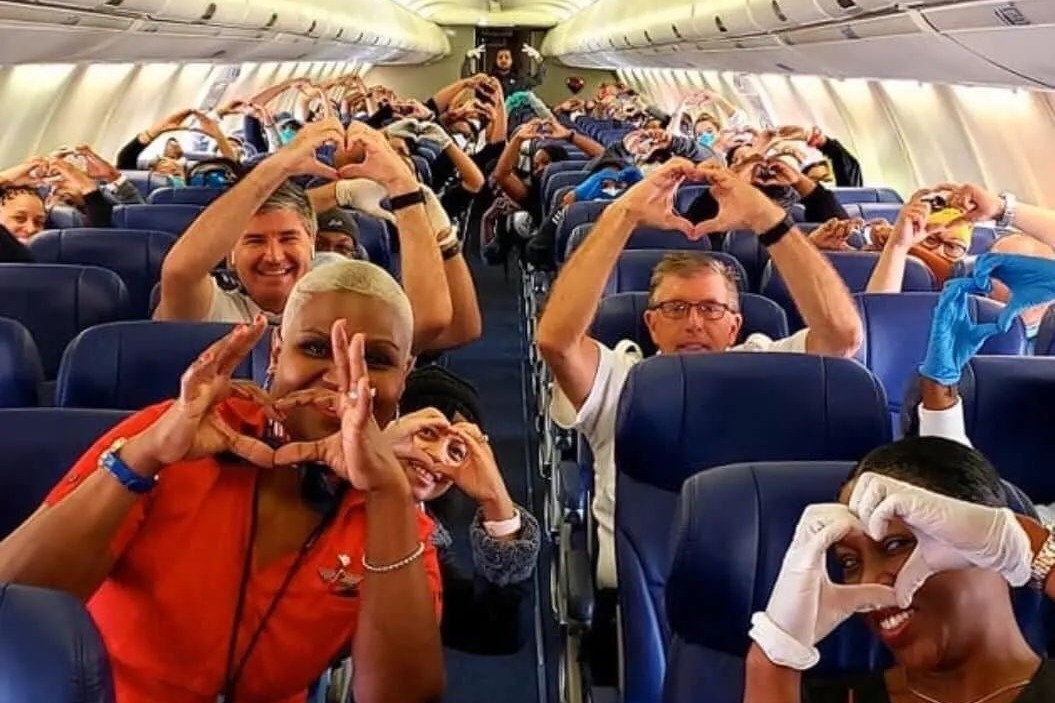 Shortly thereafter, I noticed Vincent posting videos of his Day 1 debrief on Facebook. He was exhausted, having spend his first 12-hour shift taking care of seven COVID-19 patients almost completely on his own, and given that he was now living out of a hotel, he was short of a few things.

He also posted a photo, asking for care packages.


When I messaged Vincent and asked if there was anything he needed most (he does, N95 masks), he said "They can use anything. Nothing will go unused". 

I texted the photo to Chiara Gerek and within minutes she was plotting a trip to Costco. I sent her $100, she matched my donation, and within
just a few hours, had a trunk full of goods.

Before we know it were were making out first delivery of non-perishable foods, cleaning supplies, and immune-system support supplements. 



After reposting Vincent's initial photo, several friends sent their own care packages directly, while other friends started sending Venmo-ing money to add to our efforts. Within just a day's time, we saw how quickly our efforts to send a bit of care to these caretakers could go.

In the interest of keeping everything in one place (and buying everything in bulk), and seeing how much our  a GoFundMe campaign seemed like the best option. 

At the moment Vinny and his fellow nurses are living out of New York hotels and putting in 12-hour day or night shits (7AM-PM, 7PM-AM). We were told there were currently about 1,000 nurses and healthcare professionals who had traveled to New York from Georgia, Texas, and otherwise all around our country. 

Given their long days and overnights on the frontlines of the pandemic, what we're really trying to do is make their down time as pleasant, least-stressed, and supported as possible. If they need anything at all, we want to be able to provide it, or connect them with someone who can. As these healthcare workers support the most vulnerable in New York, we want to support them. 

At the moment, Vinny is still receiving packages directly and distributing good and supplies to nurses throughout the hotel. Please send any care packages directly to the following:

Vincent Lopane
The New Yorker Hotel
Room 2816
481 8th Ave.
New York, NY 10001

If you can't send something directly, Chiara and I we will be using whatever money we can raise to make bulk purchases and deliveries over the next few weeks. All funds will go towards purchased non-perishable food and snacks, cleaning supplies, vitamins and immune-system supplements, (once we can locate a vendor) N95 masks, and whatever else these folks are in need of that we can provide.

Thanks ahead of time for sending what you can. We hope we can all do our best to support those sacrificing so much of themselves for the good rest of us!
Best,

Anthony & Chiara

Fundraising team: Anthony DiMieri & Chiara Gerek (2)
Anthony DiMieri
Organizer
Raised $2,702 from 56 donations
Brooklyn, NY
Chiara Gerek
Team member
Raised $1,545 from 20 donations