Care For Dejuan- Know Septic Shock
Know Cancer? Then Know Sepsis & Septic Shock- the #1 cause of death in hospitals!
Hi! My name is Whitney and I am raising money to help take care of, support and get my Mom, Dejuan Miller, the medical care and treatments she desperately needs. Helping her to be well, rebuild her strength and to give her a quality of life due to being a severe Septic Shock survivor! It has been a long road, still, that includes physical and emotional rehabilitation. She has PTSD, ICU Psychosis and PSS- Post Sepsis Syndrome.
If you knew Dejuan like she appears in the main photo... she did not come back to us as the same woman. Scroll to see more photos.
For those who don't know my Mom, aka The Matchmaker, she was very successful at setting two people up for their happy ever after! She loved love, exuded love and shared love with everyone she came in contact with. She was making her dream a reality and she was amazing at it! She never stopped! She gave so much to others before this whole thing happened, before she would be the one in need of help.
My dream for her is to have joy again in her life like she did when she was doing her Matchmaking 24/7. She's only able to give me advice from time to time now but she did make sure to teach me everything she knew my whole life. Big shoes to fill. And very hard while also caring for her full time.
3 1/2 years ago on August 4, 2014, my Mom went in for what was supposed to be a "routine gallbladder removal and hernia repair laparoscopic surgery." The surgeon made an error that caused my Mom to go into severe septic shock, complete organ failure and almost death. An emergency surgery was done to try to save her life. They called it an "exploratory laparotomy." At 25 years old, I had to sign my Mom's life away for them to open her up and try to save her. At this time my brother, Ryan, was 22 years old.
Our Mom remained in a coma for 10 days, on a ventilator for 12 days, in the ICU for 16 days, in a surgical floor room another 16 days and in a rehab/nursing home facility for 11 days. Our Mom turned 53 while in a coma and got moved to rehab on my 26th birthday. During this time I gave her the nickname our Super Trooper. She's been through the ringer but she sure is a fighter! Thank the Lord for that!
Since then, the past 3 1/2 years, she has had 4 total surgeries from what was supposed to be just 1. She's had 19 hospitalizations and 4 of which were critical- 2 having sepsis. She just spent a week at Emory University Hospital - starting February 9th, 2018 - critical with a possibility of emergency surgery from a complete bowel obstruction.
She has not worked in 3 1/2 years, she cannot and has not driven, she has some cognitive issues, slowed motor skills, hearing loss, infections in her teeth, vision loss, constant daily pain and the inability to care for herself on her own. 
She has more doctors than most have in a lifetime, all to help her in every area and aspect of one's body and health. To keep her on track of trying to stay well and reduce pain, she has between 3 to 5 doctor visits per week in different parts of town, which I take her to and 9 out of 10 times I accompany her into them to hear what the doctors say and to ask questions.
She has defied a lot of odds and is a miracle to even be alive today! Her doctors say they are learning from her case. Yes, now she is a "case" because of all she's been through, survived and continues to go through. Learning to re-walk was just 1 of many.
My brother, Ryan (26) and I, Whitney (29), have been her caregivers over this time the last 3 1/2 years, but her care has gotten to a point that we cannot sustain. Throughout this time we have had help from extended family and friends as well, but now we have to ask for help more formally.
Ryan and I LOVE our Mom more than anything and will continue to care for her but we need your help to do so. Our Mom has always been known for her big, generous heart, love for all people and helping others any chance she got! Now, she needs that help returned. Any donation small or large will dramatically help us in our efforts to care for our Mom and get her the help and treatments she desperately needs to be well and to have some quality of life.
The money from these donations will go directly towards the immediate care our Mom, Dejuan, needs:
- [ ] Dental work- infections that were caused from Sepsis and from damage by the ventilators
- [ ] Hearing aid
- [ ] IV vitamin C infusions
- [ ] IV iron infusions
- [ ] Physical therapy
- [ ] Yoga, meditation and healing
- [ ] Caregiver hours
- [ ] Prescriptions
- [ ] Doctor visits
- [ ] For when Ryan and I have to miss work or take off work
- [ ] Help with future surgeries and procedures
This fundraiser and the cause for it, means more to me than anything! This is for our Mom!!! This is for her life, for her continuous medical treatment and so that she can have a good quality of life considering what all she has to deal with and overcome. She really is our Super Trooper!
Without this help, we remain one paycheck away from not being able to afford her next doctor visit, her next infusion, from not being able to afford all of her prescriptions, one paycheck away from not being able to take care of her and provide the medical care she needs to survive.
I want to thank you from the bottom of my heart for reading this and for considering to share this fundraiser or to donate yourself. I want you to know that even if you are not able to donate, sharing this post goes a long way but prayers go a long way as well! We know that God sent her back to us and we thank him for that every day!
I thank you again for reading this and I appreciate you! God Bless You!

August 2014- Septic Shock/ Coma

August 2014- Septic Shock/ Coma

November 2016- Sepsis Again

November 2017- Sepsis Again

February 2018- Being transferred from Saint Joseph's Emory to Emory University Hospital Main

February 2018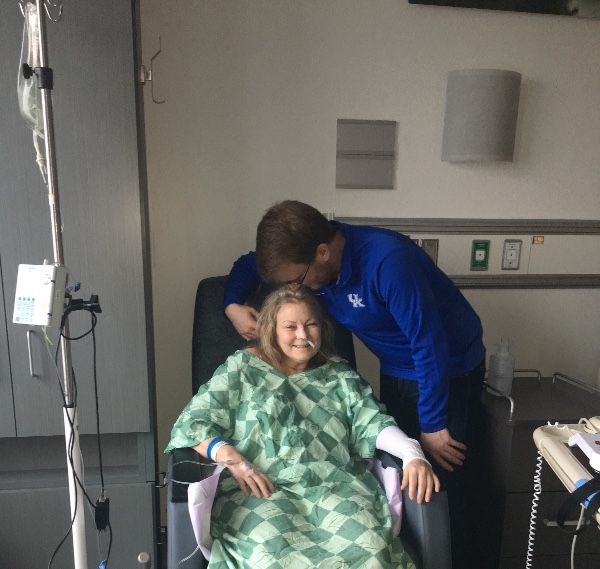 February 2018- Ryan messing with Mom's ear to try to get a smile.

Organizer