Cancer Survivor Dreams of an Artistic Home
What Is Maraya Performing Arts?
Maraya Performing Arts (MARAYA) is a new, socially-engaged performing arts center in Chula Vista, California designed around our core principles of Diversity, Equity, Inclusion, and Belonging. We envision Maraya Performing Arts Center as a creative safe-haven, artistic hub and home for dancers, actors, musicians and creators; students and teachers; and multigenerational audiences in South Bay San Diego and beyond. 
Programs include multigenerational classes in dance, music, and theatre; and our focus is on children of all ages and all abilities. We also offer classes for adults too! MARAYA is great for the whole entire family! 
In the future, Maraya intends to offer professional development trainings in the 'business of making art.' These trainings will be designed for artists, creative entrepreneurs, arts nonprofits, arts board members, teaching artists, and arts small businesses. 
Meet our family of diverse teaching artists on our website!
https://marayaarts.com/staff/
THE PROJECT. BUILDING OUR HOUSE.
Maraya Performing Arts was founded in 2020, literally weeks before the Covid-19 pandemic shut down in California.  
When we were forced to shelter in place on March 17, 2020, not long after signing the lease on our new space, our focus shifted to tenant improvement and renovating our new performing arts home. Improvements include three dance studios fully equipped with sprung wood or Marley dance flooring, mirrors, sound equipment, new HVAC system for improved ventilation, and adding an additional ADA restroom. 
MARAYA is truly a place for the whole community!
WHY DONATE?  Bayanihan!
Everyone who supports Maraya Performing Arts becomes a member of the MARAYA FAM (family)! 
 Bayanihan (pronounced as buy-uh-nee-hun) is a Filipino custom derived from a Filipino word "bayan", which means nation, town or community. The term bayanihan refers to a spirit of communal unity, work and cooperation to achieve a particular goal.
The concept of Bayanihan is traced back to a long-standing rural tradition where villagers would gather to help a family move to a new place. The beautiful part of the tradition is that the villagers wouldn't just move belongings, they would move the entire house. Afterward, the whole community would celebrate!
ONE NEIGHBORHOOD. ONE FAMILY.
MARAYA is located in the heart of Chula Vista, a diverse community in Southern San Diego County, close to the US-Mexico border. 
Because we actively embrace inclusion and diversity, we hope students and visitors will see more diverse individuals than any regional arts center they've been in before, because that is who is representative of the diverse community we all live in. 
We are a small and might team full of big dreams, a lot of talent, unwavering commitment, and an urgent need for your enthusiastic support! 
OUR FOUNDER. A TRUE WARRIOR AND SURVIVOR.
The first thing dancer, choreographer, arts administrator, community leader, Chula Vista native and first generation, Filipina-American Anjanette Maraya-Ramey did when she learned she was cancer-free -  was to create a business plan for a performing arts center. That was in September 2019. While she is currently in remission,  she underwent 3 years of intense chemotherapy treatments that have a lingering side effects that affect her daily life. But that didn't stop her from fighting for her dreams. 
"I had seen the worst of life—I suffered a cerebral hemorrhage followed by a heartbreaking miscarriage in 2017, followed by a diagnosis of Leukemia in 2018," said Anjanette.
"After years of health battles, I finally found clarity
.
Two things I know for sure:
First, life is short. We never know what the universe is going to throw at us
.
Second: My hometown needs access to the arts and artists as role models, and that's been the case since I was a child.
What if I don't step up, and it never happens? I see myself as leading a movement that empowers others, and I'm inviting everyone who reads this to join. Along the way, the Maraya teaching artists will empower the next generation of artists who will carry this movement forward."
Maraya-Ramey has a gift for teaching, and a deep, life-long connection with this community.  She's also an eternal optimist. 
"One good thing that happened since I signed the lease on the building during a global pandemic, is the feeling that has changed the way Americans think about equity and inclusion," says Maraya-Ramey. "Just like cancer erased my fears about putting everything I have out there, the senseless murders of countless Black bodies, has made America deeply aware of past and current inequities. I am even more
inspired to help change the inequities of the system we inherited. 
An experienced arts administrator and former nonprofit Executive Director, Anjanette has been involved in the San Diego regional dance community as a dancer, teaching artist, and independent choreographer. Her choreography has been commissioned by TEDx San Diego, La Jolla Playhouse, The Old Globe, Grossmont College, San Diego Housing Federation, and Diversionary Theater.
Learn more about her professional background and experience here:
https://www.linkedin.com/in/anjanette-maraya-ramey-ma-cnp-6253997/
Our goal is to raise $100,000 in 2022 to continue thriving in our new forever home for our community.


We have an exciting 2022 season planned with (2) Disney Youth Theatre Musical productions, (2) School Showcases, and Summer Youth Programs.
Your investment in Maraya Performing Arts will ensure that we can continue to not only survive in these times of uncertainty, but rather thrive...for many, many years to come.
Thank you for your love and support of the bayanihan. 
Maraming Salamat (many thanks in Tagalog),
Anjanette Maraya-Ramey and our entire Maraya Performing Arts Pamilya (family)
*You can also send your donation via check and post office mail:
Maraya Performing Arts Collective 
Attention: Anjanette Maraya-Ramey
8085 Lake Adlon Drive
San Diego, CA 92119
As of January 2022, we recently obtained our 501c3 nonprofit status. Your donations will be tax deductible (minus the fair market value of any goods or services received) to the full extent of the law. 
Please stay in touch and sign up for our newsletter:
www.marayaarts.com
Follow us on SOCIAL MEDIA: 
Facebook: Maraya Performing Arts
Instagram and Twitter: @marayaarts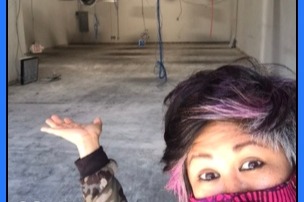 Fundraising team: Maraya Performing Arts Pamilya (4)
Anjanette Maraya-Ramey
Organizer
Chula Vista, CA
Anjanette Maraya-Ramey
Beneficiary
JoAnne Herrada
Team member
Juliette Theriac
Team member