Cameron's Fight Against Epilepsy
My nephew Cameron Green has lived a life that no child should have to live. He has lived his life with uncontrolled epilepsy. 
We knew Brain Surgery would be an extremely difficult thing. We prayed,  prepared, we watched Cameron suffer immensely and waited anxiously for over a year for these horrific surgeries to become available, only for them to be scheduled and canceled. While waiting, a mom was watching her son suffer. Pain, sadness, depression and fear became commonplace in their home. Pain from seizures all night, every night.
Fear that he would live like this forever, fear to sleep each night, and fear to eat from the choking the seizures caused, fear from a mother who wondered nightly if her son won't wake the next morning
. Sadness and depression from not being able to function and be normal, no more skiing because his coordination is gone, no more attending school because within hours he forgets what he learned, no more playing video games because he forgets which buttons do what, no more sports, everything he enjoyed is taken away until eventually he doesn't leave the house. Watching his friends get their driver's licenses, and making plans for a senior trip (he won't be able to take), and college he won't be able to attend, moving out of their parent's homes, knowing he is stuck. Literally watching life pass him by out the window.
Lynsey LaLonde is my sister and Cameron's mom. She is a single mom and has worked for the Allegany County for more than10 years until recently when she could no longer work as Cameron could no longer be left alone. Being a public employee, she doesn't qualify for paid family medical leave. My sister is amazing and strong. She has held a full-time job and a part time job even while up all night, every night caring for Cameron. She has taken Cameron to the all his doctors' appointments and begged every doctor in multiple states to help her son. She is a mom who helplessly watches her son suffer in immense pain each day while still being a mom to Cameron's younger brother. She tries to give both of them hope and peace even when there seems to be so little. To talk to Lynsey, you'd never know what she faces on a daily basis, she still helps others whenever she can and is always optimistic.
Cameron's seizures were diagnosed at age five. Since then, Cameron has been pricked and prodded at by so many doctors, he will tell you, he is just a lab rat. Most medicines they have tried help for a short time. Cameron gets a honeymoon period, where his seizures decrease for a short time, just as he is starting to adjust to the medications side-effects, the medication's effectiveness wears off. His seizures come back, usually worse. Cameron has been on almost every well-known anti-seizure medication (20+). Sometimes both him and his family wonder if the seizures or the drugs hurt him more. The doctors keep adding new medications until it is no longer safe to do so and the side effects compound.
In addition to the seizures, and the side effects of the medications, Lynsey has to worry about pulmonary aspiration, choking on his vomit (as he vomits during many seizures but doesn't always know it), drug dependency/withdrawal, vasovagal syncope, and SUDAP (sudden unexpected death from Epilepsy). Cameron and his mom have gone to John Hopkins in Baltimore, CHOP in Philadelphia, University of Buffalo, the Dent Clinic, and Strong Hospital. They have visited holistic doctors and naturopaths, they have done essential oils, and vitamin regiments, CBD oils and medical marijuana, genetic testing, Paleo diet, the Ketogenic diet, modified Akins diet, Cat-scans, MRI's, functional MRI's, Pet-scans, magnetoencephalography, panel after panel of blood work and reprieve still hasn't been found.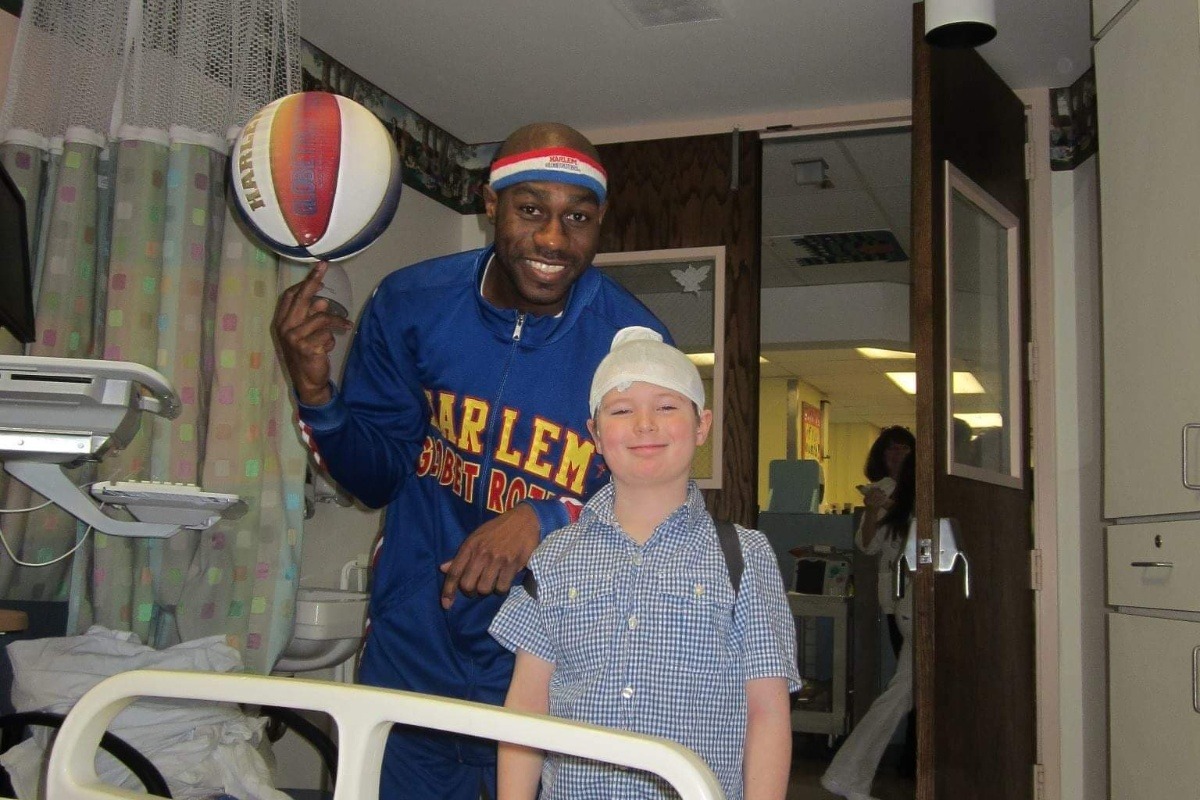 As Cameron has gotten older, his seizures have gotten more severe. The past year, they have been completely uncontrollable, despite being on five anti-seizure medications. After meeting with multiple doctors, it was determined that a series of brain surgeries was the only option. One surgery wouldn't be enough and neither would two, Cameron would need three brain surgeries. Three hospital stays that would add up to months in the hospital, and then even longer for at home recovery. But the doctors had good news, not only could the seizures be reduced, but there was a chance for them to be eliminated. This was a chance for a CURE. A cure wasn't something that is often associated with epilepsy. Finally, hope was there. Except for Cameron.
After talking with the doctors, he was adamant he didn't want the surgery for a couple reasons. The first being he was afraid that he could come out from the surgery worse than going into it, his personality could change, his seizures could be worse or he could be brain dead. His second main reason for not wanting the surgery was hope. He told his mom and the doctors, if I do all of these surgeries and they don't get worse or better, if my seizures just stay the same, I will lose all hope that I will ever live a normal life, I'm scared to lose that hope, it's all I have left. But the doctors talked a lot about SUDAP and how seizures that can't be controlled with medications, and the types of seizures Cameron has, and the fact they only occur while he's sleeping, all are increased risk factors for him dying from this disease. His mom begged him to agree to the surgery. 
We believed surgery was answer to Cameron being able to live life. It gave our whole family so much hope. This was our answer. We wanted him to be seizure free, be able to eat and sleep without the pain, to be able to sleep without fear, to be able to go to school, to plan for college and his future, to ski with his friends, get his permit and do all things a 16-year-old should.
We told him just be brave, do this and by your birthday you could be seizure free. We told him to think of a life without seizures, how everything would open up for him. We planned, prepared and watched him suffer each day praying that the end of his suffering was near. Surgery was scheduled and then canceled multiple times due to COVID. Then at last, after Lynsey begging the doctors when they called to cancel again, surgery was going to happen.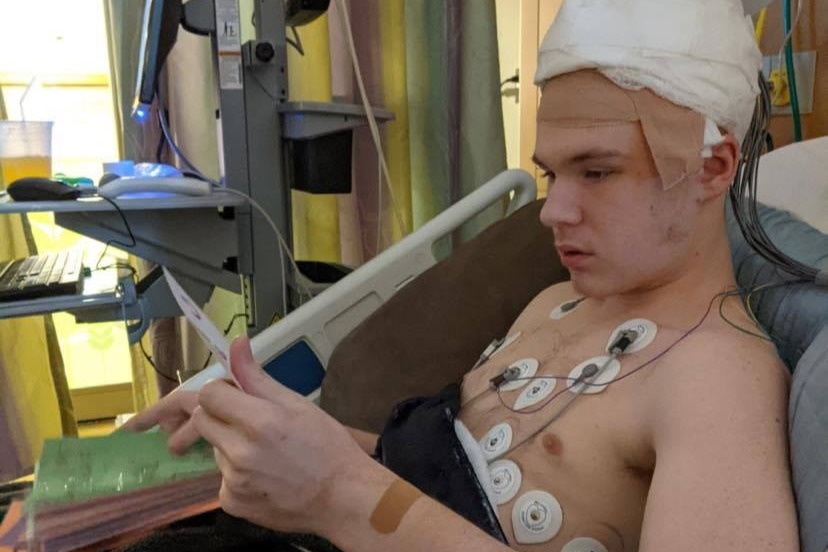 Last week our whole family was terrified as Cameron entered the hospital for surgery one. The risk was great, the cure would be even greater. The surgery was six hours. The pain Cameron was in from the minute he came out of the anesthesia, was tremendous, he was in constant terrible pain. The surgery required the surgeon to drill holes in Cameron's head, then through these holes they placed electrodes across the top of his brain. The pain of the surgery combined with the pain from the electrodes pressing against his skull was almost unbearable. When Lynsey questioned the doctors why they couldn't give him more pain medication, they explained that if they gave him enough pain medication to stop the pain, it could cause swelling on his brain which could be deadly because of all the wires on top of his brain, there was just no room for any swelling. The best they could do, was hopefully keep his pain down until it was tolerable. They went on to say that every day he had the electrodes in he would be in constant, unrelenting pain. Every seizure in the hospital caused excruciating pain. Two of the holes, were drilled behind his ears where his jawbone meets skull, making it impossible to eat solid foods and making it painful to just talk. It was the worst week of both Cameron and Lynsey's lives. As well as ours, their family and friends, unable to do anything to help. To just sit by and wait for news. 
The results from the surgery were the last thing we were expecting, the surgery was not successful. They were unable to isolate where the seizures are starting from in his brain. The seizures are too deep in his brain for the electrodes to pick up when they start. It is only after they have exploded across his brain that they can be seen on the EEG. It means Cameron's worst fears for the surgery came true.   A cure for Cameron is no longer an option.
Lynsey and Cameron left the hospital knowing they were coming back to nights full of lost sleep and more seizures. Since being home, Cameron's seizures are back to normal and he is having anywhere from 4 to 14 each night. At night while Cameron sleeps, Lynsey watches him and does research. She is looking up the medicine that was just approved, that a doctor recommended Cameron try. She is looking at different hospitals across the country that may be able to help Cameron. She is looking into other forms of alternative medicine, and into a VNS system that may be able to help. Cameron wakes every morning to a seizure that was is just too much and too scary for him to sleep anymore, Lynsey makes sure he is okay, gives him his medicine and then goes to sleep herself.  She sits at night and worries and wonders. She wonders how she can be a good mom to both her children and take care of both of them. She wonders how she can pay her bills, and take Cameron to doctors that charge over $1200, just to see him, when insurance won't cover them. She wonders what will become of her son, if he reaches adult hood. She wonders if he will ever be able to get married or start a family or have a job. She wonders if seizure control will ever be possible. But worst of all, she wonders every night, if he will wake up the next morning. Devastation and fear of how he can continue to live like this surround our whole family.  
We have been overwhelmed with how many people Cameron's story has touched. Thank you all for loving and supporting this family. Many people have asked how they can help Lynsey and Cameron, and Lynsey agreed to this go fund me. Please continue to pray for Cameron, his mom and his brother. We will continue to search for answers so Cameron can live life. Pray for answers, pray for peace, and pray for relief.
Become the first supporter
Your donation matters
Organizer
Andrea Tanner
Organizer
Fillmore, NY