Education,Medication and Food 4 ALL
A 5-year-old Ethiopian girl works for a living instead of going to preschool
At Caleb Foundation, we rescue these kids from the street and give them a better life.  Go to 'Donate' page and offer any amount.  Together, we can make a difference!
The pictures below were taken in September 2015 during our school supplies donation event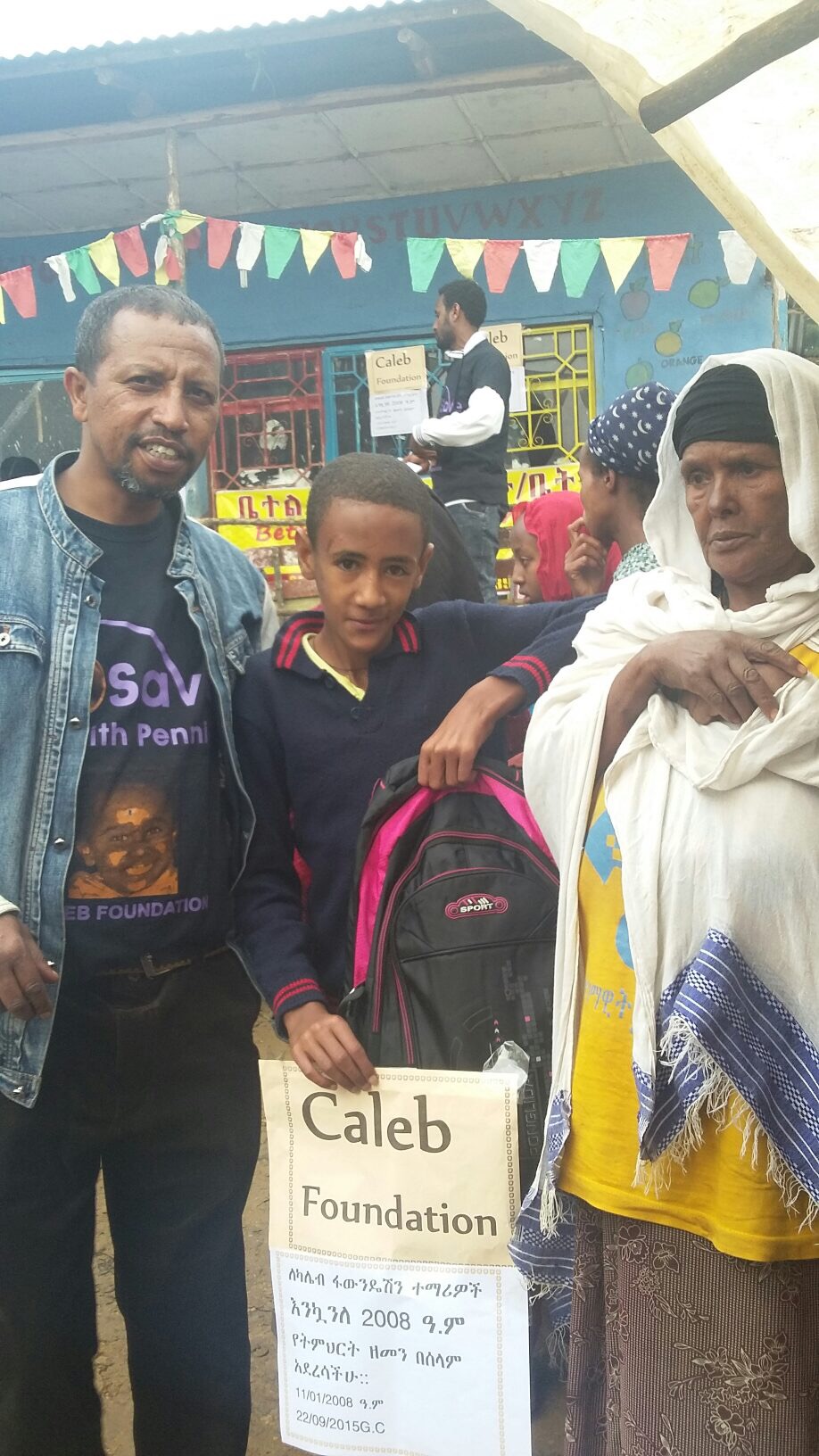 This boy, who currently suffers from a heart complication, lives with his elderly grandmother after he lost both of his parents. The grandmother has no income to support him, however, for the past three years, Caleb Foundation has been taking care of his school expenses.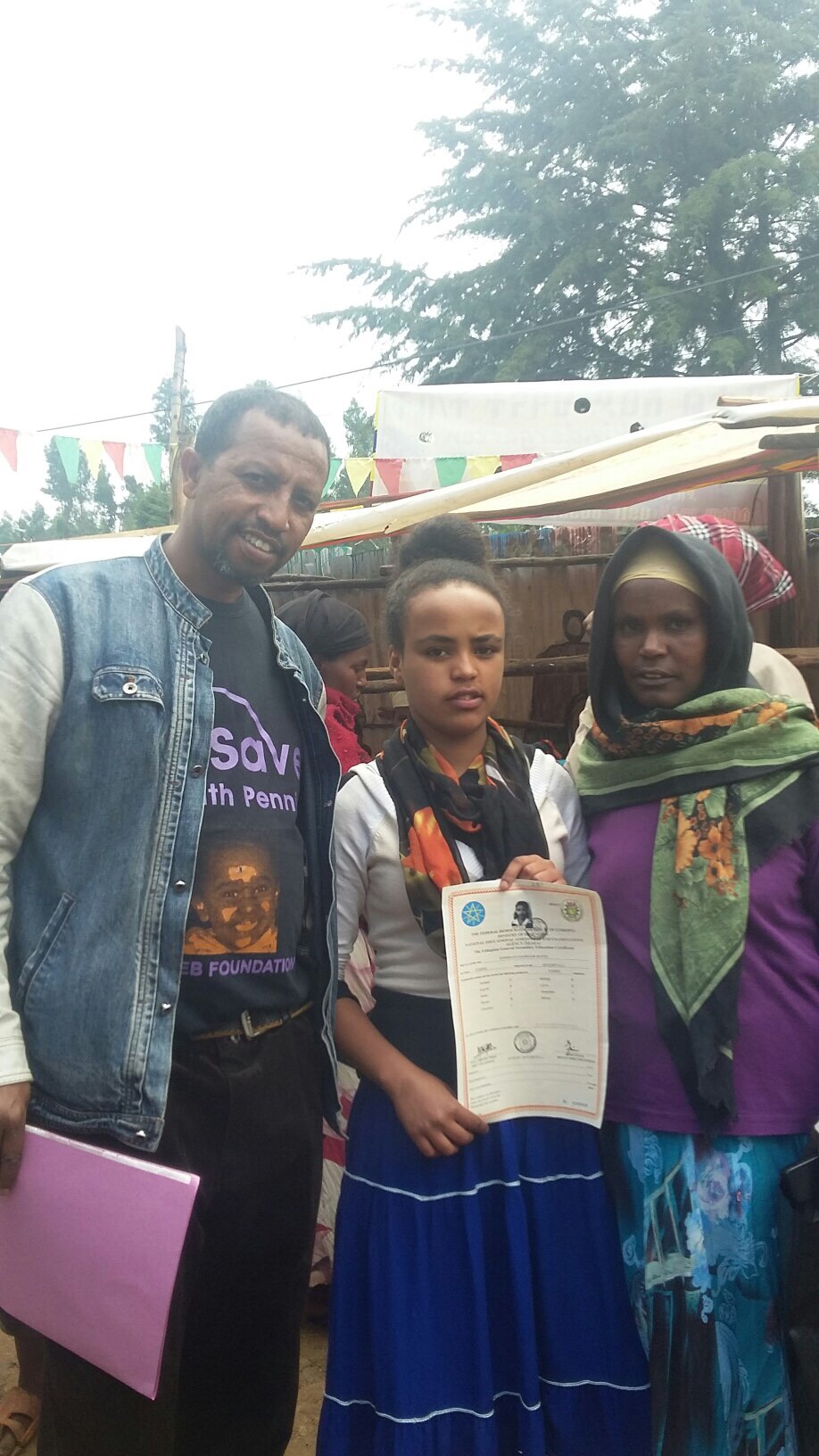 An adorable girl, standing next to her mother who suffers from diseases, showing her outstanding grades when promoted to the 11th grade. The mother does not want her children to find out about her health issues. This is what she said when we spoke to her a year ago, "I do not want my kids to worry about me, but I want them to focus on their education." Heartbreaking!! Caleb Foundation is here to fulfill both the parents and kids dream by continuing to provide assistance for them.
Who we are and why we do this:


Tenadam Alemu (CEO and Founder of Caleb Foundation)
also known by Tena
"I grew up in a city where it is very common for a 3-year-old toddler to approach any stranger to beg for money or food.  I grew up in a town where it is quite possible to see a woman giving birth on the streets without any medical attention.  Some children were born on the street, grew up on the street, and never got the opportunity to live under a roof.  I grew up in a city where starvation is a part of life.  As a child, I remember a time when I saw a little boy on the street who died right in front of my eyes, due to starvation. I have seen and witnessed the effect of poverty. But back then, I didn't have any means to change it".
Tenadam was 21 years old when she first received the opportunity to come to the U.S.  After she came to the U.S. and experienced the abundant lifestyle, she has realized something that she didn't know before. "I realized this world has more than enough resources. Nature has provided supernumerary resources already, but the reason why some people are experiencing lack while others have more than sufficient is because of improper allocation," said Tenadam Alemu. Every time she puts leftovers in the trash, she regrets knowing that food could've saved someone's life. This awareness created some accountability within her.
Although helping others has always been in Tendam's mind, the birth of Caleb Foundation came into life after her 4-year-old son Caleb was hospitalized on July 30th 2011, at the Children's health care of Atlanta located in Georgia.  It was a tough time for her to see her son go through such hard times.  As Tenadam was desperately looking for any solution to help her son as a single mother, she also came to realize the urgency and the significance of helping other children that need help.   "After I had witnessed how God supported my son and saved his life, a strong desire to provide the same support for other children and parents who are in need arose in my heart," said Tenadam.   
Tenadam Alemu is a mother of two boys.  She is also the CEO and founder of Caleb Foundation that has currently sponsored a total of 219 children who have been affected by poverty, diseases, and domestic violence in Ethiopia.  She also works full time as a Test Engineer in Cisco Systems.
"One thing that I would like to tell to every donor of Caleb Foundation is that 100% of their donation will be allocated directly to the children in need.  We have six board members in Caleb Foundation, and none of us at Caleb Foundation gets paid.  We all are working very hard and passionately, and we all have the same purpose which is to make a difference in these children's lives." Says Tenadam Alemu
What we do:

Our mission is to provide hope and resources for those who are underprivileged. Our vision is "Education, Medication, and Food for All." We believe the purpose of life is for all individuals to try and make their fellow humans lives better in some way.  Although we know we cannot do everything for those in need, we are sure that we can do something. Our focus is concentrating on what we can do and make sure to do it right - with passion, excellence, and integrity.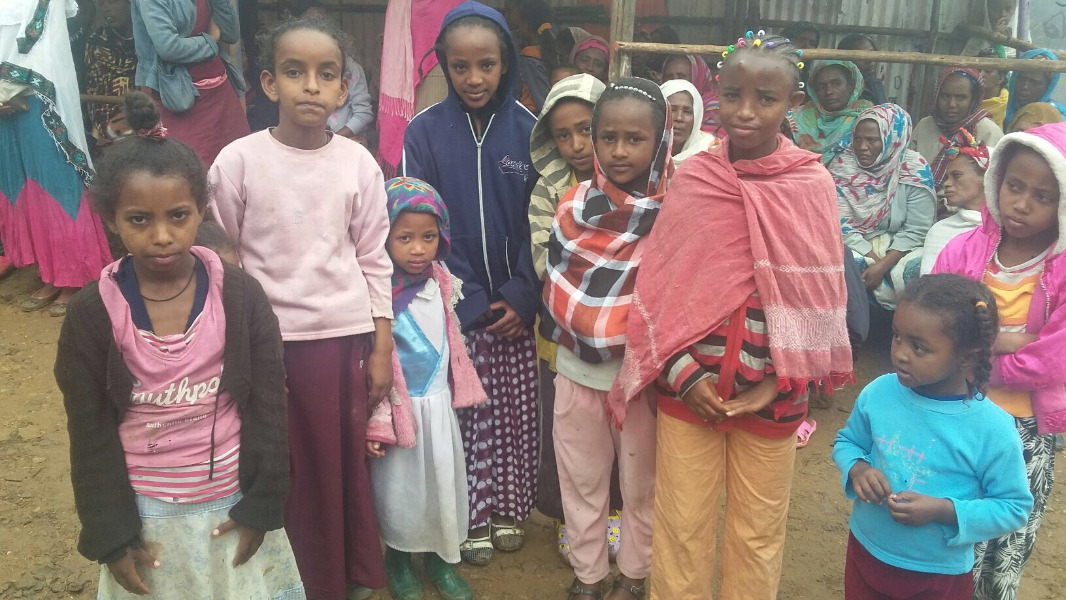 In our "Education for All" program, we make sure underprivileged children are getting the proper education throughout the year.   Primary school education in Ethiopia has two cycles; one from age 7 to 10 years (grade 1 to grade 4) and one from age 11 to 14 years (grade 5 to grade 8).  Secondary education also has two cycles from age 15 to 16 years (grade 9 and grade 10) and from age 17 to 18 years (grade 11 to grade 12), leading up to the national exams.  The Ethiopian public school system is free for both primary and secondary education.  However, the annual school registration fee, cost of school uniforms and school supplies are not paid by the Ethiopian government.  Caleb Foundation helps underprivileged students by paying for their annual school registration fee and school uniforms.  We also provide school supplies for our students as needed.    
The parents of the underprivileged kids who are seven years and younger are facing the most challenges.  Since the kindergarten education system is privately owned, these parents are unable to afford the monthly payment to enroll their children in the early education system.  When these kids start their primary school at grade 1, they are at a disadvantage compared with the children whose parents can afford early education in kindergarten.  This affects the underprivileged children both mentally and psychologically.  Caleb Foundation can intervene in the life cycle of the needy children early enough to avoid an ability gap between the advantaged and disadvantaged children by providing early education program. 
Our early education program also has multiple short-term and long-term benefits in children's learning and development cycle. Research has established that preschool or early education can produce substantial improvement in children's learning development. Missing early education can contribute to an increase in the number of repeated grades as well as an increased dropout rate. These difficulties, in turn, contribute to economic problems and increased crime rate.  For these reasons, Caleb Foundation is determined to help underprivileged children aged 4 to 6 by providing funds for them to participate in early education program so that they will not be left behind. In 2015, Caleb Foundation was able to help 59 kindergarten students graduate from a private kindergarten program.
Children under Caleb Foundation were showing their appreciation to those who are helping.   
Please help us to reach our goal for this year by donating any amount you can.
Become the first supporter
Your donation matters
Organizer
Tenadam Alemu Girma
Organizer
Lawrenceville, GA

Caleb Foundation Save Life with Pennies Inc
Registered nonprofit
Donations are typically 100% tax deductible in the US.