Haiti Orphanage Fire Reparations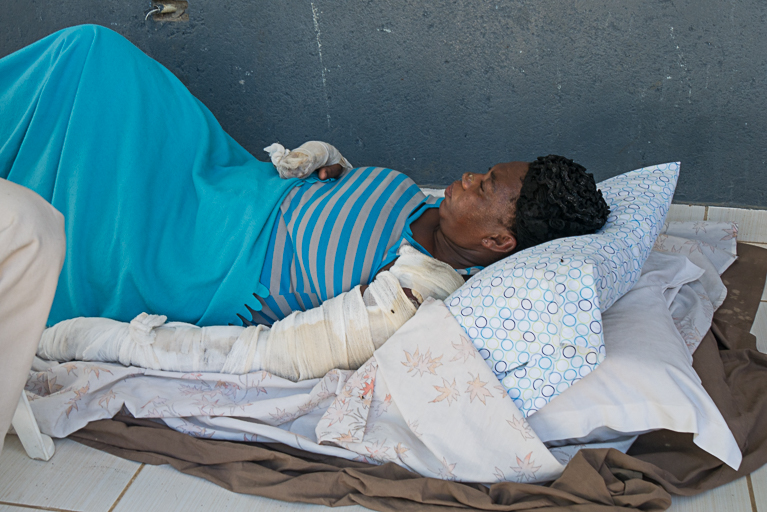 My name is Steven Repas and I have been going to Haiti since I was a freshman in high school. I also am on the board for a non-profit organization called Ministry in Mission. Through the years, I have made very strong relationships with many of the Haitians that we worked closely with and more specifically the Center of Refuge Orphanage. Ministry in Mission set out on a financially supporting and constructing a new orphanage. However, last night February 2, 2016 a fire broke out at the Center of Refuge Orphanage in Jacmel Haiti. These orphans have very little to begin with and now a major fire has done severe damage to their home and possessions.
Roussemie Lucien, owner and founder of the orphanage, and her brother, Gimey, had substantial burns to their bodies and were treated at the hospital. They cannot afford medical care and will need help paying off the medical bills. Pictured above is Roussemie Lucien.
The money raised will go directly to paying off the medical bills for Roussemie and Gimey. Additionally, it will be put towards reparations of the orphanage, paint, and replacing the furniture, beds, and other possessions lost in the fire.
These orphans already have a very difficult life, having bare minimum amenities and little food in some cases. This terrible event has set them back even farther. I please ask for you to donate to this cause and help repair their home and help Roussemie with her health expenses so she can continue to give these kids the love and care any child deserves.
They need the money as soon as possible to begin reparations so that the orphans can move back in and have a place to live. Thank you for your donations, thoughts, and prayers, as all three are greatly needed at this time!
To learn more about the orphanage and its importance in the Haitian community, please see the link below for the full story.
http://www.ministryinmission.org/sample-page/
Organizer and beneficiary
Steven Repas
Organizer
Chesterland, OH