Surgery that changed Dillan forever
My step-son Dillan had his whole life ahead of him at 15. Although he has a brain tumor that has taken most of his eye sight he was still a very independent teenager. Dillan made friends wherever he went. He was such an outgoing kid. The thing he loved the most was school.
October 2013 Dillan had to have another surgery to try to remove some of the brain tumor that had grown for the 4th time since he was 10. His surgery did not go as planned. Dillan had a thalamic stroke during his surgery which has left him unable to take care of himself.  There was also damage to his Hypothalamus and Pituitary Gland. Now Dillan has to be on over a dozen medications daily for the rest of his life to control what his body can't regulate.
Dillan's doctors do not think that he will be able to be a functioning adult due to all the medical issues he has. Dillan has short term memory and will talk like he is still living in 2013 before his surgery. He has trouble staying awake which becomes a struggle with daily life. He can not be left alone and needs constant care.
So, why are we fundraising for Dillan? We are grateful for the insurance we have, but even with insurance, there are a lot of out of pocket expenses that occur monthly.  Here are a few things we want to use the funds for.
* Medical out-of-pocket expenses. This includes monthly doctor visits and prescriptions that will be ongoing for years.
* We are in collections to Phoenix Childrens for 2 MRI bills that were not covered under insurance.
* Assist with specialized recovery therapy.  OT/PT/Speech, Nuero Psychologist, Cognitive Rehabilitation Therapy and many more.
* Assist with items to help him function in school again.
* Assist with paying for a private care giver/nurse.
* We would like to get Dillan a service dog.
* A hundred other things we can't even imagine or think of at this time since this will be a life long ongoing journey for Dillan.
* We are also trying to raise $8,000 because we need to resurface our pool and re do the cool decking. We need to add bars for Dillan to be able to grab when he climbs in and out of the pool. We are praying that we can find a company that will do it for their cost but right now it is looking like we may have to pay full price.
Dillan is unable to exercise or get stronger due to his balance being off and due to the weight gain from all the medications he is on. We need to keep him active and swimming is the best thing for him.
* There is no shade that covers our pool or backyard and living in Arizona that is not good. We need to have something done to the backyard to help with this so when Dillan is outside in the pool he doesn't get subjected to direct sunlight.
We know our goal is a significant amount of money. Anything you can contribute will be greatly appreciated. 
Whether you can help or not we thank you for taking the time to read about Dillan.
Much love to you all. The Shingleton Family.
PLEASE READ DILLANS STORY BELOW
Surgery gone wrong 10/3/13. The day our lives changed. I apologize for this being so long. I just wanted to give you Dillan's background and the journey he has been on. This photo was before the October surgery.
In 2008 my step son Dillan, then 10 years old found out that he had a brain tumor that sits on his optic nerve and was causing him to start losing his eyesight. The tumor is called Juvenile Pilocytic Astrocytoma. It is supposed to be a slow growing tumor. The first 2 surgeries, one in 2008 and the other in 2009 only allowed the surgeon to get out about 75% of the tumor without causing any further damage to his eyesight. He was also on chemo for over a year and a half to help shrink the tumor. Dillan remained the most positive child through out all of this.
We have been doing MRI's every 6 months since 2009 to monitor the growth. Every 6 months we were told it either hadn't grown or if it did it was so little there was nothing to be concerned about. They didn't catch the growth until it had grown up into his Hypothalamus.
Because Dillan has had two of these surgeries before we didn't think the outcome would be any different. After his surgery Dillan didn't wake up. It took a couple of days before he woke up. Then he couldn't speak, walk, eat on his own. We found out that during surgery he had a Thalamic Stroke. We also found out his Hypothalamus and Pituitary Gland were damaged.
For 4 months we would takes turns staying the night at the hospital with Dillan. He had to have his shunt replaced 2 times while we were in the hospital.  We would spend 2 months at Phoenix Childrens Hospital and 2 months at St Joseph Neurological Rehab before he could come home. But that is when our journey has really begun.
February 13th, 2014 our son got to come home.  He had to learn to walk again. He is incontinent. He goes to therapy multiple times a week every week. He had gained 40+ pounds from being on all the medications he is on. He has lost his short term memory. Dillan doesn't remember his birthday that was in March. He still thinks he is 15. Dillan is living back in 2013. It is heart breaking to see this once bubbly 15 year old (now 16) struggle with daily life. He has to have 24 hour care.Dillan struggles to find the fighter in him right now and even though this is going to be a long road for him to recover from his stroke and traumatic brain injury we pray and are hopeful that he will make it.His journey will never be truly over since the tumor remains and we will have to continue to have it monitored and eventually make tough decisions down the road. Chemo or radiation might be one of those decisions. We hope another surgery is not in the cards.Thank you for reading Dillan's story.
This picture was Father day 2014 while visiting my parents house.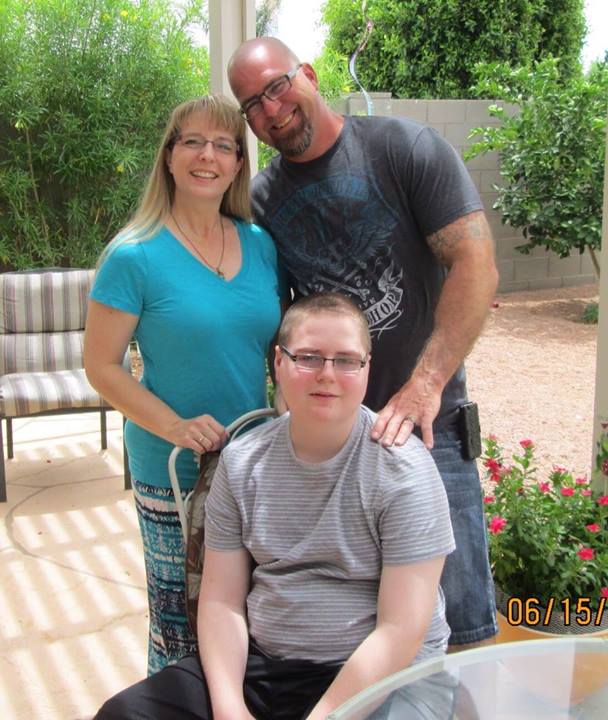 Organizer
#1 fundraising platform

More people start fundraisers on GoFundMe than on any other platform. Learn more

GoFundMe Guarantee

In the rare case something isn't right, we will work with you to determine if misuse occurred. Learn more

Expert advice, 24/7

Contact us with your questions and we'll answer, day or night. Learn more