The Doctors tv show


Kylie on MSNBC NewsNation with Tamron Hall. Sept. 22, 2014Thank you msg from Kylie.
All donations in excess of my goal will go towards the manufacturing of the FIRST usable IV backpacks. EVERY PENNY!

Kylie NEEDS funding to create a WORKING Prototype!

Kylie is 11 yrs old and a cancer survivor. She designed an I.V. Backpack for children on chemotherapy, receiving transfusions, or other medical reasons.

Contact #: [phone redacted]
Email: [email redacted]
FaceBook: Courage For Kylie
Twitter: @CourageForKylie
Kylie Simonds
102 emery Ct.
Inman, SC 29349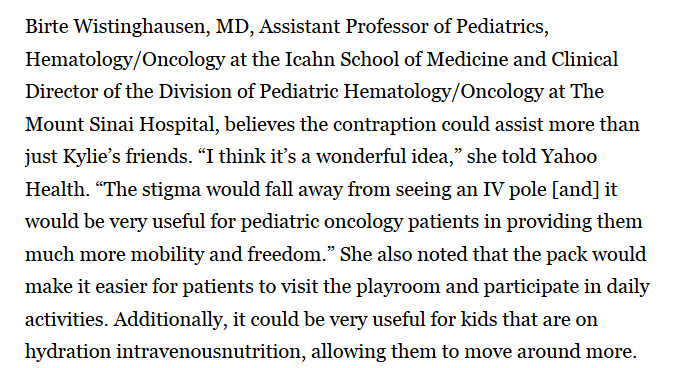 Look who has donated to my prototype!  Yes, that is THE Jenny McCarthy




KYLiE'S iNVENTiON:


This year Kylie was challenged with coming up with an invention through her school and the CT Invention Convention. Kylie immediately knew what she wanted to invent. A backpack that could allow children some mobility while receiving I.V. treatments or infusions.
Kylie's backpack couldn't be just any backpack. Because of the fasionista that she is, these would have to be colorful, gender specific, and awesome. She went to work and with the help from her parents designed a backpack.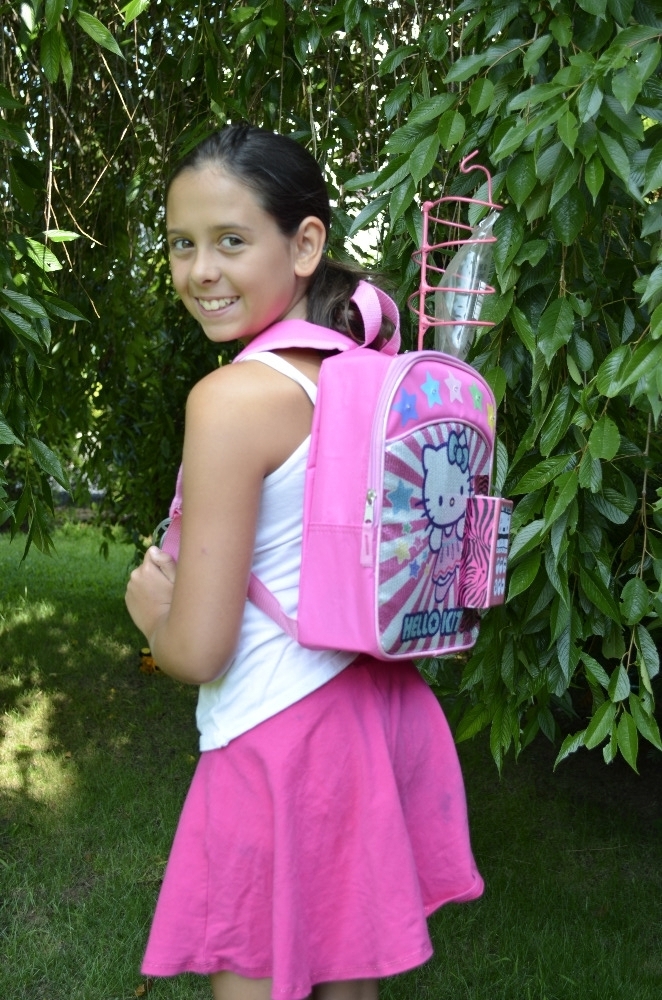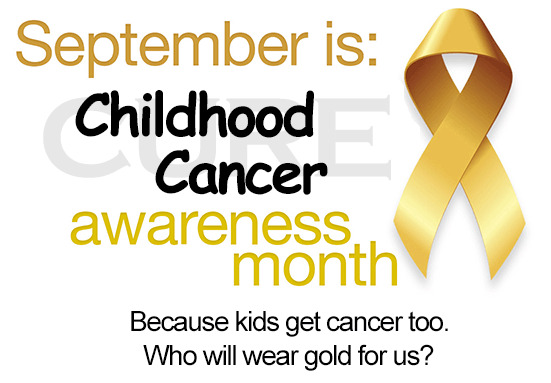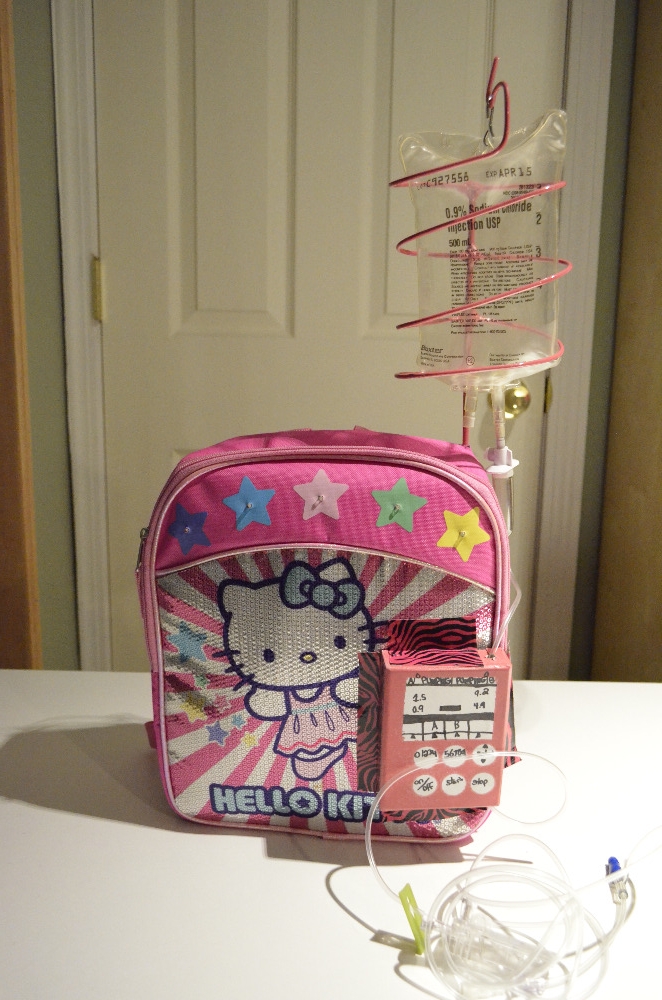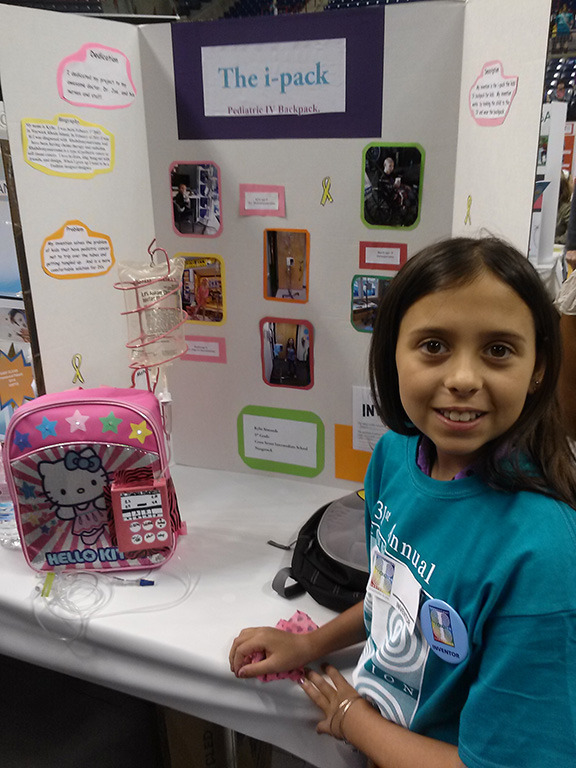 UCONN iNVENTION CONVENTiON
Kylie's invention was chosen by her middle school teachers, among others, to attend the UCONN Invention Convention where over 700 inventions were displayed and many selected for awards and recognition.
Amazingly, Kylie's invention received four awards including the "Patent Award", the highest award at the convention. The Patent Award has allowed Kylie's invention to be submitted to the US Patent & Trademark Office with the sponsor covering all costs. The lawyers have submitted the provisional patent application.

Kylie at the UCONN Invention Convention!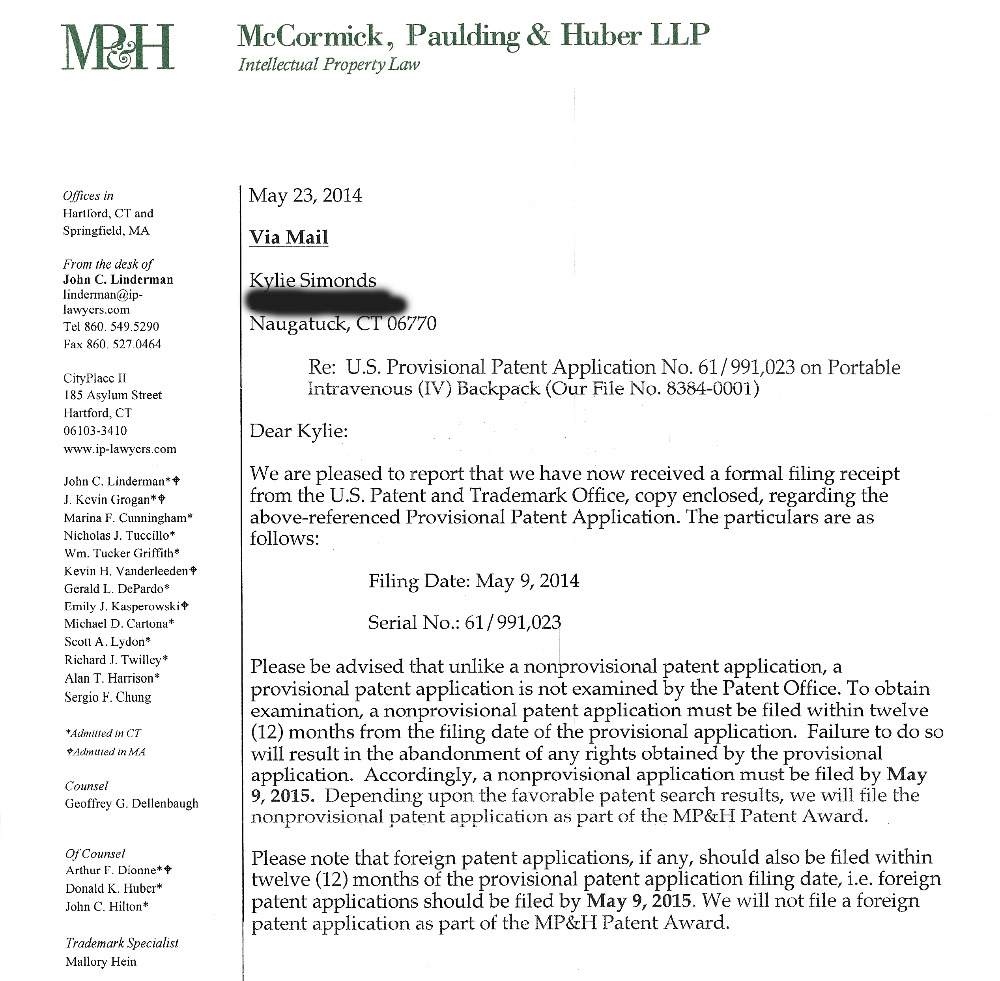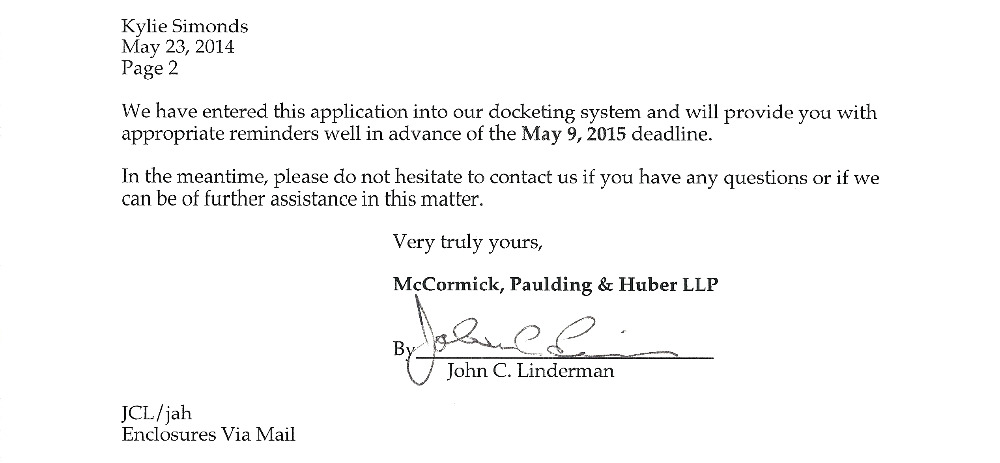 DESIGN:


The design incorporated an I.V. pole with a drip bag protection cage. Kids want to move around and we can't risk the Medicine bags getting punctured or compressed. This cage is customizable with different shapes, like hearts, peace signs, etc. This also makes treatment less scary like current I.V. poles which are very intimidating to young children. The protection cage is also removable and can be replaced with a child's choice of design.
If they receive two different medicines or a transfusion and medicine they can add a second cage.
The backpack also has the I.V. controller built into the bag to control the flow rate. It is powered by battery which most I.V. machines on a pole are also battery operated.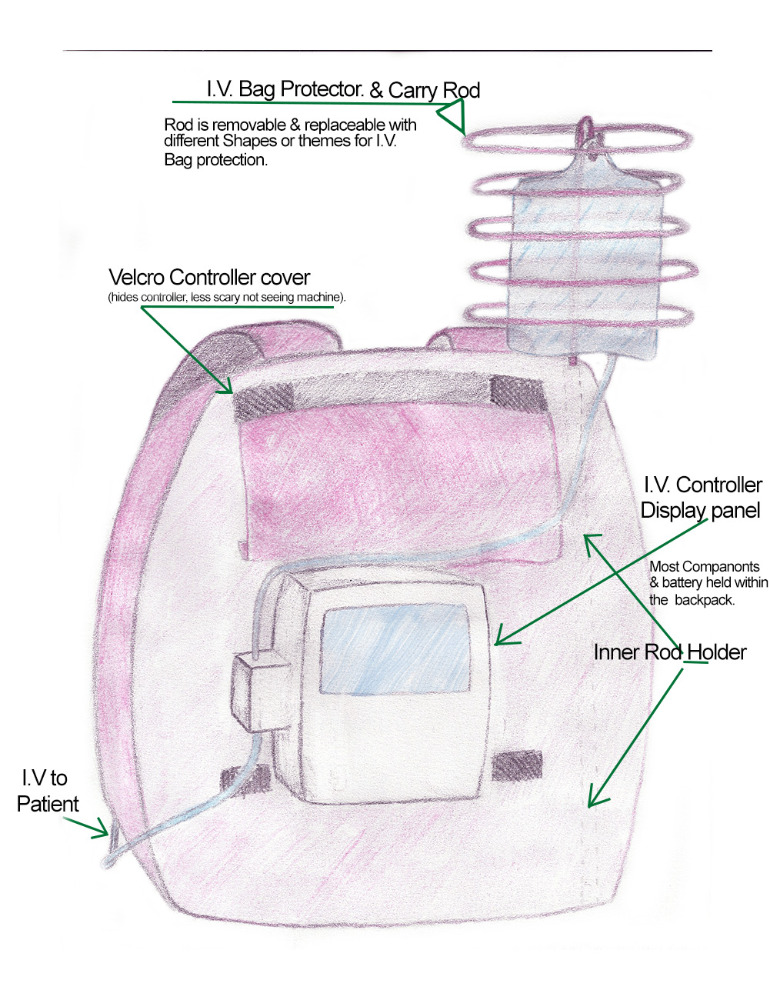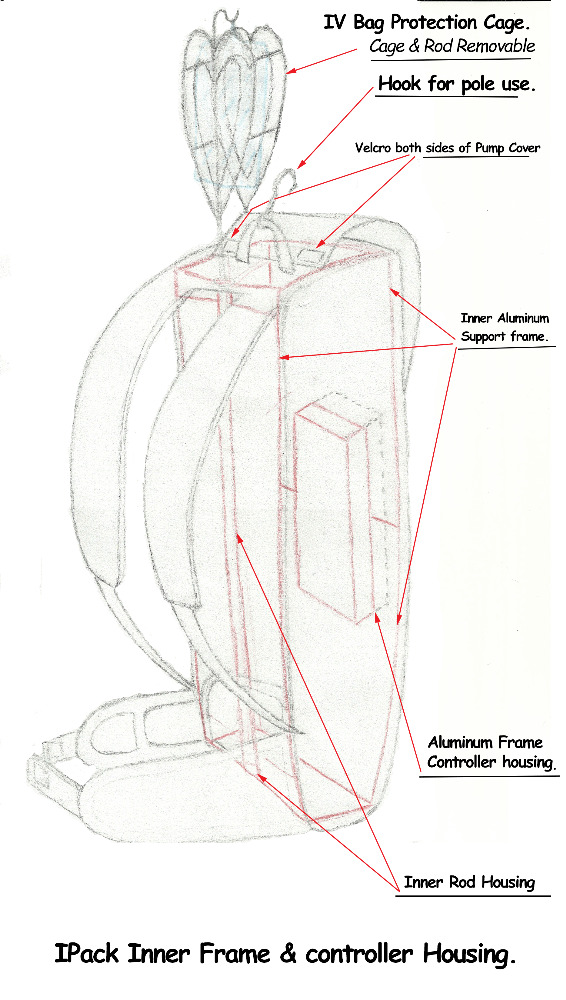 Design Ideas: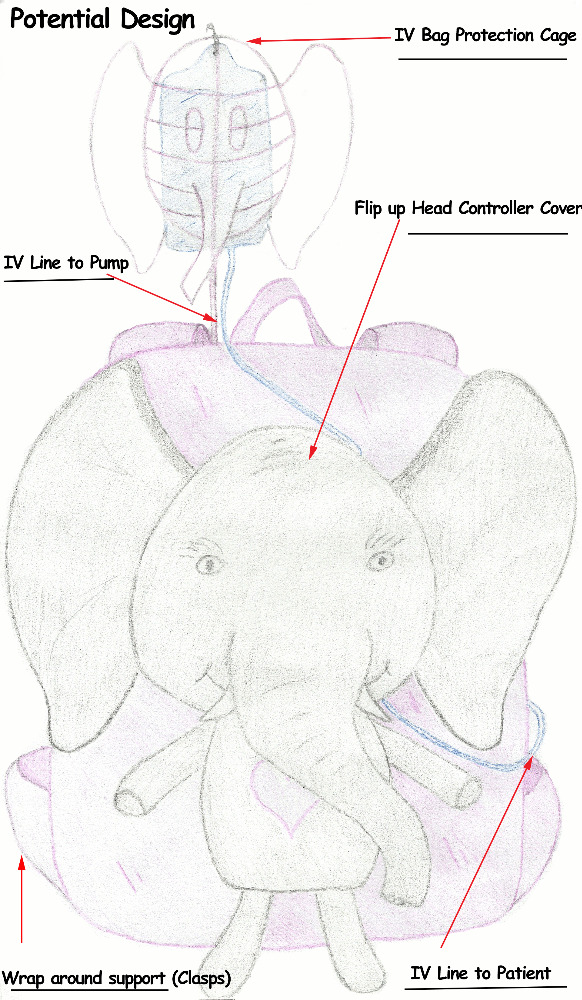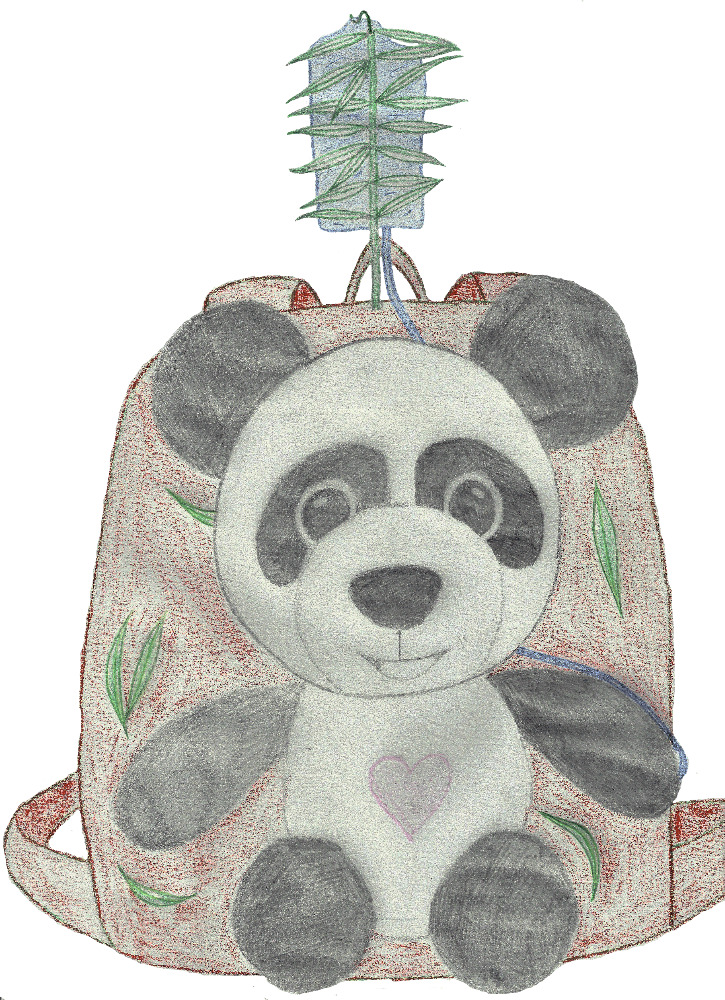 GOAL OF THIS CAMPAIGN:


Raise funds to build a prototype.  With help from her father, Kylie is now doing R&D to make the prototype.  She has found numerous infusion pumps that will suit this idea but the cost for them is in the thousands of dollar range.  Additionally, the backpack will need to be designed to support both the IV infusion pump and the carry rod.


LONG TERM GOAL: updated 08/08/14

Create a truely working prototype. Then market the first complete prototype through media outlets to slolicit interest.
Begin production of a boy and girl line of the backpack. Incorporate animal features into the design to make them fun for young children.
Begin researching designs for a backpack line for teens/young adults.
Kylie is determined to make this a reality and see the I.V. backpack in children's hospitals throughout the U.S., maybe throughout the world. Unfortunately, it requires an enormous amount of money to make a prototype of this backpack. The controller will need to be customized to be mobile and also small enough to fit in a backpack. So Kylie needs your help to make this a reality.

Please help Kylie reach her goal. You can learn more about Kylie on Facebook if you search for "Courage For Kylie", her facebook page for support while she was receiving treatment.


This is Brooke from Brooke's Blossems. With a backpack she wouldn't need an I.V. pole to visit build a bear.
This is Kylie during treatment.  Once again an ugly I.V. pole.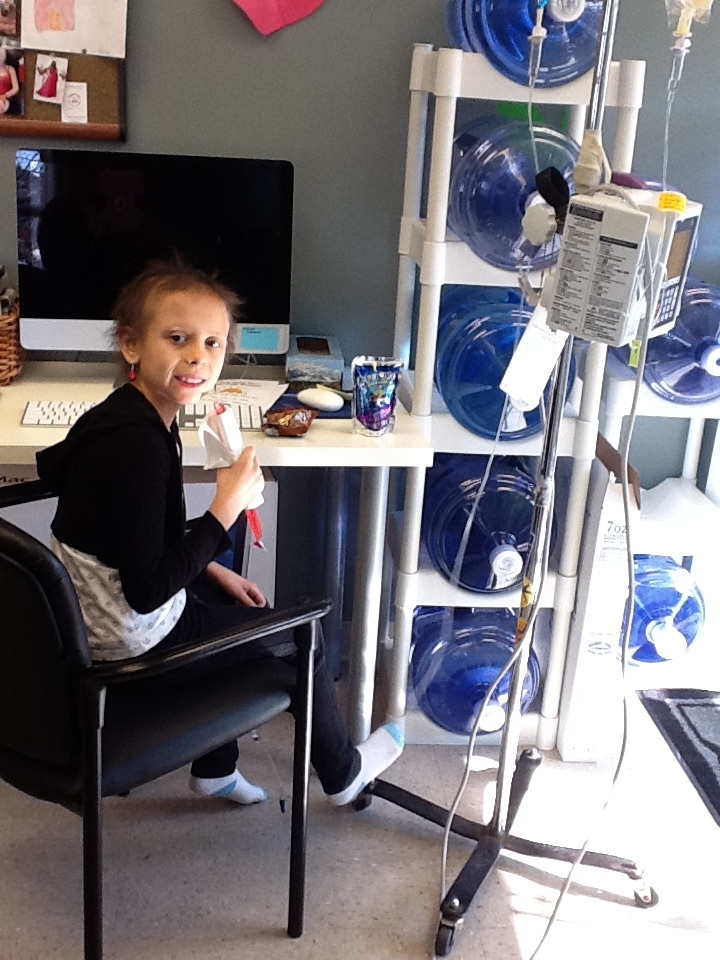 For anyone interested, this is her website we set up for her while she was receiving treatment for support. A journal of her journey can be found at the link to her Caring Page.
http://couragebykylie.com/

Current Media Coverage:

Yahoo
http://yhoo.it/1ukfCwc


WTNH
http://j.wtnh.com/7mg3h

Inspired Insider Skype interview
http://www.inspiredinsider.com/kylie-simonds-courageforkylie-one-question-inspires/

Connecticut Magazine
t.co/TsP14CXsbd

And a big thank you to www.GoHooper.com
who has donated their services to redesign www.CourageByKylie.com


Yes, we read and reply to all the comments left by those who donate.
These are only a small selected group. 

We've learned a lot from reading your comments.
1. Their are way too many children being diagnosed with cancer. The occurance of cancer in children has increased steadily for the past 30 yrs.
2. You guys really need to stop goofing off at work.
3. These backpacks ARE needed!
Adult patients would benefit from them.