Justice for the Bytyqi Brothers
DON'T LET THEM GET AWAY WITH MURDERING THREE AMERICANS!

For 20 years, Serbia has protected the war criminals who tortured and murdered three Americans from New York -
Ylli, Mehmet & Agron Bytyqi
. 
Pretrial Rights International
("PRI"), a registered 501(c)(3) charity, has been working with the Kosovar-American Bytyqi family for 5 years on a strictly volunteer basis. All we want is justice.
We know who was responsible for the murders. Serbia knows. How do we know? Because the evidence is clear and
Serbian President Aleksandar Vucic
flat out told us that
Goran "Guri" Radosavljevic
was one of two people responsible for the murders. But President Vucic won't do a thing about it because Guri Radosavljevic is his close advisor! 
We need your help to launch a comprehensive legal and advocacy campaign to get justice for the Bytyqi murders.
Please donate now!

*     *    *     *     *
What We've Done
PRI's Executive Director has been working with the family for over 5 years. In all, we've volunteered well over 2,000 hours to help the family fight for justice. Even while working without a budget, we have been able to get Vice President Joe Biden, Secretaries of State Rex Tillerson & John Kerry to raise the case with Serbian President Aleksandar Vucic. We have gotten over
150 news articles
 written about the murders, including
this BBC profile
. The Bytyqi case now leads the Serbian section of the U.S. government's annual
Human Rights Report
 .
Human Rights Watch
and dozens of
human rights advocates
and
government officials
have questioned why Serbia refuses to prosecute the Bytyqi murders.
But President Vucic continues to protect Guri Radosaljevic and others responsible for the Bytyqi murders. He is speaking out of both sides of his mouth.
*     *     *     *     *
20th Year Campaign for Justice
In 2019, we will launch a "Campaign for Justice" for the Bytyqi family. Getting Serbia to prosecute the Bytyqi murders will not only benefit the Bytyqi family. 
Guri Radosavljevic
 is a serial war criminal who has responsibility for a number of large-scale war crimes. Many other families still yearn for answers and demand justice in mass-murders and cover-up operations where Guri Radosavljevic has responsibility.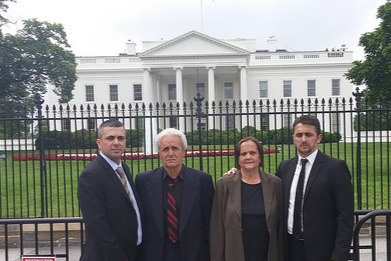 Your money will be used to dramatically increase our efforts. With your help, we can ensure that the US government and European Union hold Serbia accountable for protecting war criminals. With US and EU pressure, Serbia will have to properly and credibly investigate and prosecute these crimes.
To get the US and EU to step up, your money will help support a comprehensive legal and advocacy campaign, which will include:
1) An investigative documentary report on the Bytyqi murders, which will comprehensively detail the crime and all of its participants
2) Videos that help explain the murders and the Bytyqi family to the public
3) Trips to Belgrade, Washington D.C., and other place where we can advocate for justice.
4) Events in Washington and New York, to help focus attention on the case and Serbia's efforts to protect war criminals.
5) Advocacy for the family before the United Nations
6) Efforts to obtain elite political and celebrity attention on the case
7) Efforts to make sure Congress and the White House stay involved in the case and dramatically increase their pressure on Serbia.
... and much more more.  But we can't do this without your help. Your donation will be fully tax-deductible as a charitable contribution. 
Please donate now!
Organizer
Praveen Madhiraju 
Organizer
Washington D.C., DC

Pretrial Rights International
Registered nonprofit
Donations are typically 100% tax deductible in the US.