Before we start let me explain what Tabby Tails is exactly. Tabby Tails is a 501c3 government recognized specialty in home cat rescue. I focus my work mostly on cats who are considered high risk. High risk cats are ones who have a high chance of being euthinzed in kill shelters. 
I work a lot with disbaled cats. I care for several blind, paraplegic, deaf, and CH cats, along with cats who have incontinence issues and have to wear diapers. 
My rescue has always been fairly small. I care for around a dozen disbaled cats. But I also take on cats from bad situations, who are critically injured/ill and feral kittens. So currently the rescue houses 75 cats. 
Thats more than I had EVER thought I'd be caring for. But recently my rescue has exploded with love and support after a few viral videos. Those donations have allowed me to upgrade our set up and always have a stable medical fund. With that, I've been able to financially save more cats. 
Very quickly though we are out growing our current set up and our growth doesn't seem to be slowing down. I don't want it to either. I want to ride this wave that helps me save as many cats as possible. 
But not only is the current set up not big enough for the number of cats, but ot also lacks proper places for supplies and we have no trash outlet besides the weekly one can pick up. We're starting to burst at the seams, but like I said, i don't want to slow down. 
So I half heartily started looking for buildings that would continue to work as an in home rescue. And boy did I find some. 
Because of the nature of my rescue, I want it to continue being an in home rescue. For some lf the disabled cats, its important that I'm near by and can give them the midnight diaper changes, midnight seizure support and so on. Some of these cats have viable lives only because I'm always a couple feet away. They deserve that continued care. So I want that to be clear in this campaign, that I will be living in whatever building purchased for the cats. BUT that means we still won't have major operational costs. As I will still cover all utilities, taxes and so forth. I am also an unpaid worker and that will also continue. I never wanted to take any money from the cats and that will continue. I will continue working my second job to have the money to provide for the housing. 
I found a nearby apartment complex that I believe could fit the rescues needs perfectly. It is 7 units and only 10k, BUT with this purchase I have tl have funds to renovate it right away, or the purchase won't be approved. That is why the funding is set so high. The listing says it will need complete rehab. But it could make the best cat rescue. I could have one unit and then convert the rest for the rescue. With a set up like this major changes would come to the rescue. 
Like being able to have volunteers. As it stands I have never been ok with asking volunteers to come in and help with the rescue, because it is my house. So I, while working a 30 hour a week job, solely care for the cats. This has left me with over 70 hour work weeks and it's getting very difficult to keep up. Having stable volunteers could help me immensely. 
I would also be able to have the rescue open to the public. As it stands we are appointment only because again it's my home. But this way the doors can be open for adoptions, and donations. That should dramatically increase our adoptions and allow us to save more cats! 
I will also have a crap ton more space for things like fundraisers and adoption events! 
We would have space for a dumpster and parking. 
With this amount of space we could easily triple the amount of cats we can save. We can keep happy disbaled cats from being euthinzed. We can pull from more high kill shelters like we did for feather and her kittens. And we can take one more emergencies! We could even use one whole unit just for a MEDICAL WING! The chances of illness spreading would be reduced to almost zero! 
Saving cats is my life's passion. I believe I was placed on this earth for this purpose. This is something I need to do, and with your help, I want to make the best cat rescue in Ohio! Help me save more. They deserve so much more.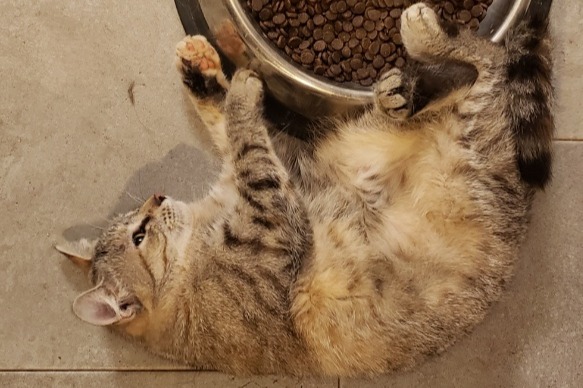 stormy here has neurological issues and brain damage. She gets confused on where she is and tends to bite very hard. She came to us after her previous foster was told she would be euthinzed for these issues. She is happy and healthy living at the rescue. I understood her issues and gave her a chance. She can be difficult sometimes, but she is also full of life and love. 
Drizzle was born with nerve damage to her back end. She cannot move her tail, walks flat footed and cannot control her bowels. She has to wear a diaper. But she loves to play and cuddle. She only answers you the name baby! 
The black and white kitten in the front is Bracken. He doesn't know this but I drove 12 hours round trip to save him, his brother, a mom with her kitten, and another mom with 5 newborns. They a came from a high kill shelter. They would have been euthinzed if not pulled by us. 
Peaches is our paraplegic kitten. She cannot use her hind end. Her bladder must be expressed 3 times a day and she has to wear a diaper.
I was able to save all of these cats because of the support I've gotten recently. If that support is continued and our space expended, imagine what I could do. I'm willing to put in all the work I need too, I just need some help.