Build a NEST - a home for SNAG mag
Thank you to all of our contributors this past year for making our visual arts studio, and first permanent building a reality with your investment in our work. We are in the midst of planning to complete our building and we are so excited to announce, that we only need to raise 14k more to finish our building. I know that seems like a lot, but last year we raised over 16,000 to get our first building up, and couldn't have done it without the hundreds of you who came to get your hands on these walls. We are so thankful, and you always have a home here at the NEST Community Arts Center. We will be hosting several community workshops with some exciting instructors coming in to assist this Spring, we hope that you will share our work with the community, and join us for a workshop this year. We are so grateful for your contributions, and all of your hard work, and if you need a letter for tax purposes, please email us directly for a donation at [email redacted], thank you so much ~ The NEST Community Arts Center, Director, Ras K'dee
NEST Budget – To Complete our Visual Arts Studio
(Spring 2019) 
Doors/Window Frames
$400 Front Door 
$400 Back Door
$500 Window Frames & Sill's
Floor 2nd Level – Vinyl Floor 
$600 Life Plus Vinyl Flooring 250 sq'
Plumbing 
$500 Copper Pipe ¾"
$500 Plumber
Floor 1st Level – Radiant Heat Floor 
$500 Copper Pipe ¾"
$200 Floor Barrier
$200 Earthen Floor Finish
Electrical
$1600 Solar Battery Bank
$200 Remote for Charge Controller
$1000 Electrician + Supplies
Cobbing the 2nd Level
$1800 Cob Plaster Instructor 1st Workshop
$1800 Cob Plaster Instructor 2nd Workshop
$300 Sand
$500 Scaffolding
Stairs to 2nd Level
$500 Stair Construction
Finish Plastering Visual Arts Studio
$1800 Finish Plaster Instructor
$700 Limestone & Pigments
$14,000 Total Remaining to Fundraise
Project and Organization History
SNAG (Seventh Native American Generation) has been presenting art for over 14 years in San Francisco, Oakland, the Northbay and throughout California in rural reservation communities. Through our annual publication SNAG Magazine we have worked with over 400 contributors, artists, photographers, musicians and writers. We have hosted over 50 events including visual artists presentations, hosting traditional dance, music and drum, and contemporary dance and music.
The NEST has been a longtime vision of our staff and advisory board. For many years, it has been our dream to have a home location for SNAG, a multi-media center, and community space. We began to imagine what a home location and media center would look like and whom we would serve and agreed that our space should be built using natural building materials and sustainable engineering.
One of the major considerations when dreaming up an ideal space was location--- We decided on Sonoma County because of our community roots in the area, and because it remains one of the last affordable options in the Bay Area. We searched for 2 years to find our home for the NEST, 10509 Woodside Dr. in Forestville, just 15 minutes west of Santa Rosa, and in the heart of Pomo homelands.
We purchased the lot in 2012 for $50,000, and have been working to prep the land for building since. The previous owners built a single family home in the 1960's that burned down while they were away. The owner and his family were devastated, and eventually sold it to the couple who we later purchased from. Because of the fire, there remains significant clean up of rusted metal and broken glass that we have taken on, helping, through this process, to heal the land and it's history. We have built an outhouse, storage shed, and outdoor shower to accommodate several workshops we have hosted for community visioning, and help with installing garden beds, and with clearing and preparing to build.
Working with Skillful Means and architect John Swearington, we have completed the building design for our main structure and studio space and are ready to move forward with our waste plan and attain our building permits.
Our Project
The NEST will become a multi-media community center, including a dance studio, visual arts studio and home base for SNAG, at 10509 Woodside Dr. in Forestville, CA.
The need for our multi-media community center is to provide a permanent home for Seventh Native American Generation SNAG, our offices and work serving the Youth in San Francisco and Sonoma County. Designing our own space gives us the ability to envision how we want to grow, and what kinds of programs we want to offer the community in the coming years. In researching artist residencies for Native artists we discovered there are very few options throughout the US, and none in California. Our unique exchange program will provide our existing Youth programs with quality workshops from working artists, and fulfill a need for working artists in California to incubate new work. It will allow us to serve a new demographic, working with adults and elders to further strengthen our inter-generational learning component. We plan on making our space available for organizations and community organizer's for use in strategic planning and organizational retreats, providing our community in the Bay Area and beyond a multi-use space to map their future in order to build lasting community impact.
The NEST Mission
The NEST is a community sustained space, which cultivates teaching and learning within a group of artists, nurturing the creation of new bodies of work for all artists in the fields of music, dance, theater, new media and innovation, traditional arts, and visual arts. Through arts programming, traditional knowledge sharing, Indigenous perspectives, and sustainable living practices we amplify artists voices to impact the world and inspire a generation of change makers. 
Goals
Fostering a positive learning environment, Indigenous cultural exchange, living sustainably, building with natural materials, nurturing and showcasing new works, and mentoring Indigenous Youth, and to provide healthy and nutritious food offerings to residents and visitors.
Programs
Artist Residencies: We offer artist residencies for selected artists who demonstrate a commitment to the educational and artistic expression of their community and who produce work that reflects our vision. In exchange, selected artists will offer courses and mentorships in their field of expertise to the community through cultural exchange and artistic presentation.
SNAG Youth Media Training: SNAG provides Native youth the opportunity to achieve balance and harmony, address historical and modern grievances, and explore and develop leadership and community skills through arts and cultural expression. Through a holistic approach that combines spirituality, tradition and multi-media skills, we aim to shape the next generation of Native leaders. We publish an annual full color magazine and CD featuring the art, essays, poetry, photos and music of Native Youth. We engage Youth in after school multi-media workshops, and host weekly meetings in San Francisco and Santa Rosa.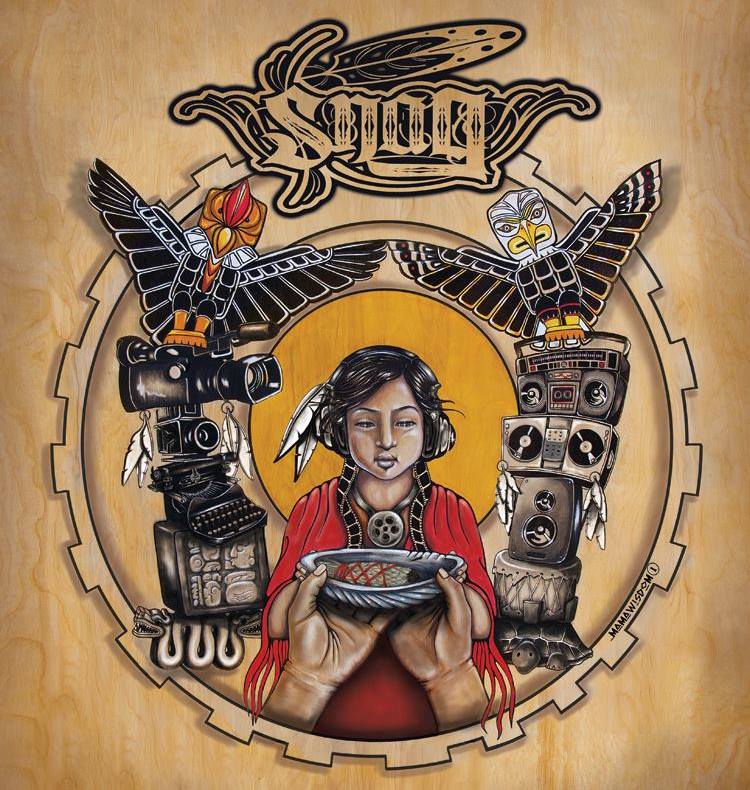 Presenting the Arts: Throughout the year we host events in celebration of our artistic accomplishments, our annual magazine release event, and annual fundraising events. All of our events are multi-disciplinary arts events, celebrating our rich communities diverse talents in visual, music, dance, traditional and contemporary arts.
Help us reach our goal to build the NEST, the first Indigenous-led, sustainably built multi-media community center here in Sonoma county! Join the movement today by making a donation, and please share our work with your networks.
We are so grateful for your contribution--- THANK YOU FOR YOUR SUPPORT!
For more information visit
http://www.nestbuildcreate.com/

Organizer and beneficiary