Bronson to race in Washington, DC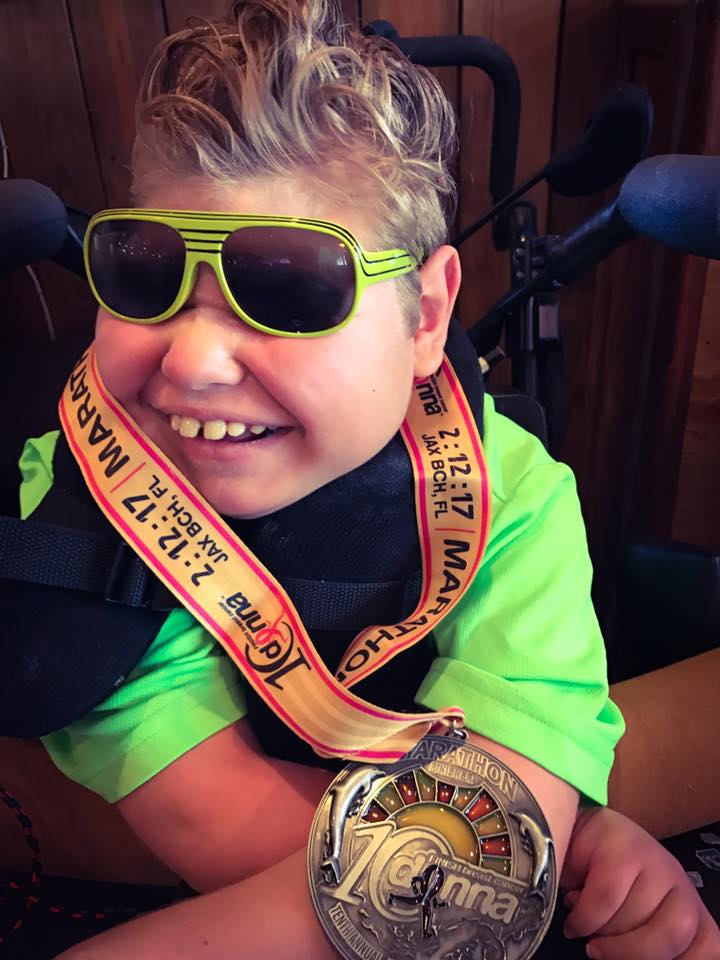 Copy the below link to your browser to view a news interview with Brent (Bronson's Dad), Deputy Quick (running buddy) and Bronson. 

http://www.fox30jax.com/news/local/yulee-boy-with-brain-injury-to-race-in-marathon-with-dad/612749473

Bronson
is a 10 -year-old boy who suffered a severe brain injury at birth, leaving him with many medical issues including cerebral palsy, a seizure disorder, and dysautonomia. Although Bronson cannot walk and talk, the quality of his life is more than what we could have ever imagined for him. Bronson's parents, grandparents, and the rest of his family let him live life to his fullest potential. We try to capture every moment for Bronson.
In 2015, funds were raised for Bronson to receive a Hoyt Racing Chair. Through his parents and a lot of dedicated runners, they have become legs for Bronson. He has been able to participate in many 5k's, 15k's, ½ marathons, full marathons and two 55k ultra relay races. Although he is nonverbal, seeing him smile and hearing him sing in his own way while being pushed in a race is inspiring and amazing. Each run that Bronson is able to participate in is like his very own 'World Series' or 'Super Bowl'. He loves to feel the wind in his face, and his laugh is one you will never forget.
Bronson will be in the biggest race of his life in October. Bronson, along with his two teammates, his father Brent and Deputy Quick will be running in the 42nd Marine Corps Marathon in Washington, D.C.  Both of Bronson's teammates have professions that give selflessly to our community.  Brent being an R.N. at Baptist Hospital in Nassau County and Deputy Quick is with the Nassau County Sheriff's Office.
This is one of the top marathons in the United States, and it will be a HUGE accomplishment for a boy that is as medically complex as he is.
In order for Bronson to participate in the 42nd Marine Corps Marathon in Washington, D.C., we will need to raise funds. These funds will cover a medical van for his transportation, handicap hotel room, his racing bib, and other cost only associated with this race.  Please consider helping us make this dream come true for Bronson. 
Not only will you be helping Bronson, your donation will also go towards the purchase of another (freedom series style) racing chair. We will donate this racing chair to a local Ainsley's Angels of America racing chapter that other riders such as Bronson can use. This will allow local special needs children to experience their very own race day.
Please read more about the nonprofit, "Brave Like Bronson" at www.bravelikebronson.com. Every donation, big or small, is a step closer towards getting  him to his biggest accomplishment ever while helping another race dreaming child!
Organizer