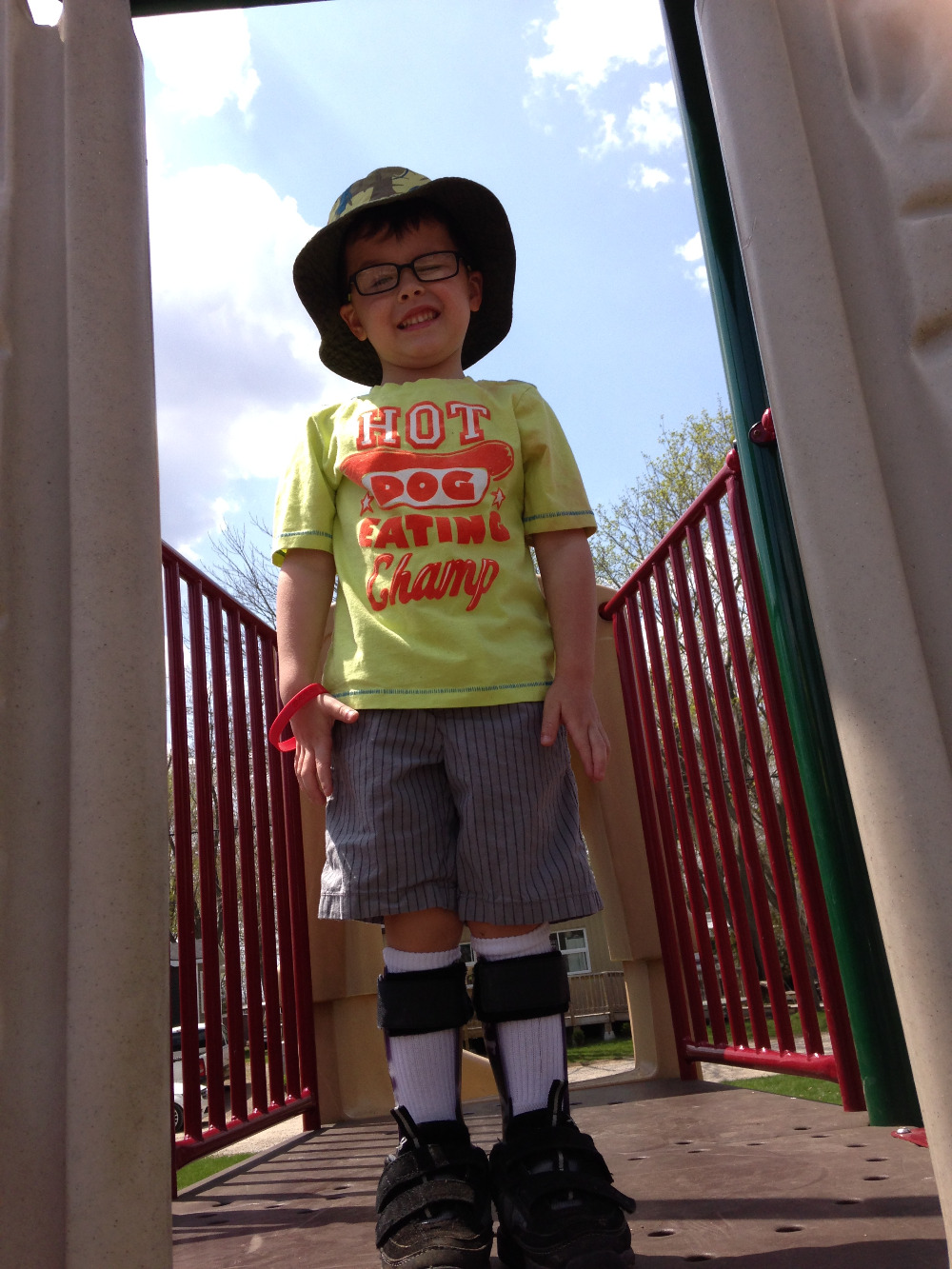 Brodie is a 4 year old boy born with Ehlers-Danlos Syndrome (EDS), a rare genetic condition for which there is little medical understanding and no cure. EDS is a group of inherited connective tissue disorders. The collagen in the bodies of people with EDS is faulty. Collagen is the 'glue' that holds your body together and provides tensile strength to body parts like skin, joints, muscles, ligaments, blood vessels and internal organs. The faulty collagen does not provide enough strength to properly support body structures in a person with EDS, therefore Brodie suffers with daily chronic widespread pain, gastrointestinal issues, joint laxity, easy bruising, subluxations (joints that partially dislocate that can cause nerve impingement), trouble regulating his internal body temperature, chronic fatigue and on occasion causes feelings of aggression because he doesn't ever get a break from his pain and EDS symptoms.On top of it all, Brodie has been experiencing symptoms of a tethered spinal cord that is causing neuro-physical and neurological challenges on top of pain. As most people that know me realize, as Brodie's mom, I also have a diploma in nursing so while I am not an expert by any stretch of the means, I do have the training to recognize when something is wrong. Last year, we attended a McMaster University Canadian Medical Education conference for EDS. It was there that we met Dr. Petra Klinge from the USA who presented on tethered cord in EDS. Dr. Klinge is a neurosurgeon who specializes in complex spine cases. We have tried to see specialists here at home but all our concerns have been dismissed after long wait lists. Desperate, we recently took Brodie to see Dr. Klinge in the USA.  Dr. Klinge confirmed a severe tethered cord and a small nodule cyst against his spinal cord where it is tethered. He requires surgery from this skilled neurosurgeon urgently to protect against irreversible tissue and nerve damage.  Sadly, we do not have access to a neurosurgeon in Ontario. This is confirmed by McMaster's innovative patient included conference focused on bridging gaps in diagnostic and treatment criteria for EDS.
We must head to Rhode Island for Brodie's surgery, which is scheduled on June 17th. Tethered spinal cord syndrome is a neurological disorder caused by tissue attachments that limit the movement of the spinal cord within the spinal column. It is like a rubber band stretching causing Brodie so much pain and pressure. Brodie's tethered spinal cord syndrome went undiagnosed until his pain, sensory & motor problems, and loss of bowel and bladder control emerged....requiring his immediate need for surgery. Brodie suffers daily with leg weakness where Ontario specialists only offer is to prescribe the use of a wheelchair and his incontinence is worsening by the day (changing his clothes 5 + times a day). We are desperately seeking comfort and a better quality of life for our son.
Here is where you come in - We are asking you to please help contribute to this highly necessary yet very costly surgery. Our costs are estimated at $50,000 for this surgery. Please, if you can help out in any way, it would mean so much to all of us but especially Brodie.
Please share with your friends and family and help Brodie so he can have a better quality of life. Thank you so much for taking the time to read his story and for helping in any way you can.
We are also setting up a Trust Account for Brodie at the TD CANADA TRUST and will provide an update post here in case you would prefer to donate directly that way.
Again, from the bottom of our hearts, thank you.
Paul & Chantelle Willson