The Vietnam War resulted in the deaths of 58,303 Americans, and 300,000 wounded. 

Sadly, there are still 1,620 U.S. Servicemen still listed as "Missing In Action (MIA)."  (There were 1,627 missing when we began this campaign.)

"Bringing Heroes Home" is our mission to do just that—to actively utilize our talents, skills and passion to help bring home/bring closure to the families of all those brave Americans who gave their lives, but who are still unaccounted for.

This is but one story…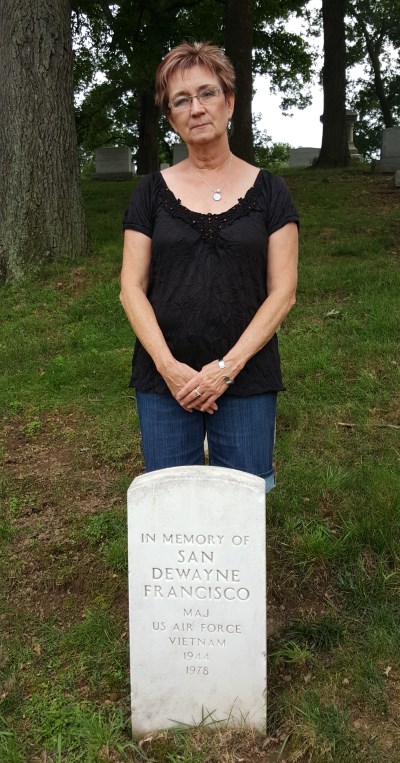 Meet Terri.  Terri is the younger sister of
1st Lt. San D. Francisco.

Lt. Francisco and Major Joseph Morrison were shot down while flying a F4D aircraft on a combat mission in North Vietnam on November 25, 1968.  Department of Defense reports have revealed some vital information about that tragic day:  both men ejected from their aircraft and landed fairly close to each other, but they were 700 meters from a North Vietnamese encampment.   Immediate radio contact was established with both pilots, but contact with Francisco was lost within half an hour.  It has been reported by witnesses that both of Lt. Francisco's legs were broken upon landing, and he was immediately captured by a North Vietnamese Youth Army Ground Command.  While being taken to captivity, American combat planes descended on the area, and bomb fragments hit San.  He died and was buried where he fell.

While this story is tragic in and of itself, what is even more heartbreaking is that Lt. Francisco and Major Morrison's remains are still in Vietnam.  For over 47 years, The Francisco Family has been battling the bureaucratic red-tape required to bring Lt. Francisco home.  Through four decades of empty promises, communication breakdowns, scandals and corruption, constant management changes, and a woefully long list of "reasons," the one thing that remains constant is that San is still not home, and the family still doesn't know why.

San's case has been investigated 32 times, with positive identification of the crash site, the pilots, and multiple eyewitnesses have identified the burial sites of both pilots.  Remarkably, the U.S. government still has not recommended the retrieval of Lt. Francisco and Major Morrison's remains.

Your donation will help fund a documentary film that will chronicle one family's journey through the bureaucratic obstacles, disappointments, heartbreaks, and struggles to bring one brave American home for a proper burial.  What happened to San?  Why has there been a 47-year battle to get him on the retrieval list?  What issues keep coming up?  What are the obstacles?  Why can't we bring him home? 

We will be documenting Terri's difficult but persistent and relentless journey, by not only hearing her story, but also traveling to Vietnam to understand the many facets and obstacles to bringing San home.  We will document San's life, Terri's struggle, the politicians and military bureaucracy who have promised to help, and some who have neglected or ignored her many pleas for help.  Ultimately, our goal is to take Terri to Vietnam and to have her stand at the exact location where her brother is allegedly buried...and ask the ultimate question:  "Why can't we bring our heroes home?" 

This story is not just about Lt. San D. Francisco, but about account for and bringing back all of the 1620 still listed as Missing In Action from the Vietnam War.  This is the story of too many families who have felt the same pain, the same anguish, the same hope, and the same hole left in their hearts when their loved one has not been returned home.  We ask these questions, not just for San, but also for all of the brave Americans who are still Missing in Action.

Every sitting President has promised the American people that there will be "No Man Left Behind."  This is a promise that continues to remain unfulfilled. 

Bringing Heroes Home is dedicated to highlighting these stories and, ultimately, bringing all of our heroes home.  They made the ultimate sacrifice for us, and we believe it is our sacred duty to fulfill the No Man Left Behind promise.

Please donate today.  Thank you.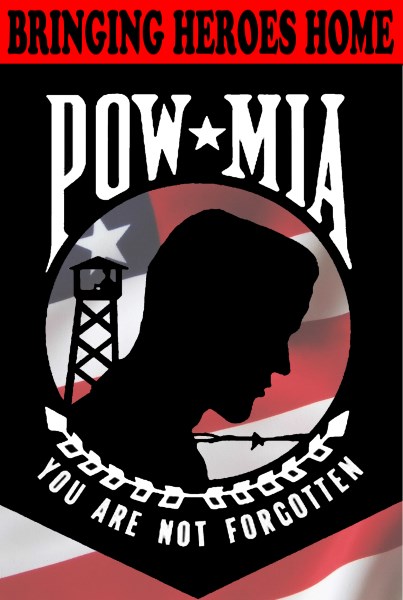 If you would prefer to mail a check, please make it out to "The San D. Francisco Awareness Campaign" and mail to:  San D. Francisco Awareness Campaign, 1305 W. 42nd Avenue, Kennewick, WA. 99337

Please include your mailing address and reward level.

The San D. Francisco Awareness Campaign is a Non-Profit 501 (c)(3) Corporation.

PLEASE FOLLOW OUR FACEBOOK PAGE FOR BRINGING HEROES HOME UPDATES!

Kennewick High School ROTC

Rotary Club of Lakewood Washington
Organizer and beneficiary
Rosie Zwaduk
Organizer
Kennewick, WA
Terri Francisco-Farrell
Beneficiary