Briella's Hope - Medical Fund
Please Read the Full Story about Briella Below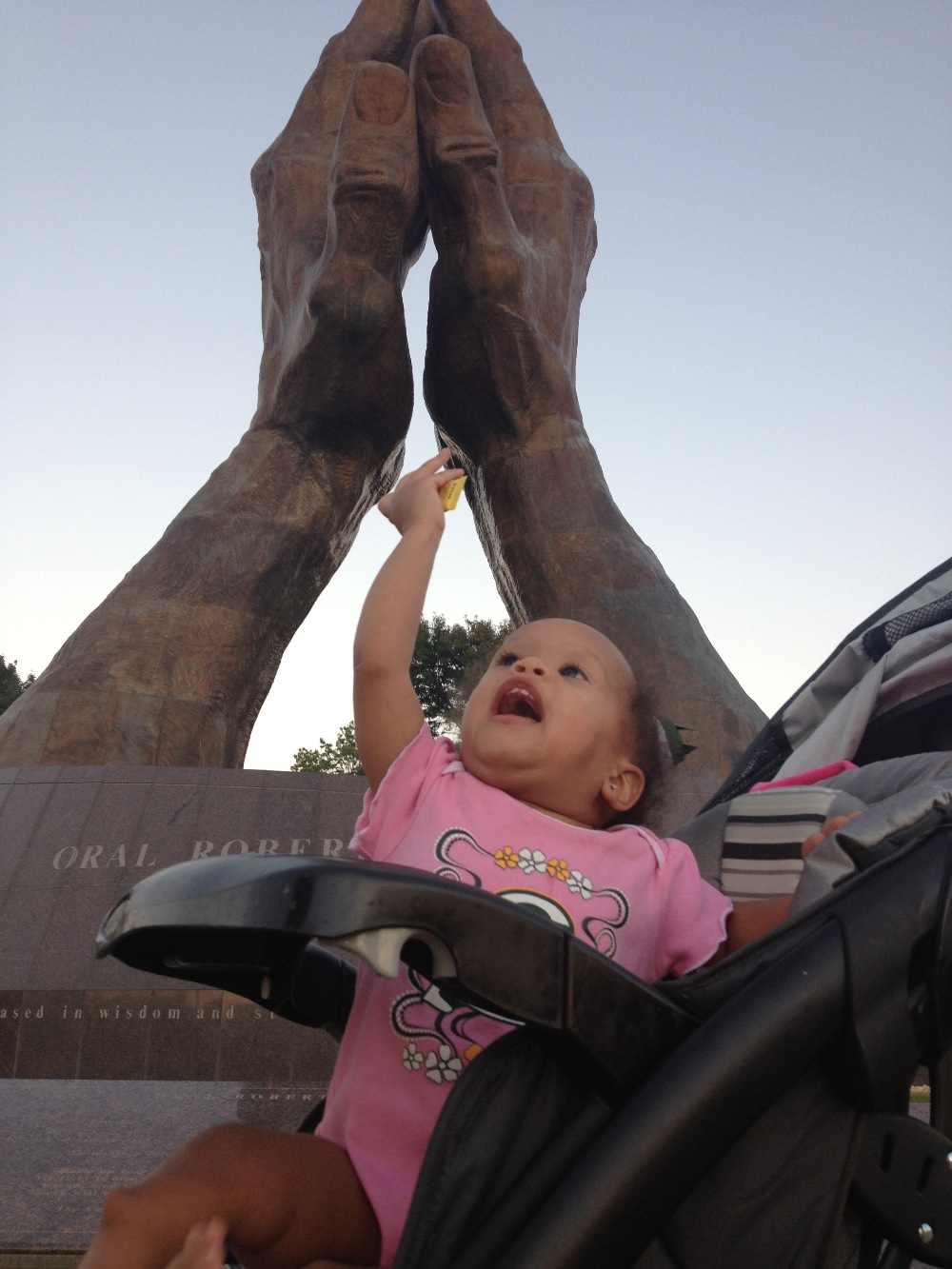 Briella reaching to the heavens
In early January 2013 my husband and I found out I was pregnant with our first child. We were so excited about our future and our unborn child. At the beginning of the pregnancy I experienced a few "scares". At just a few weeks pregnant I thought I had a miscarriage, which the doctors labeled a "threatened miscarriage", I then experienced a doctor telling me they did not see what they should be seeing in an  ultra sound and telling me she could not call it a viable pregnancy. Later, the same doctor tole me I needed to have an MRI because she thought the fetus was not in the correct place. 
At 17 weeks, my husband and I went to the doctor to find out the gender of our child, but instead we found out that our child's right leg was shorter than the left one, and was turned in like club foot. Our doctor scheduled us an appointment with a spcialist and for about 20 weeks we saw the specialist every 3-4 weeks. Each time, he would tell us that the right leg was shorter, and that the tibia bone was extremely shorter. 
At about 37 weeks pregnant, we had another "scare" when the specialist told us it looked like our baby girl's stomach was small. Due to this, I was induced at 39 weeks. After a quick and easy labor, our baby girl, Briella, was born at 5 pounds 13 ounces. Besides the right leg being noticeably shorter, our little girl was very healthy. 
Since Briella's birth, we have been on a journey to help her be able to walk on 2 feet one day. 
Six days after Briella was born, we visited the first doctor at Scottish Rite Hospital in Dallas, TX. At 6 weeks old, we were told Briella had hip dysplasia in her right hip, and she had to be in a Pavlik Harness for 24 hours a day. We were told she would need to be in it full time for 6 weeks, and then weaned off for another 6 weeks. The doctor had us come back 1 week later for a sonogram, but warned us that nothing would change in just 1 week. Much to our suprise (and the doctor's), her hip was already looking better in just 1 week. Instead of the original 6 weeks, we were able to keep her in it full time for only 3 weeks, and then weaned her off of it for an adiditional 6 weeks. In regards to her leg, the doctor's at Scottish Rite said they could try and reconstruct the leg/foot, but they recommend amputating it, and giving her a prostheic. 
Since then, we have moved from Dallas to Houston. In Houston, we have met with Shriner's Hospital, who also recommended that we amputate the foot and part of the leg. We were not comfortable with amputating the foot, so in the mean time, the Orthotics Department at Shriner's has made Briella a custom brace so she can learn to walk. As of right now, Briella has learned to walk in her brace while holding a toy walker, and will have a physical therapist come observe her. 
We have recently heard of a doctor (Dr. Paley) in West Palm Beach, Florida at the Paley Advanced Leg Lengthening Institute. After doing some research, we have found that he is one of the few doctors who believes in saving the leg instead of amputating it. We currently have an appointment at the beginning of March to go visit Dr. Paley. 
After talking to numerous people, we do not believe that amputation is the answer for Briella. Therefore, we are going to Florida to see what Dr. Paley says, and what he can do for Briella.  We are seeking God's will and provision as we take this journey. 
May God bless you as you pray for Briella, her faith and the provision to give her the balance of medical assistance, and faith to receive her full healing. 
For the full story, please visit
www.briellashope.org. 


A Video of Briella learning to walking in her first leg  brace!

Organizer